Thirty Years of Design Passion perfectly describes a very special anniversary at Matisse. It wasn't always easy.
While discussing the development of his moulded plywood chairs, Charles Eames noted "Yes it was a flash of inspiration… A kind of thirty year flash."
When I look back on thirty years of bringing the world's greatest furniture designs to New Zealand I cannot help thinking about Charles and Ray Eames and their boundless curiosity and enthusiasm for art, architecture, science and product style and function.
My interest in exceptional design was first captured over forty years ago when I first laid eyes on the Eames Aluminium Group Chair at an exhibition in Paris. In those days I had no idea who Charles and Ray Eames were but the chair literally knocked my socks off and sparked an intense desire to get home and start a furniture business.
In those days mere mortals, like my wife Jeanne and I, were unable to import anything to New Zealand as all import licences were tightly held by a privileged few and handed down from father to son and then grandson, so, unable to import, I started manufacturing office furniture in a Christchurch garage instead.
We all regularly read articles about the origins of a successful business – IT types in the garage or their mother's basement, Ray Kroc with a fast food idea, overcoming rejections etc. All businesses start with a catalyst – in the case of Matisse it was a perfect storm.
In 1987, in the wake of the deregulation of the New Zealand market and relaxation of import restrictions, we visited the Milan furniture fair to look at importing furniture to meet a demand for more innovative office furniture that went way beyond what was available at my now successful office furniture manufacturing operations in Christchurch and Auckland.
While I was doing this, Jeanne spent her time with the designer residential furniture and was spellbound by the innovations and quirkiness of late post modernism particularly those of designers such as Massimo Iosa Ghini for Moroso, the first company of many to be associated with Matisse. So a container load was ordered, the office furniture manufacturing business was sold and a hunt for new Auckland premises began.
The old Fenton Grain and Seed building in Parnell had great bones and even more potential in spite of resident rats, a very leaky roof and all pervasive graffiti. After we had refurbished the building completely, signed a long term lease and employed a staff of five, something happened as we awaited our first container of stock – on October 19th 1987 the International Stockmarket crashed. In spite of the repercussions, the business opened on Armistice Day, November 11th 1987 having already gone into survival mode. The result was a smaller space, and a new strategy to hang on until the mid nineties until the market had noticeably improved.
Survival during this kind of experience is often what gives a business longevity, knowing that everyone is in it for the long term and that it is unlikely to get any worse. Even better, having survived the worst New Zealand recession in our lifetime, we were well placed to take advantage of the upturn in the market and were in a position to sign up prestigious brands such as B&B Italia, Edra, Arclinea, Cappellini and Herman Miller. By the end of the nineties we were able to move back into our original building.
In retrospect, it seems that these experiences have been advantageous because Matisse, over the years has not compromised any of the basic principals on which the company was founded. We always buy what we feel will become classics, design pieces that we think will last the distance and that we personally, genuinely like. Having the confidence to ascertain a design item for future purchasers is vital – the iconic Aeron chair is a classic example of a design being ahead of its time in terms of taste.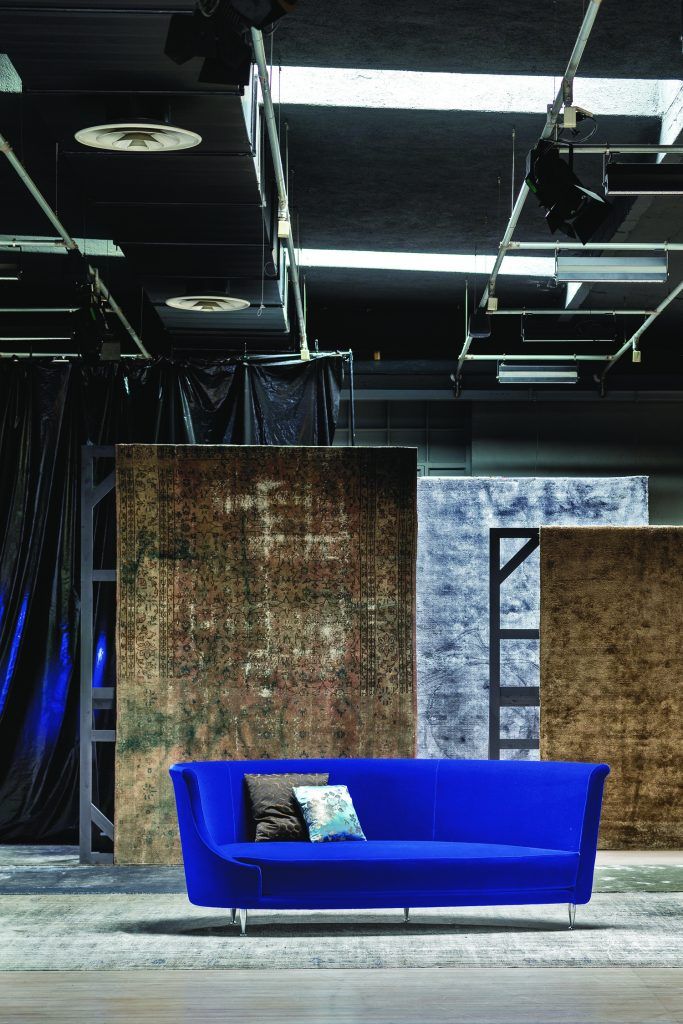 Our favourite sofa, the Diesis (pictured to the left) by Antonio Citterio and Paolo Nava for B&B Italia still excites Architects the world over and looks like it was designed yesterday, not 40 years ago. Pieces like this only increase in value over the decades creating an investment that you can comfortably sit on and enjoy whilst its second-hand value mimics the growth of an Art masterpiece.
We also work with a quality square, divided into four equal quadrants, as a guide when evaluating a new supplier. It is non-negotiable that they must have best-in-class manufacturing techniques and equipment and be using the best and most innovative raw materials. Thirdly our suppliers must have sound ecological principles or be moving towards sustainable production with carbon neutrality and zero waste plus, most importantly, they must also be working with the greatest designers in the world.
The role of the designs and their designers over the years cannot be overestimated. We now represent forty-three world class companies encompassing furniture, kitchens, bathrooms, wardrobes, lighting and innovative office fit out. Every one of these brands work with the designs from the cream of international designers such as Charles and Ray and other masters of design like Le Corbusier, Eileen Gray, Antonio Citterio and Patricia Urquiola.
Our showrooms display authentic pieces from the furniture history books through to the very latest in design and technology from the international fairs that we still visit and have not missed in these thirty years of passion.
Plans for our anniversary year include everything from a set of thirty anniversary postcards, posters, clothing and a commemorative book, to parties and celebrations to share with our many clients, suppliers and fellow design aficionados.
It all started with Charles and Ray Eames, so here's to the next thirty year flash of inspiration.