Between May 27 and June 4th, world-renowned artist and internet sensation Edgar Müeller worked his anamorphic magic to transform the Auckland skyline (well an empty Newmarket space) into a petrol head's Ferris wheel complete with iconic Mazda rotary engine spinning top and CX-5 bucket seats. The end result was a magical 3D photo op for hordes of fans.
It's very evident that imagination is one of the key driving forces behind Mueller's art – using anamorphic 3D street art, the 'Maestro Madonnaro ' is able to add a different perspective to his imagery and essentially 'bring it to life'. So it's hardly surprising that Mueller's incredibly popular NZ event was brought to you by Mazda's all new CX-5.
We caught up with Edgar Mueller for one final chat before he heads off to Ecuador to complete his next mind-blowing pieces of anamorphic art. He was moments away from checking in, but still managed to accommodate me.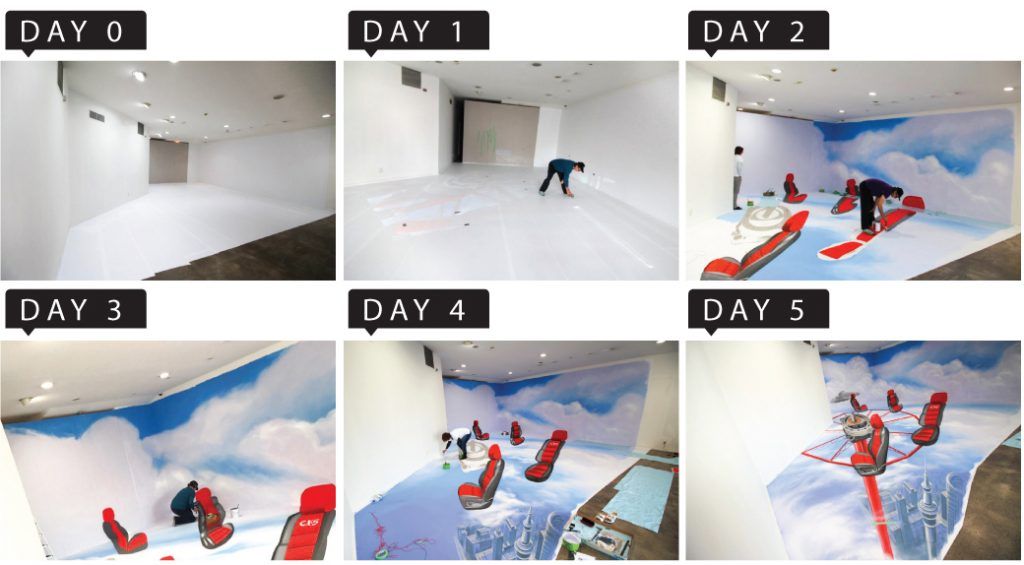 So how did it all go?
It was fine. Five days work with one day off. So we went to Rangitoto Island. It was nice. We walked up the mountain to the top and got a great view of different nature.
I'm glad you got to see something outside the studio. Where are you off to now?
After this I will go to Ecuador for three paintings for three weeks in three different cities. I want to do a story about a case with green crystals in them. The crystals allow people from all over the world to understand each other without knowing the language. It points to that Bible story about the Tower of Babel.
Will it be a sequential story, like in each city?
No it'll be like fake news, that construction workers will have dug up these cases underground.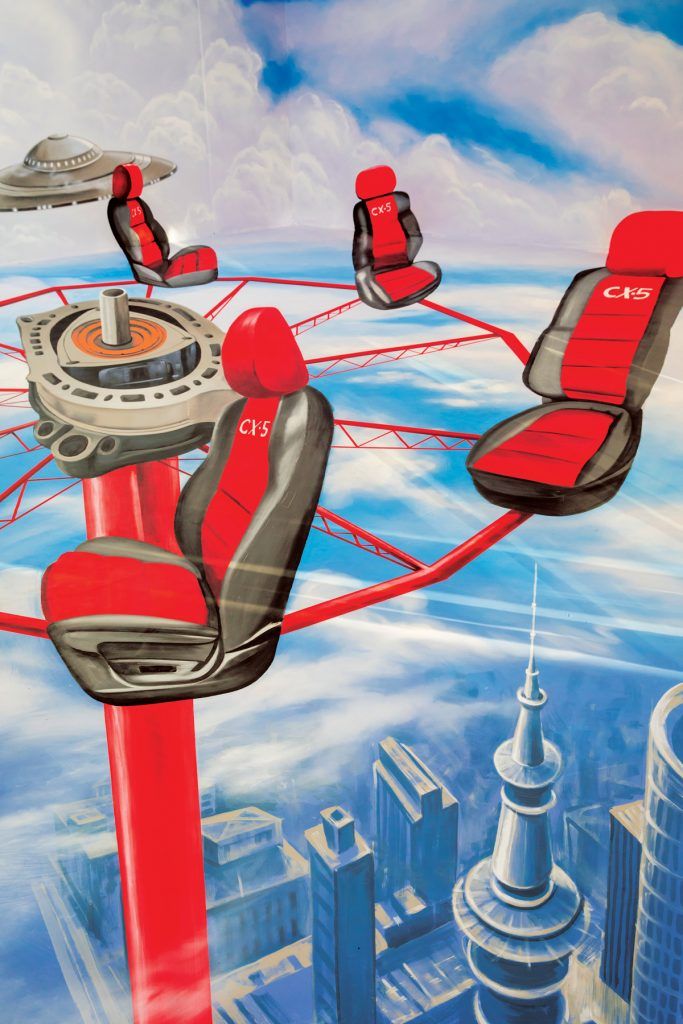 Did you have any challenges with this piece in Auckland?
I'm used to painting on the ground and, in this case I had a wall in the back. In terms of painting and perspective, it's tricky, but it turned out well.
Do you usually use a projector?
No. The seats were really complicated. I could have done it by hand but to save some time I used the projector to do the seats and their outer shapes to get the right perspective.
It is the easiest way to do it, but there is a limit in terms of size. I don't normally use it, but since it was a smaller piece it made sense to use to save a day.
How many litres of paint did you use?
About 40. The ground was really smooth and it didn't soak the paint up.
So that's relatively small for you?
Yeah, it's usually three times more. This piece was about 60-70 square metres. It's usually 200-300 square metres.
Are you happy with the results?
I'm really happy with it. The final setup and what the promotion company has done is really perfect. People can use a professional camera that's been set up on the perfect spot. It's better than using an iPhone and trying to get the right place every time. This time it's always perfect.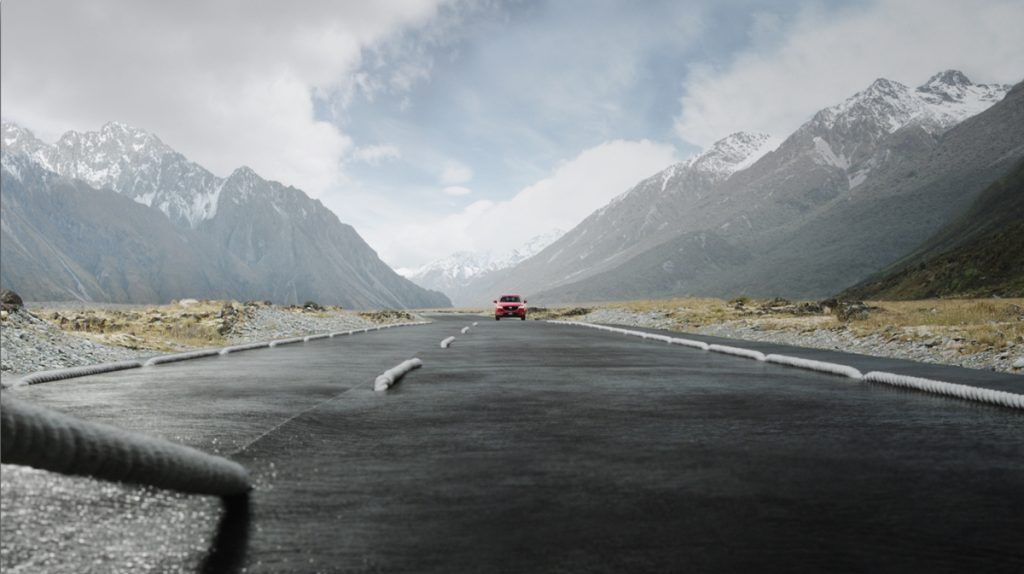 In their latest TV campaign; Mazda let their creative minds run wild. Bringing to life an eclectic mix of imagery alongside the dramatic backdrop of the Southern Alps, we see the CX-5 pass a giant pair of scissors and thread its way past an enormous needle before leaving a rowing boat in its tarmac wake. As abstract as it sounds, the production underlines the fact that it's imagination that drives Mazda.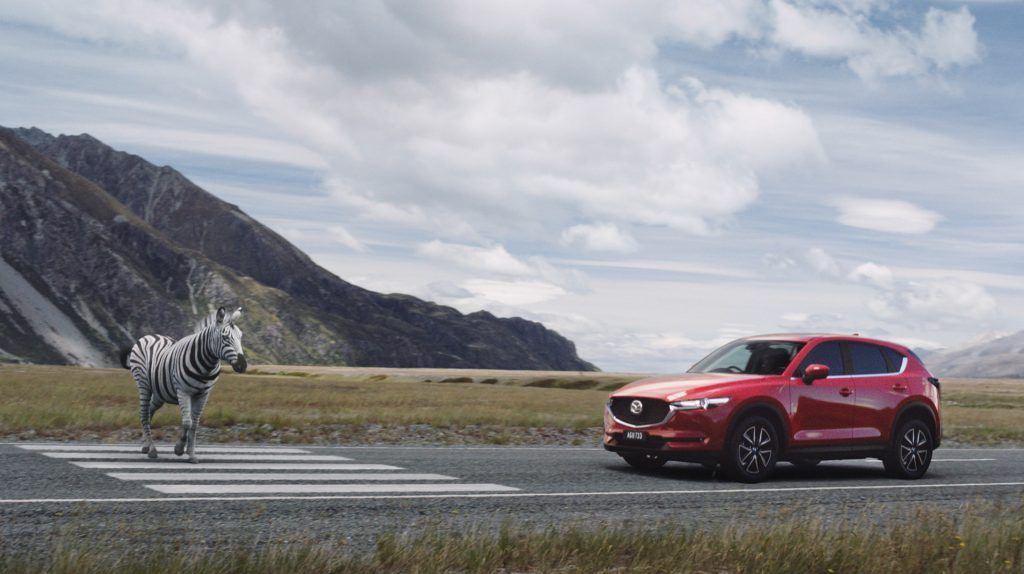 In keeping with Mazda's 'Jinba ittai' philosophy, the CX-5 is an SUV that has been crafted with you, the driver, in mind. Elegantly designed and equipped with some of the most advanced technology available in the automotive industry, it stretches far beyond the confines of what's expected from a regular mid-sized SUV.