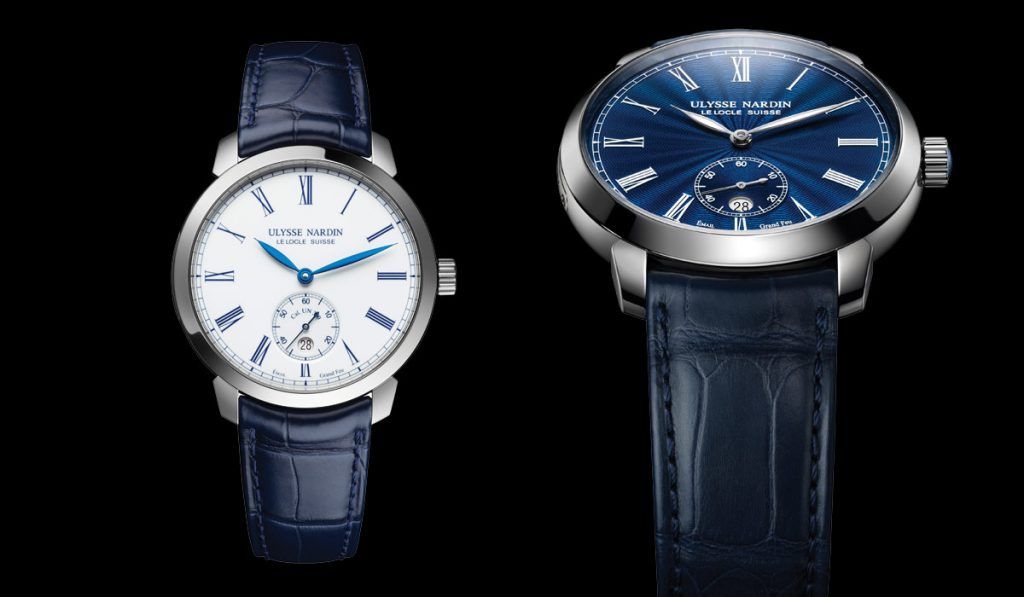 Classic Manufacture "Grand Feu"
Emphasis on the perfection of finer details showcases a commitment to precision and meticulousness – everything expected from a true upper tier watch. The Ulysse Nardin Classic Manufacture is exemplary in this field with enamel detailing taking centrestage on the dial. Intensive effort goes into achieving the enameling detailing; Ulysse Nardin purchased enamel specialist house Donze Cadrans in 2011 – one of the only firms in the world to still employ traditional enameling techniques.
"Grand Feu", as it pertains to enameling, refers to the process of baking enamel powder to the watch's dial base. Once the enamel has initially liquified, fused and cooled, the enamel process is then applied again and again until the correct colour and thickness have been achieved.
The blue ocean wave effect is accomplished with pin-point accuracy within the bounds of a classy 40-millimetre stainless steel case – a testament to the Donze Cadran skill and craft. Roman numerals wonderfully float upon the maritime blue, with beautifully feuille-shaped hands and a small seconds counter with a rounded date window. The bezel is wonderfully proportioned with the lugs, synchronous in style as with function.
Backed by a calibre UN 320 movement with anchor escapement and silicon hairspring, as well as a classic royal blue leather strap, this is a timepiece for those who appreciate the finer things.
Regatta Chronograph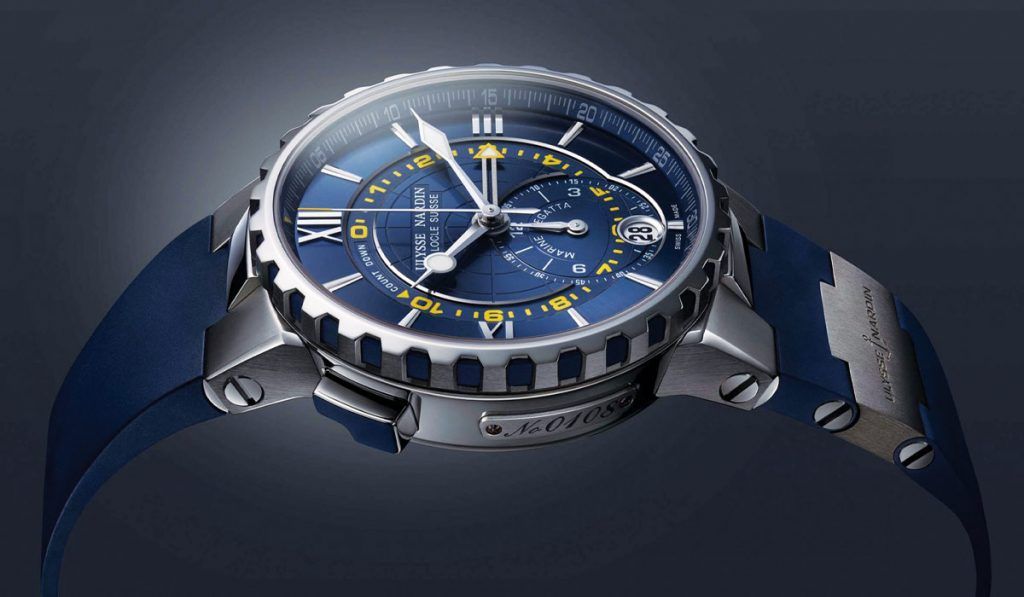 An outstanding watch fit for competition, the Ulysse Nardin Marine Regatta Chronograph commands respect with its rugged design and innovative practicality. The Marine Regatta was created with the help and curation of Swedish sailing team Artemis Racing – ahead of this year's America's Cup.
The bezel stands out with a polished stainless steel and machine like design. A sizeable 44-millimetre case houses a brilliant blue and yellow dial – the colours of Artemis Racing. The classic hand designs and Roman numerals add a classy touch to this sporting watch. Well designed lugs work in tandem with the titanium and rubber strap to create a fit perfect for the rigours of choppy seas.
Professional specifications demand the utmost attention to technical features. An in-house calibre is the power behind this piece – the calibre UN-155 movement is comprised of 650 components, allowing the countdown seconds hand to move both clockwise and anti-clockwise. An inverter mechanism streamlines the transition from clockwise to anti-clockwise, giving the pros the competitive edge to track time with premier precision and practicality. This is a watch that understands that every second counts and gives the edge to those who know that time is of the essence.