The lunatics have taken over the asylum. If 2017 saw the establishment of the Trump era, this year was when things began to go into overdrive. But surely the crazy couldn't get any crazier around the world in 2018, could it? Could it?
The year opens traditionally enough with fireworks – or Fire and Fury to be more precise, as Michael Wolff's incendiary book about the goings-on inside the Trump presidency is published.
After initially trying to block the publication, Trump carries on regardless, first describing himself as a "very stable genius", then calling African countries "shitholes". Very presidential. He also pulls the US out of the TPP, and causes a federal government shutdown over the 'Dreamers' of DACA dispute – the scheme that allows a path to citizenship for the children of illegal immigrants.
Elsewhere in the world, things are heating up too. Sydney records it's highest temperature for 60 years as Penrith reaches 47.3 degrees, China create the first ever monkey clones, and in Saudi Arabia, twelve camels are disqualified from a beauty contest after their trainers use botox on their lips. You couldn't make this stuff up.
In happier news for some, California becomes the largest US state to legalise cannabis for recreational use, just in time for stoners to stare in awe at the super blue blood moon that hovers over the world on January 31. Also visible in New Zealand, the rare lunar event hasn't happened since 1866 and won't be seen again until 2037. If we're all still here, that is…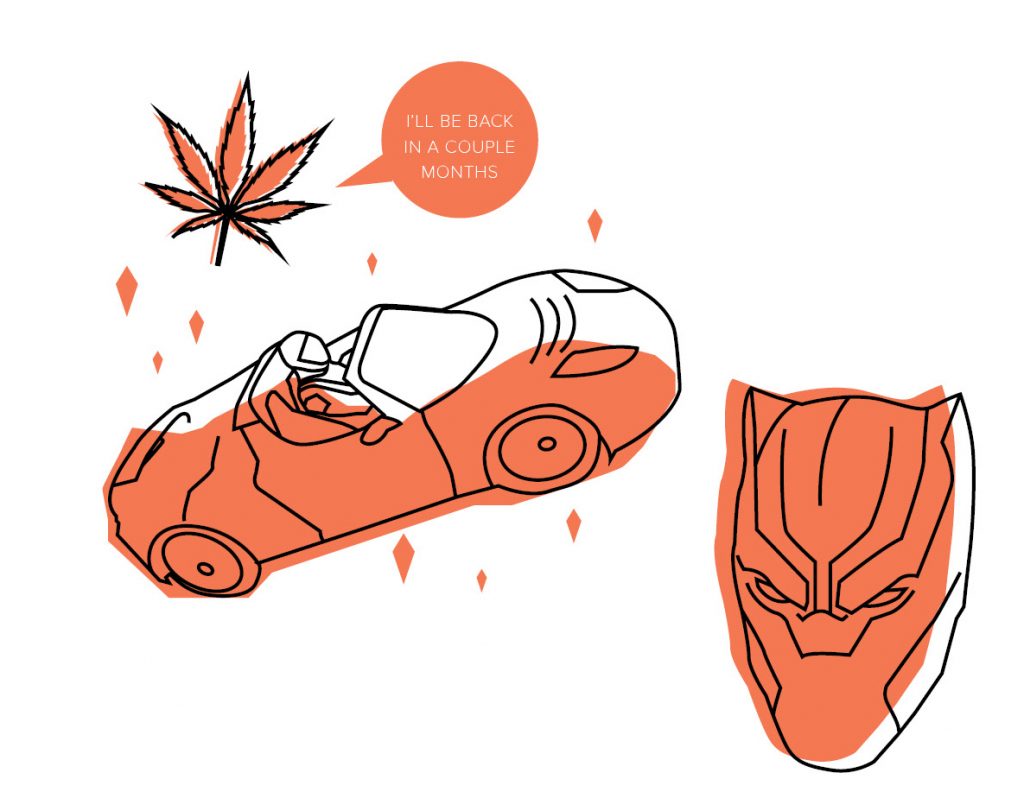 This is getting ridiculous. The US counts the cost of yet another school shooting in Florida at the Marjory Stoneman Douglas High School in Parkland, which kills 17 and injures just as many.
Time to get off the planet, then, especially for Elon Musk and his SpaceX project who successfully conduct their maiden flight of the Falcon Heavy, their most powerful rocket to date. As part of the operation, Musk also launches one of his Tesla Roadsters on a course for Mars, beaming a live feed of the car cruising through space with a dummy astronaut listening to David Bowie on the radio. Like you do if you're a billionaire.
Planet Earth is blue for others too. After nine years in power, Jacob Zuma resigns as President of South Africa. The New England Patriots go down 33-41 in Super Bowl LII to the Philadelphia Eagles, the latter's first title win. And US evangelist Billy Graham finally gets to find out whether he'll meet his Maker, or he's just been preaching crap all these years.
On the good news front, Black Panther hits NZ screens, and the Winter Olympics are held in Pyeonchang, South Korea, with New Zealand having its most successful games ever: two bronze medals from Zoi Sadowski-Synnott in the Women's Snowboarding Big Air and Nico Porteous in the Men's Ski Halfpipe. Both are just 16 years old.
March is a good time to be a dictator, it seems, as Vladimir Putin is elected for a fourth term in Russia. To celebrate, he allegedly gives orders to poison former Russian double agent Sergei Skripal and his daughter Yulia with Novichok nerve agent in Salisbury, England. Much finger pointing ensues, with over 100 Russian diplomats expelled around the world. The two victims survive.
In other despot news, China's government grants leader Xi Jinping the title of 'President for Life', whereupon he welcomes Kim Jong-un to Beijing, the first time the North Korean leader has left his own country since assuming office.
No doubt jealous of all this omnipotence, Trump starts making noises about meeting with 'Little Rocket Man' himself to discuss plans for denuclearisation. Stay tuned for that pile of crazy in June.
As New Zealand counts heads in the 2018 Census (results still pending), the world loses possibly its greatest mind in Stephen Hawking, renowned theoretical physicist and subject of Anthony McCarten's The Theory of Everything, when he finally succumbs to science on 14 March.
Then, as the world's last male white rhino dies in Kenya, rendering the species functionally extinct (barring a sex change), the world is rocked by thundering news of a different kind. Stormy Daniels gives her long-awaited interview on 60 Minutes, with revelations that include Trump has a small, mushroomoid penis, doesn't wear condoms, and creepily compared her to his daughter. Ew.
Meanwhile in South Korea, it's our Paralympians' turn to come up trumps, with Adam Hall and Corey Peters winning a gold and two bronzes between them in alpine skiing.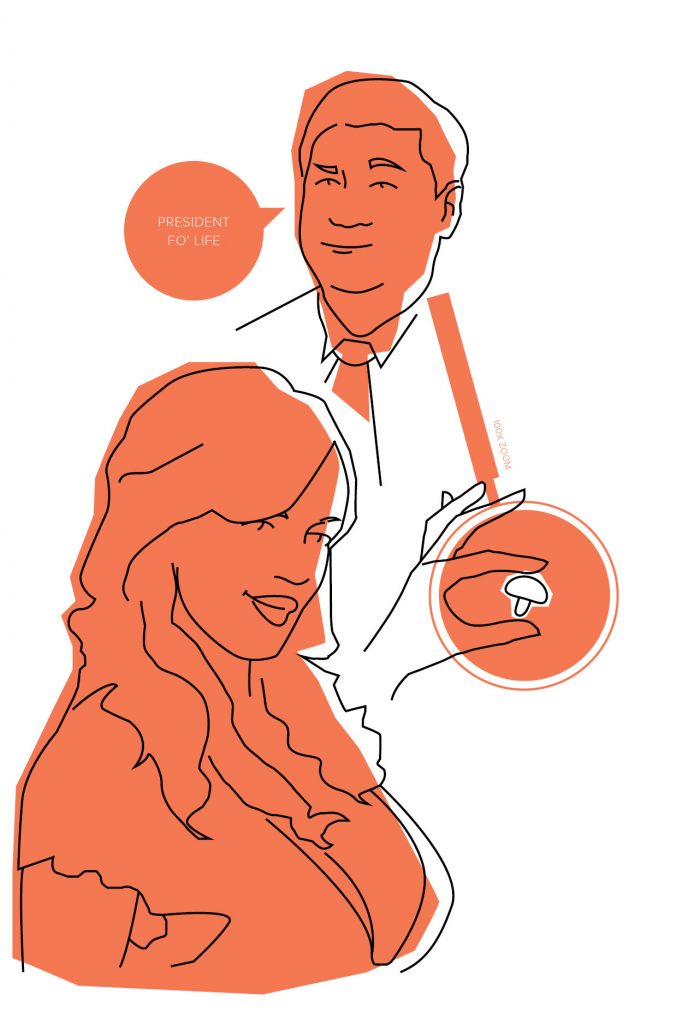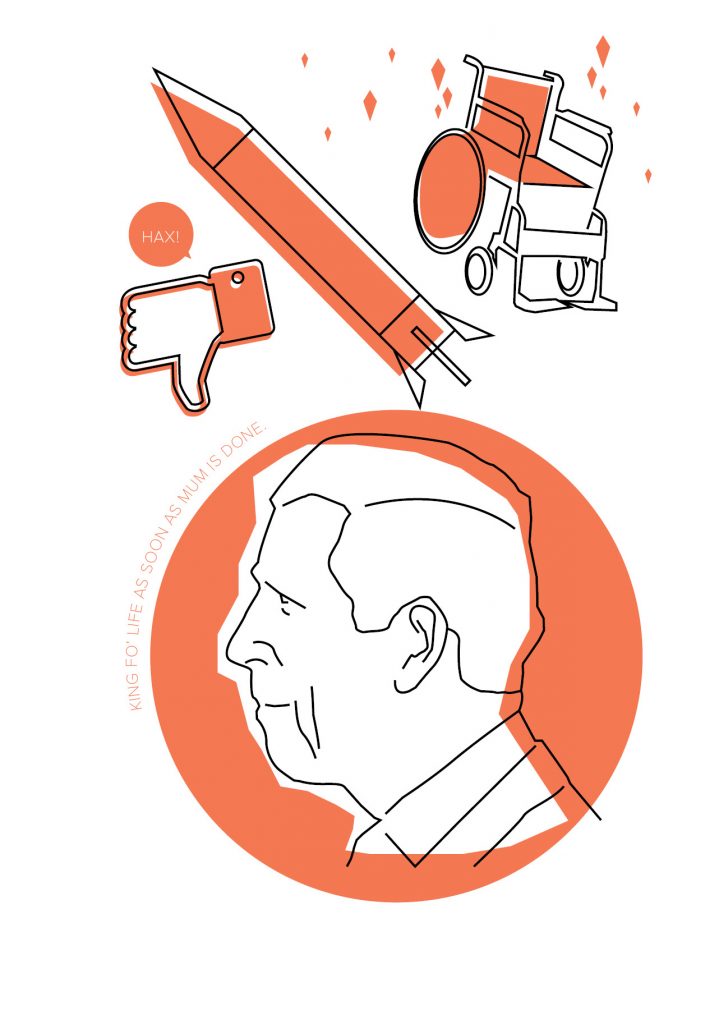 It's all kicking off in Washington DC as Facebook CEO Mark Zuckerberg is called to testify before the US Congress about data security, and comedian Michelle Wolf has a pop at Sarah Huckerbee-Sanders and Kellyanne Conway (among many others) at the White House Correspondents' Dinner. Trump refuses to attend, again.
Comedian Bill Cosby is found guilty of sexual assault in Pennsylvania.
Meanwhile across the water Miguel Diaz-Canel is sworn in as President of Cuba, the first non-Castro since 1959, and further afield Kim Jong-un has his traveling pants on again, this time crossing into South Korea for an historic meeting with South Korean President Moon Jae-in, becoming the first North Korean leader ever to cross into the demilitarised zone.
Preferring to re-open old wounds, Israeli Prime Minister Benjamin Netanyahu accuses Iran of not holding up its end of the nuclear deal, while us Commonwealth countries formally decide that Prince Charles will succeed Queen Elizabeth as the next head of the Commonwealth.
Glad we finally sorted that one out, fellas.
In lighter pop news, Swedish super group Abba announce they have recorded their first new songs since 1982, Neil Finn joins Fleetwood Mac, and Ed Sheeran's "÷" is officially announced as the best-selling album of 2017, the ginger maestro shifting an incredible 6.1 million copies worldwide.
And New Zealand kick ass at the 2018 Gold Coast Commonwealth Games, collecting 46 medals across twelve sports, including the Black Sticks gals whipping Australia 4-1 in the final of the Women's Hockey to claim gold.
Hawai'i is rocked as the lower Puna volcanic eruption coincides with a 6.9 earthquake. Lava fountains reach 300ft high in places and thousands of people are forced to evacuate their homes as the magma flows. At time of writing, this cataclysmic event continues.
Trump also starts things off with a bang in May by announcing his intention to withdraw from the Iran nuclear deal – "the worst deal ever", apparently. Can't say the guy doesn't love his superlatives. He also goes on to make more international friends by extending tariffs on steel and aluminium imports to include Mexico, Canada and the EU.
Not that most of Europe takes much notice. Ireland is too busy voting to repeal the ban on abortion. And like 1.9 billion people worldwide, everyone else is tuning in to watch the Royal Wedding as Prince Harry gets hitched to ex-Suits star Meghan Markle, with a reception at Windsor Castle. Clooneys, Beckhams and Spice Girls are on the guest list but no Kiwis – not even Jacinda – receive an invitation to the 'low key event'.
In other joyous news, separatist group ETA finally announces its dissolution after 40 years of conflict and over 800 deaths in Spain. The Chinese authorities ban UK children's cartoon Peppa Pig for being 'subversive'. And increasingly looneytunes US rapper Kanye West continues his own personal quest by saying that "slavery is a choice" in an interview with TMZ.
And while NASA's Insight unmanned probe blasts off for Mars (much like Kanye's brain), 30-year old upstate New Yorker Michael Rotondo gets the rocket from his parents' home as they begin proceedings to evict him on the grounds he is too much of a financial burden. I know just how they must feel.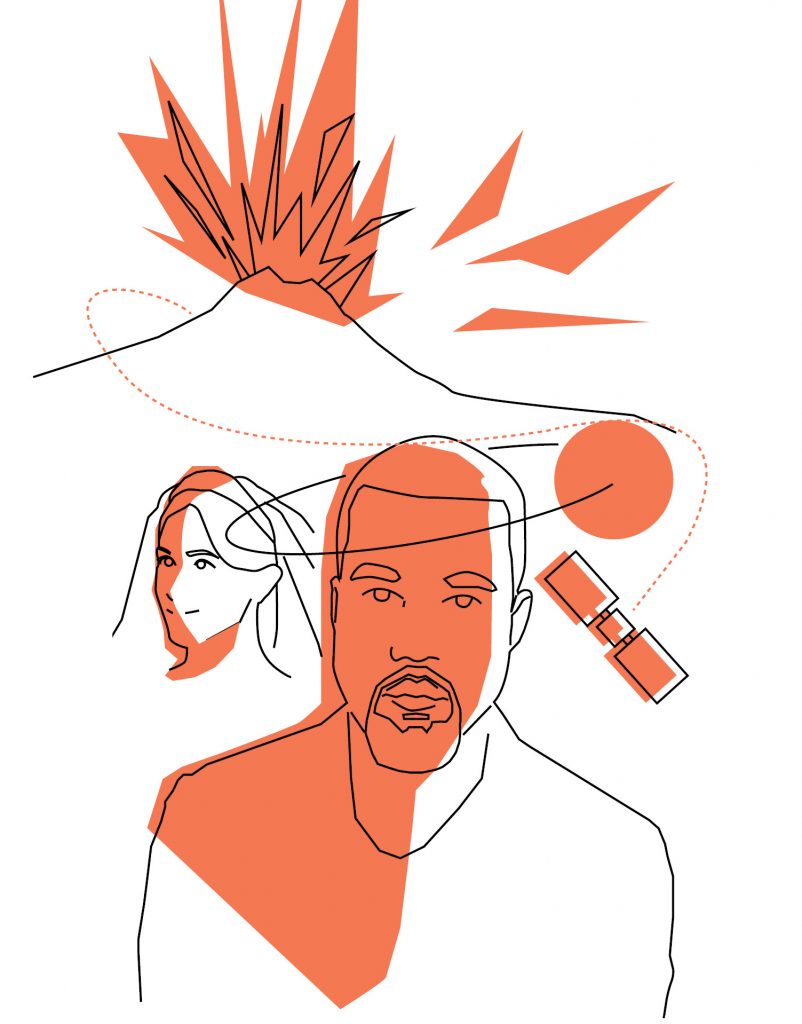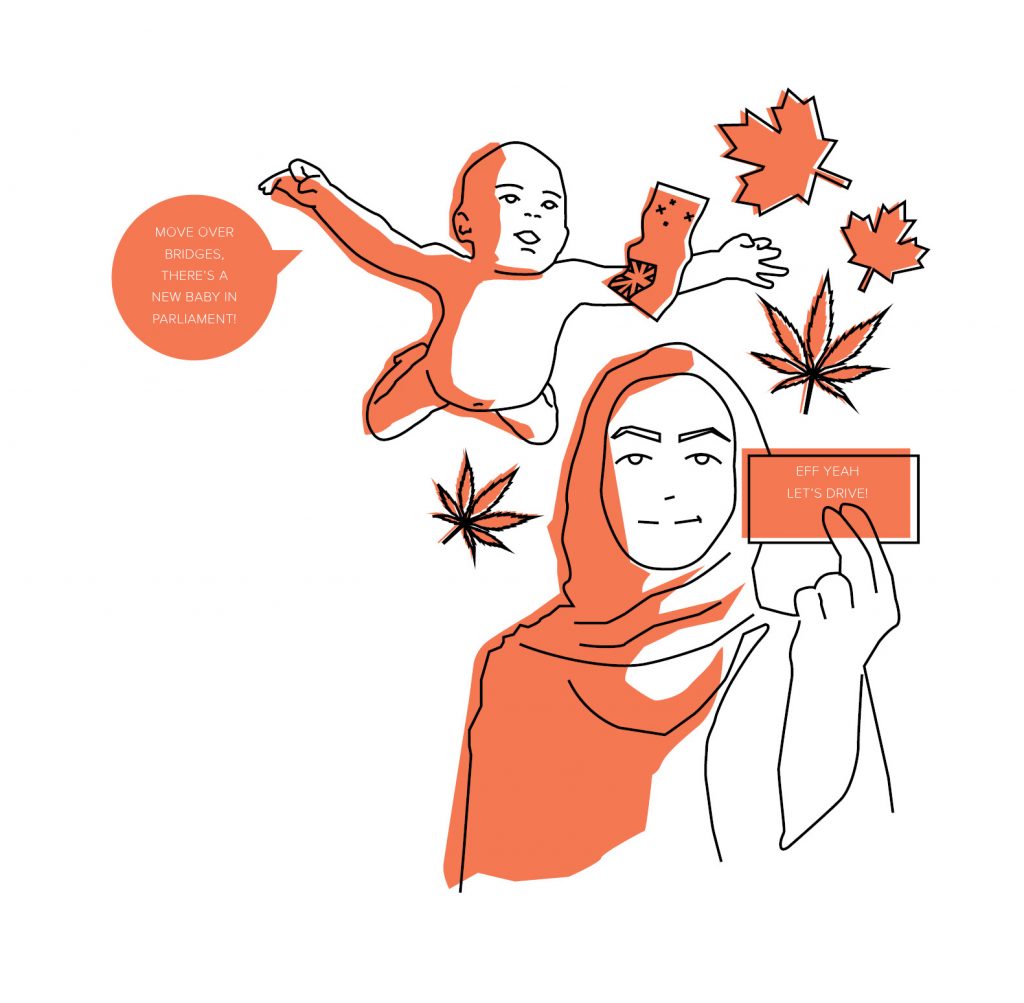 The G7 summit turns heads and stomachs in Canada as Trump pushes for his mates Russia to be allowed back into the fold. As a result, a new meme is born with all the other leaders looking at Trump as if he's lost his marbles.
Too important to stick around and take the flak, Trump attacks Canadian PM Justin Trudeau for being "dishonest and weak", which may explain why the land of the maple leaf becomes the first major industrialised country to legalise recreational cannabis. Needs must, after all. Trump then jets off early to meet his other new best buddy Kim Jong-un in Singapore. It seems like a love-in, but despite the positive spin, no concrete deals are forthcoming.
Very definitely the top news story in New Zealand (climbing raccoons aside) happens when PM Jacinda Ardern pops out baby Neve Te Aroha at Auckland City Hospital on 21 June. Ardern becomes only the second ever elected head of government to give birth while in office.
The rest of the newsreel is female-centric too. Melania Trump is accused of insensitivity and/or cryptic criticism of her husband when she wears a jacket saying "I really don't care. Do U?" on a surprise visit to a family separation centre in Texas. Homeland Security Secretary Kristjen Nielsen denies having a policy to separate families at the border and lock children in cages, before doing just that. And Saudi Arabia finally allows women to drive. It's almost like they're trying to put a good image out there…
Balls of all denominations are the order of the month for July, it seems. In Thailand, 12 trapped boys and their football coach are successfully rescued from a flooded cave in Tham Luang Nng Non, following a 17-day ordeal that costs one of the rescue divers his life.
Meanwhile the 2018 FIFA World Cup comes to a close in Russia. For once the Poms don't choke and captain Harry Kane earns a 6-goal Golden Boot as England make it all the way to the semis – whereupon they choke, surrendering a one-goal lead to Croatia, who in turn go on to implode in the final as France lift the trophy for the second time in their history.
And at Wimbledon, South African Kevin Anderson beats the USA's John Isner in the longest semi-final in the tournament's history. The 7-6, 6-7, 6-7, 6-4, 26-24 victory takes 6 hours and 36 minutes. Anderson goes on to lose in the final to Djokovic in straight sets.
In non-ball news, probably, Trump's tariffs on Chinese goods come into effect. China brands it as heralding the "largest trade war in economic history" and retaliates with its own tariffs. Facebook shares drop by nearly 20% after the data leak scandal hits home. And scientists announce the presence of water on Mars – a sub-glacial lake under the polar ice cap.
Which might be helping us all sooner than we think.
China are banning things again. This time it's Disney's new Christopher Robin movie, allegedly because some critics of Xi Jinping have pointed out the Chinese leader bears a striking resemblance to Winnie the Pooh. Piglet and Tigger decline to comment, with Eeyore distinctly gloomy about the whole sorry state of affairs.
Nothing is going right for Trump's cronies either. Campaign chairman Paul Manafort is convicted on eight counts of fraud, and DJT's personal lawyer, Michael Cohen pleads guilty to charges including illegal payments to women Trump had flings with. Newly-appointed lawyer Rudy Giuliani also renders himself a laughing stock by claiming that "truth isn't truth" any more in an interview with NBC's Chuck Todd.
Still in the US, a man steals a plane from Seattle Tacoma International Airport. He promptly flies it around for an hour, performing acrobatics and being pursued by Air Force jets before finding himself unable to land and crashing, big style. There's devastation of a different sort in Genoa, Italy, as part of the Morandi Bridge collapses after a violent storm, crushing cars and killing 43 people.
Back home, the Crusaders do it again, winning the Super Rugby final 37-18 over the Lions at AMI Stadium to secure their 9th title. Some achievement. The All Blacks also wrap up the Bledisloe, natch. Blessed too are the cheesemakers in Eqypt, as the archaeologists confirm finding the first ever ancient cheese in a tomb 3,200 years old. There's mature for you.
On a more sobering note, New Zealand mourns at the sad news that journalist and TV presenter Greg Boyed has passed away while on holiday in Switzerland. US statesman and war hero John McCain also leaves us, finally succumbing to brain cancer. And everyone says a little prayer for Queen of Soul Aretha Franklin who dies at the age of 76.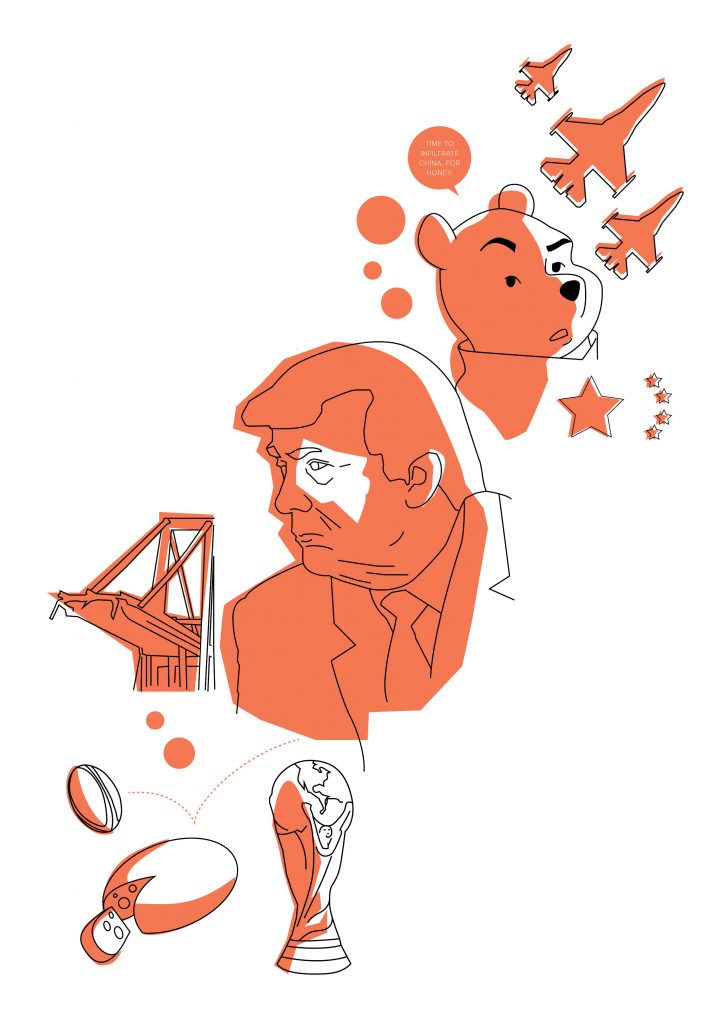 UK Prime Minister Theresa May confirms that two Soviet military agents carried out the nerve agent attack in Salisbury which subsequently killed a civilian. Despite video evidence, the Russians continue to deny with what becomes known as the 'Wikipedia tourist defence'.
Across the Atlantic, Category 1 Hurricane Florence hits the Carolinas with winds of over 140kmh and more than 40 inches of rainfall. Severe flooding cuts off communities and kills over 40 people. Things get even worse in Indonesia as a magnitude 7.5 earthquake rocks Sulawesi, causing a tsunami that kills over 2,000.
On the Hill, the Supreme Court confirmation hearings begin with nominee Brett Kavanaugh continuing to deny sexual assault against psychology professor Christine Blasey Ford while they were at high school. Ford also volunteers to testify. Kavanaugh evades most of his questions, gets confused about the meaning of "boofing", but is definitely a fan of beer.
Game of Thrones cleans up at the Emmys again, Kanye West loses it again, this time giving a pro-Trump speech on SNL. And master knee-taker and former NFL star Colin Kaepernick fronts a controversial new Nike ad with the headline "Believe in something. Even if it means sacrificing everything." In protest, some idiots actually burn the shoes they've already paid for. Nike stock falls initially before rebounding sharply.
And in motorsport, Kiwi ace Scott Dixon finishes second in the IndyCar Grand Prix of Sonoma to wrap up his 5th IndyCar Drivers' title.
October begins horrendously with the grisly murder of Saudi Washington Post journalist Jamal Khashoggi inside the Saudi consulate in Istanbul, Turkey. It triggers a diplomatic crisis for Saudi Arabia, especially as they keep changing their story, but the mention of bonesaws and dismemberment does not sit well internationally. Trump naturally refuses to condemn the act as it would cost him an arms deal. Khashoggi's body has still not been found.
Ignoring the furore, Trump finally gets his man as the Senate confirms Brett Kavanaugh as a Supreme Court judge with a narrow vote margin of 50-48. Trump himself swears Kavanaugh in that very evening, possibly before any further sexual allegations can muddy the swamp further.
On October 8, the Intergovernmental Panel on Climate Change (IPCC) releases a special report on global warming, including the warning that "Rapid, far-reaching and unprecedented changes" are required to keep global warming below 1.5˚C. Or else.
Mother Nature responds in kind to prove the point by unleashing Hurricane Michael on Florida. It batters coastal towns, and is the most intense hurricane to hit mainland USA for 50 years, directly affecting over 30 million people. Not that any of this bothers Canada unduly, when they become only the second country in the world to legalise the sale and use of cannabis. The first? Uruguay.
Sci-fi fans are excited as Jodie Whittaker goes to air as the first female Dr Who. It's a massive time for gamers too, with the release of both Assassin's Creed: Odyssey and Red Dead Redemption 2 kicking ass in the ancient and cowboy worlds respectively.
But the month comes to a sad end when 11 people are killed in a terrorist shooting at the Tree of Life Synagogue.
The US midterms are the item on everybody's agenda in November, including Taylor Swift. Will we see an endorsement of the Trump presidency, or will Americans realise what they've done and attempt to re-introduce some kind of sanity to proceedings? In the end the answer is both, with the Democrats taking the House and Republicans building on their power base in the Senate.
To celebrate, Trump fires Jeff Sessions as Attorney General, leaving the world to speculate on whether he will now go after Mueller before Muelller can go after him.
And what's this? Trouble at Google? Employees stage a mass walkout to protest the company's handling of sexual harassment in the workplace. Trouble in pop too, as the Spice Girls announce a new tour, without Victoria Beckham. Apparently she has a business to run.
It's business as usual for the All Blacks too, as they notch up a 69-31 win against Japan in an entertaining try-fest of a game in Tokyo. Even Steve Hansen looks enthused in the post-match interviews, using the phrase "razzle dazzle" for possibly the first time.
And an independence referendum in New Caledonia results in a 56.4% vote against, so we guess things won't be changing too much there. If only the same could be said of Brexit, which continues to be a car crash in slow motion.
Comics legend Stan Lee, Otherwise known as the old guy who gate crashes all the Marvel movies, passes away at 95.
As for December, dear reader, publishing deadlines dictate that you will have more of an idea than us as to what is actually going on this year. All being well, we predict that Christmas will happen, as will BBQs, beach weather and the odd family argument.
The Wu-Tang Clan will play their first ever headline New Zealand shows in Christchurch and Auckland. Shania Twain will rock Spark Arena for two nights. And if that don't impress you much, there's a Harry Potter Quiz Night at the Pig & Whistle in Queenstown on December 2. Doors open 6.30pm, Slytherin welcome.
The 2018 Men's Hockey World Cup in India is also scheduled to finish around the 16th of the month, with the Black Sticks drawn in a group with Argentina, France and Spain. Let's hope the boys can bring it home for the first time and finally eclipse that gold at the '76 Olympics in Montreal.
That's about it from us for this year. Happy Christmas, Merry New Year, and here's hoping 2019 is a belter. You never know, we may even get some more developments in the Mueller enquiry. Strangers thing have happened.