Ladies and gentlemen, this is the captain speaking. On behalf of M2 and the entire crew on-board this flight, we would like to welcome you for the first class experience we have on offer. At this time, make sure your seats are back and tray tables are in their full upright position and that your seat belt is correctly fastened. We take your needs and concerns as a first class customer as a top-priority. If there is anything you need – anything at all – please don't hesitate to ask. Thank you and enjoy flying first class with M2.
Whether it be for business or pleasure, air travel has definitely flown in advancement over the last decade or so. Whenever you seem to hear 'first class' you're not the first to think that only hoity-toity businessmen or billionaires fly it. But it's just as easy for average Joes like us to gain enough Flybuys or Air Points to upgrade and enjoy fantastic experiences in the air.
We at M2 want you to enjoy all that any airline has to offer, so we've devised a list of airlines that we think offer the best first class experience and a look inside their features…because everyone dreams of someday having enough money in their pocket to enjoy such a world-class experience.

Singapore Airlines
Singapore Airlines is the central flag-carrier to the wondrous land of Singapore. With their fantastic hospitality, five-star service and their trademark 'Singapore Girl' air-hostesses. It certainly outshines the rest with their airline experience. Ranked amongst the top 15 airlines worldwide in terms of revenue and 10th in the world for the volume of international passengers carried, Singapore Airlines is the largest airline in Asia, boasting a very impressive resume of awards and records won and achieved.
Founded in 1947 by the Ocean Steamship Company of Liverpool, this airline has flown to 62 destinations in 32 countries on five continents since its beginning. The recognizable logo – the yellow bird, the silver kris (likened to a keris, a South Asian mythical dagger) – is ingrained in air travel as representing class and sophistication for any air traveller. Singapore Airlines offer Economy, Premiere Economy, Business, and First Class Suites. Sounds luxurious, doesn't it?
Only offered on its flagship A380s, the front section of the lower deck on the aircraft is as breath-taking as you'd expect. The cabin is sectioned off one-suite-by-one-suite and offers an ultra-luxe experience fit for a king. A 21-inch-wide Poltrona Frau Leather seat is there for you to lounge and relax in that reclines to 135 degrees. There, you'll have full control of the suite right at your finger-tips. A 32-inch TV screen to watch the latest, hotly-released movies or televisions shows, a pair of noise-cancelling head-phones so you can enjoy without the rumble of the plane's engines beneath you, a stowage compartment, and electronic window-blinds. Your First Class suite will offer you a separate double-bed with Lalique pillows and duvet, along with a separate lavatory and shower.
Upon arriving, you'll be treated to a glass of champagne and a browse of the menu which, if I'm to be truthful right now, even made me feel weak at the knees. Delicious accompaniments like seared steak with red wine and horseradish butter, seared salmon and braised lamb rendang to satisfy ones pallet. The international culinary panel that Singapore Airline boasts is impressive in itself. New York's own Alfred Portale (named best chef in New York in 1993) and Masterchef Italy's Carlo Cracco inspire the cultural and celebrated menu on offer in the First Class Suites. A trip in the First Class Suites would cost around USD$6,000 to $8,000, but the experience is worth it.

Emirates
Founded in 1985 as a subsidiary to the Emirates Group, and owned by Swiss businessman, Peter Baumgartner, Emirates definitely sits as the creme de la creme of air travel. It almost seems like Emirates is a household name. The fourth largest airline to date, sending off approximately 3,600 flights per week, it currently has a net worth of a whopping USD$37 billion. They boast an economy, business or first class for all types of flier.
If you purchase a first class ticket (approximately NZD$14,000) you would board your flight with priority and the crew will take you to your 40-foot, individual suite where you can experience an endless supply of Dom Perignon, wild caviar and a wide range of foods and beverages to enjoy. Each private room features 'zero-gravity' seats, virtual windows for crystal-clear viewing pleasure of the outside of the aircraft and an entertainment system with up to 2,500 different channels on a 32-inch flat-screen TV.
If you are feeling a bit clammy from lounging in First Class – as all fliers do from time to time – you can go and enjoy one of Emirates on-board showers! Amazing to think that Emirates is offering this, all in the air! Ben Schlappig, the owner and blogger behind One Mile at a Time wrote about his experience with Emirates: "The crew was friendly, I love the Emirates first class suite, the entertainment was endless, the wifi was actually quite fast, and of course I loved the Dom Perignon. Emirates, you're a great way to fly!"

Cathay Pacific
Called the fourth best airline in 2016 – that badge of honour has been worn easily with poise and gravitas. The main flag-bearer of Hong Kong International Airport, Cathay Pacific is a definite contributor to the best airline list. It operates scheduled cargo and passenger planes to 190 destinations in over 44 countries, stamping its name in the record books and making it one of the highest-ranked airlines by passengers. It's been rated four stars on the Skytrax website and has had rave reviews saying that the experience of flying with them is superb. The airline made the world's first non-stop transpolar flight flying over the North Pole in 1998. The Cathay Pacific brand has been up and running since 1946, founded by Australian Sydney de Kantzow and American Roy Farrell, two veteran World War 2 pilots who both flew planes over the Hump, a route over the Himalayas.
With a $10,000 price tag per trip, Cathay's first class experience is definitely an adventure for any flight enthusiast. In the first class, you will be welcomed on-board with their signature Asian hospitality, where you, lucky traveller, will be treated to the finest of high-class travel. With a first class cabin of only six seats – the smallest first class cabins operating – this intimate experience will get you hungry for more. Big seats spread over the cabin for your leisure (each of which recline into fully-flat beds), champagne on-demand, and an assortment of delicious foods, including the finest Asian salmon caviar, seafood and the tenderest of locally sourced meats. An on-flight entertainment system includes up to 150 channels, 100 newly released movies, music and games on a 30-inch screen. On-board showers and a walk-in bar are just some of the other treats Cathay Pacific offer.

ANA – All Nipon Airways
Known as being the largest airline in Japan, ANA All Nippon Airways is certainly one that stands the test of time. It was founded in 1952 and operated its first scheduled, passenger flight in 1954 flown by a Japanese pilot in post-war Japan. ANA All Nippon Airways has taken major quantum leaps in air travel over the years. ANA is also a pretty big investor in Peach, a low-cost carrier operating service with Hong Kong company, First Eastern. They now have over 20,000 employees over their many worldwide offices, and make a reputation their world-class service. They offer economy, business and first class experiences that are each unique to their own separate cabins.
In the first class cabin (at a price of $10,000 a flight), you are welcomed by the crew of the cabin who treat you to a full Japanese experience. Complete with a pod-like seating arrangement (with a one-to-one configuration) that pulls out into a fully-flat bed, the ANA All Nippon Airways is certainly an experience that grabs you by the collar and pulls you in for an embrace. There's a huge array of top-shelf beverages to enjoy, with champagne and whiskey at your disposal. Though it sometimes lacks a few essential additions, it is still a wonderful airline to travel first class on.

Qatar
Founded in 1993, this Middle Eastern airline is renown for its flying experience. The CEO of Qatar Airlines, Akbar Al Baker, is the one credited for turning Qatar into a five-star airline. In 2011, it reached a milestone of flying to 100 destinations around the globe and has been named Airline of the Year in 2011, 2012 and 2015. The airline has kept its award-winning flare throughout their time in the sky, with top-quality economy, business and first class experiences.
Located at the front cabin of the upper deck, there is eight unique seats spread over the space. Qatar's blend of traditional with the modern really elevates the mood of anyone lucky enough to fly in one of these spots. Everything in this first class experience is extravagant, including the modern-looking "luxurious and elegant decor", as stated by Air France. The first class cabin on this airline is one that can't really be beaten. Arranged with eight seats in the first class cabin in a one-two-one layout, there is a lot of space for passengers to spread out and really relax. Imagine the fully restful experience with the delightful entertainment and dining you can enjoy.
Upon taking off, you are treated to a delectable assortment of cuisine to satisfy the palate. Soups, appetizers, meat and seafood dishes, cheese platters and much more delight the senses on this flight. The meal is paired with a large selection of wine and beverages that stimulate the senses. You will be provided many storage options and an ultra-comfortable fully-flat bed. The perfect compliment for any tired traveller. "The first class cabin was beautiful, and had a very welcoming feel to it," Ben Schlappig (from One Mile at a Time) said on his blog.

Lufthansa
Founded in 1926 as the-then-called Deutsche Luft Hansa A.G. (styled as Deutsche Lufthansa), the airline has grown and grown throughout the years. Now currently with a fleet of 668 planes going to over 200 destinations, Germany's Lufthansa is a great example of what years and years of craft and aerial discovery can do for a massive global name. A perfect example of this is the partnership that Lufthansa has with the car manufacturer Porsche to make the excitement of the flying experience mirror sitting in a luxury car.
With a price tag of NZD$13,000 per flight, this airline offers a large selection of additional treats for you to enjoy! Imagine yourself arriving at the first class lounge where you are shown personally to a buffet dining experience and a social drinking area where you can enjoy complimentary champagne. You will then receive priority boarding, where you will be taken to the front section of the aircraft into the cabin. There, the seats are big, comfortable, and easy to relax in. There are eight seats in the first class area, so there's lots of space to spread out. You will be given complimentary beverages before take off. As soon as the plane takes off, you can enjoy the flight however you wish. Interestingly enough, Lufthansa is also the largest buyer of caviar in the world. The more you know.
Food and drink on demand, a 32-inch TV with up to 105 channels, and other additions to make your flight as enjoyable as possible. With ample storage room, beautifully large lavatories, on-board showers, and around-the-clock service, there is an awful lot to appreciate in this airline. The seats, designed with cream-coloured suede and leathers, can recline to make a bed in your own, personalized pods. Lufthansa is truly an airline that impresses, and defines perfection in the skies.

Etihad
Translated to 'United' in English, Etihad, the second-largest airline in the UAE, is the height of sophistication and excellence when it comes to air travel. Established in 2003, this now global fleet took its first flight to the inland oasis city, Al Ain. Since its birth, the airline has flown to different corners of the world, gaining five stars on the online review site Skytrax and boarding into the history books as being the only airline that has consistently met its departure times. Etihad offers three different ways to fly for any traveller. They can enjoy economy, business, or first class residential. Economy and Business are both well-catered means of transport, but when you go up the stairs in one of Etihad's Airbus', you are introduced to a whole different world fit for kings or queens.
Imagine, dear Reader, being lead onto an Airbus (after experiencing the many pleasures on offer in the pre-flight lounges) by your own, personal butler, kitted out with dinner jacket and bow tie! Fancy, am I right? The experience will treat you to a spacious apartment-like first class cabin – two-seats-by-two-seats in configuration – featuring personalized armchairs, beds, vanity units, onboard showers, lounges, bathrooms, spas and master bedrooms! Just imagine that! Sitting in a spa pool at 40,000 feet in the air! Once you've dried yourself off, you will be escorted back to your seat where you will be wined and dined with the finest local produce prepared by award-winning chefs!
Throughout your journey with Etihad, you'll receive world-class services at the drop of a hat. Keith Mason, the founder of Point Hacks Australia reviewed the experience of flying first class on Etihad's Airbus plane. He wrote: "Either way, this is definitely an experience worth saving points for – I doubt many people would be able to justify paying the many thousands of dollars for a paid airfare, but to be able to redeem points and have the same experience was, as you can imagine, awesome".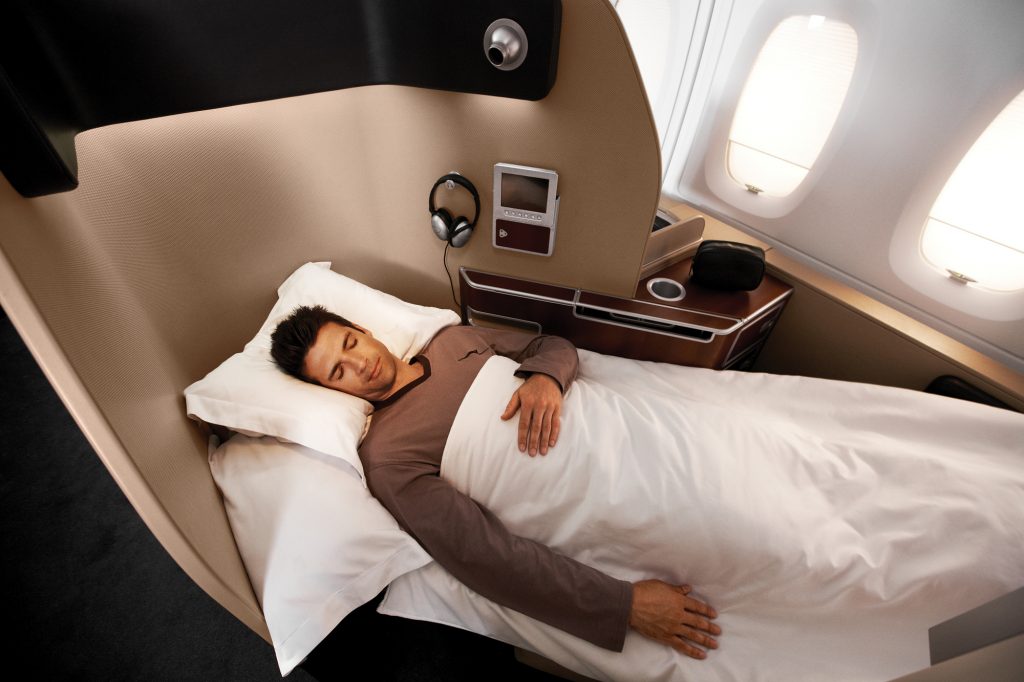 Qantas
Winning awards for their breathtaking design, Qantas is a renowned global airline. Gaining four stars on Skytrax, and holding rave reviews on other airline review sites, Qantas is definitely an airline that is hard to beat. Whenever you say the word, everyone thinks of those Aussies, the iconic kangaroo logo with a splash of red. The flag carrier of that country over the ditch is the largest airline by fleet size, and also the third oldest airline in the world, after KLM and Avianca.
Founded in 1920 and starting its main passenger flights in 1935, Qantas has come a long way since its beginning, joining up with the sub-airline, Jetstar. Qantas offers economy, business, and first class services. In the first class cabin, contoured cream-coloured cushioned seating welcomes you on board. You can spread out in your own space with a fully reclining seat that transforms into a bed. After take off, the lights will dim and you are invited to try the cuisine or enjoy a drink or some local Australian food – kangaroo, crocodile, the list is endless – by Qantas Chef, Neil Perry. You could even go into the separate lounge area and have a relaxing drink and chat to the friendly crew or fellow passengers. Qantas also features other additional treats that can be enjoyed by you on the flight.

Air France
France is known for their touch of romance, so it's no doubt that you will fall in love with this French airline. Founded in 1933 from a merger of Air Orient, Air Union, Compagnie Générale Aéropostale and Compagnie Internationale de Navigation Aérienne, Air France is hard to beat when it comes to air travel. With its fleet of up to 228 flights to 201 destinations, this premiere airline service is designed to personalise the experience. They have recently given a $1 million upgrade to all flights, making their cabins more versatile and user friendly.
The first class (more commonly known to the air travellers as La Première) is kitted out with the passengers own spacious seating pod that divides the cabin. In the La Première, you are treated to your own, personalised service from crew. Upon arrival, the traveller is greeted by the staff, given complimentary Veuve Clicquot La Grande Dame (from one of a million bottles provided yearly by the airline with a price tag of $150 a bottle on the ground). The crew will introduce themselves to you, offering you a plethora of tastes to enjoy, as well as high-quality beauty products by Biologique Recherche.
The First Class cabin features soft leathers, suede, textile fabrics with a tweed trim and metallic finishes to give a super modern look that Air France is renowned for. After the plane takes off, you are treated to award-winning food prepared by top Michelin-starred chefs and an exquisite wine list selected by wine sommelier, Paolo Basso. Why don't you also try Aquitaine Sturia's celebrated caviar prepared by Anne-Sophie Pic, Régis Marcon, Guy Martin and Joël Robuchon whilst you sit comfortably in your seat that transforms into a luxurious bed. On-flight showers, a walk-in bar and space to stretch the legs on long-haul flights are all on offer. Or, if you are one who enjoys a much more restful experience: movies, games, TV shows and music can be enjoyed on a personalized 24-inch interactive screen. Air France has been awarded four gold stars by Skytrax for their first class service.
You'll also like:
You're seeing this M2 article with compliments of our channel sponsor. If you enjoyed it why not try our entire library from only $1.99 a month - get instant access now - every issue of M2 since June 2017. Access local New Zealand made content on the future of work, style, business, superyachts, technology, entertainment, cars and more right now!
CLICK HERE
for more details.