In the bright lights of the MGM Grand in Las Vegas, the best MMA fighters in the world meet yearly, all fighting for that prestigious UFC belt. One of those fighters is New Zealand-born Australian fighter, Robert Whittaker. After starting at a Goju-ryu Karate school at age seven, he has risen the ranks through hard-work and determination to become the current UFC Middleweight Champion of the world.
This October, he'll be going head-to-head in a title fight with New Zealand fighter, Israel Adesanya. Whittaker's stoic nature and respect for his sport puts him above the rest. He has won numerous fights against many big names. He has knocked out world gold medalist and Olympic silver medalist, Yoel Romero. He has KO'd Derek Brunson and there are so many more to name.
We sit down with Robert Whittaker to talk to him about life inside the octagon and out.
Why are you in New Zealand?
I have a lot of family in New Zealand, so it's a chance to go and see my aunties and uncles and cousins. It's also a way for me to explore and expand on my knowledge of my own culture, my own background, which is very important to me to know who I am and what my values are.
Secondly, I'm looking to bring an educational programme out for Maori. We have a very successful programme back in Sydney for indigenous rural communities; we use jujitsu as a conduit for education. For me, it beats study in the classroom, you draw me in with jujitsu.
We're trying to bring the same model programme out here to New Zealand, and we're going move in to Queensland and the Torres Straits and wherever we can. I think it's a great thing.
Where did the concept of the program come from?
It's just an idea I had been playing with for a while, and, fortunately for me, I've surrounded myself with some good people and I get to run my ideas past my coaches. I asked 'how can we do this and how can it happen?' One thing led to another and we've had a few years of successful programmes and met a lot of people.
I've learnt so much about Australian culture and for me to be able to do that here, where I was born, is great.
Can you talk a little bit more around how it works?
We're directing it towards Maori and we're kicking it off with a Certificate 3 and 4 equivalent of Australian qualifications. We're looking to broaden that scope, so that it's not just for one group, it's open to everyone.
There are a lot of communities out there and there are a lot of groups where the classroom just isn't for them. The way we do it is getting people in for training, where they join the team and wrestle. People get to watch me train and meet my coaching staff. They bring their culture and backgrounds too. You never know, the person you're sitting next to for the first time may be in the gym the next day! It's just great and the networks you make during these programmes is what you take for the rest of your life.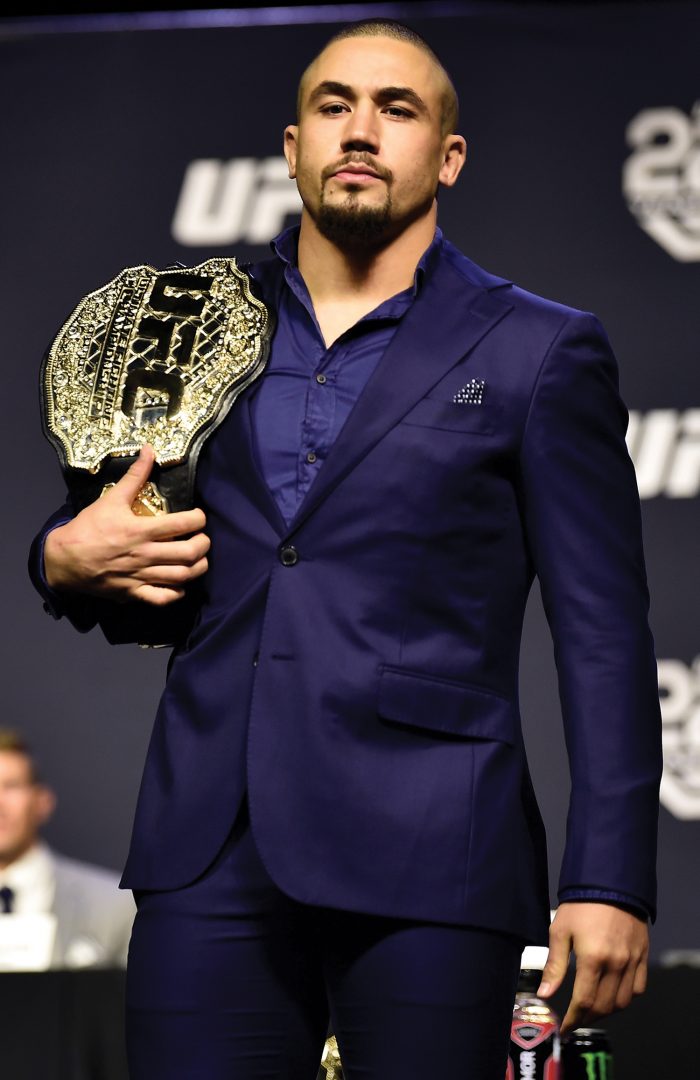 What sort of numbers are we talking about?
I think at the first block we had about 60 to 70 students. They came in through the first class. We're looking to break that number to go further with it once we can get our foothold here in New Zealand. That's one of the biggest motivating factors coming out here is to try and move this programme, explore my culture, meet up with my family. Let's do it.
What do you need to help the roll out?
Honestly, I think it's happening. I'm being given the attention and the spotlight and I'm utilising it to the best of my ability.
So you've got 500,000 people on Instagram, millions of people watching you, how do you deal with that sort of attention?
I think a lot of high profile athletes, or anyone in a high profile position, has to juggle and deal with it. Don't let it get to you because it doesn't mean anything. I am really conscious of the fact that, as my coach sometimes puts it, I box people in my undies. I'm very conscious that that's what I'm doing, and I'm not out there curing cancer, I'm not out there flying to the moon. I just entertain some people in the weekend.
I am grateful that I have such a following and support group that can, not only enjoy what I do, but follow my process and believe in my ideals and follow me on this journey.
I really do appreciate that, that's why I have such a strong connection with lots of my fans. Some guys let it get to them, some guys think they are above the crop, some guys things they're more than human, and they're really not.
Where do you think that humility comes from?
It definitely has something to do my upbringing. My father and mother always said, 'stay humble, be humble.' It really is the people you surround yourself with too.
It might be a cultural thing. I grew up a kid with no money, I grew up humble and I surround myself with good people. I say to the new guys, 'look from the outside.' I understand the bigger picture, I understand there are bigger things going on than fighting.
Did the discipline and the training and the focus influence your personality and thinking about the bigger picture?
My upbringing and the circumstances of my upbringing definitely affected how I view life as it is, and how I approach different things and why I don't take certain things for granted. Fighting is humbling, combat sports is humbling because there's always someone bigger than you who's going to drop you on your head one day. You'll always want to be the best at everything and sometimes it hurts and sometimes you have days where it's just the same.
Another thing with me and the way I conduct myself is that I don't try to be someone I'm not. I just am the way I am, I try to display that on all my platforms.
How much of it is the mental aspect? What would you attribute to your success regarding mental and physical health?
The mental to physical aspect becomes 90 percent mental and 10 percent physical. The mental trials and obstacles you face are not only in the Octagon, it's after that. It's if you win, it's if you lose, it's how you feel during the camp. Life doesn't stop because you're a fighter.
Once I leave the fighting space, I still have to go brush my teeth, talk to my wife, see my kids, pay my bills. It's the same thing and all the day-to-day stresses that you go through on top of having to fight people for a living. The stress of it all is massive, staying on top mentally is most of the game.
What's going through your head inside the Octagon?
Once you get in the Octagon, you try to think clearly. You're still trying to focus on your opponent and thinking through what I'm doing, what's he going to do. But as soon as you touch gloves and the first punches are thrown, it's a rollercoaster of emotion.
It's very, very similar to a rollercoaster. You hop on, you're freaking out until the end, and then afterwards you think back to yourself and try to remember how it was like.
Honestly that's how fighting is; it's a rollercoaster and that's why it's so important to do the work before you get there.
What about pain, is it a special breed of person that can deal with it?
Yeah, no one likes pain. It's funny what we get used to though. This is what I do for a living. I do combat sports. I fight, and I'm used to it. I think anyone can get used to pain, pain is just there.
People question how I do it, but you just get use to it. And then you get better at not getting hit. It's fun.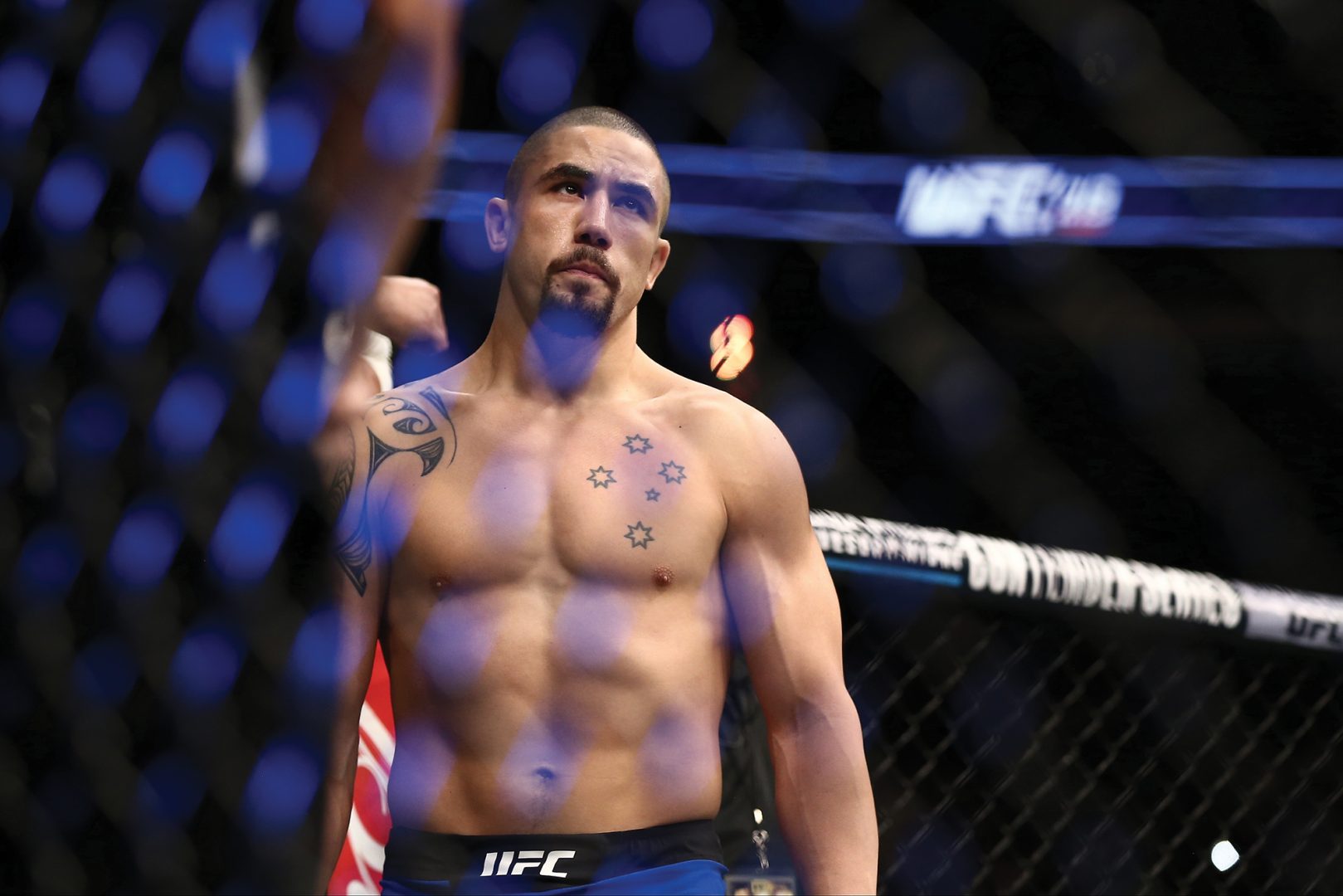 A lot of people will call the millennial generation snowflakes compared to older generations. Do you think that's fair?
No, I don't think they're snowflakes. They have to deal with things that the older generation didn't have to deal with, like social media and the bullying that can come through the web and through social media. I think it's just different. I don't think the generation's gotten weaker per se, I think it's just different.
Do you think about shielding your children from certain things?
I don't think there's any guide book out there that tells you how you raise kids 100 percent. Everyone's different, every kid is different. My biggest thing is that you can't stop kids from doing what they're going to do. And the harder you try to stop them, the more they feel like doing it – the more they're going to try and push back.
The only thing I want my kids to do is to get into combat sports. I think combat sports is great for character building. Like I said before, it's very humbling, I just think you grow a lot as a person. I feel that, through combat sports, you can really get in tune with yourself.
In fighting for instance, I've reached points where everything I do doesn't matter. There's just me and my heart and that's the only thing that's keeping me standing at that point. You really have to look deeply into yourself and pull things out.
When you go that deep, can you describe the person that you found?
I'm a warrior at heart, I'm a fighter at heart. I'm born to do this. It's just what I was meant to do. I'm also the kind of guy that needs a reason to fight.
If you say, I'll give you the money for next month's rent if you fight, then I have a reason to fight. I'm going to go provide for my family. I find that in myself and then I built that around. I built my own identity around who I am, my base instincts and my roots.
Do you find there is a different level of respect that comes from combat fighting?
A really big key in fighting is not underestimating your opponent. I don't believe you can truly gauge your opponent if you don't respect them.
If you're not respecting your opponent, you are underestimating him. You need to show a certain amount of respect to properly gauge and respect your opponent's abilities.
It seems like in Oceania, MMA is at its golden age. What do you think is the catalyst behind that?
It's hard to say. The USA have been pushing into this area for a long time trying to fold with UFC and the martial arts. We've had a lot of great fighters come out of New Zealand and Australia; I'd like to add myself to that list.
Our goals as martial artists is to bring spotlight on to where we live. I want to make the country I represent proud.
You've got your roots in New Zealand, yet Australia has kind of claimed you. How do you differentiate?
I am Australian. My passport says I'm Australian, but I'm also very aware of my Maori background. I was born here in Middlemore and the same week I flew over to Australia. Anyone who has seen me fight, can see the Maori in me. They can see it in me. And you'd be lying if you said otherwise.
What about fights with, say, Israel Adesanya?
I'd take a fight with Israel the same way I'd take all my fights up to this day. I'm just going to take it to him.
That's how I fight, that's what I'd do. I'm going to go out there and I'm willing to die out there. That's just how I fight. I believe that's what my culture tells me to do also; win or die. There's nothing different with this fight. It's just another fight, another name.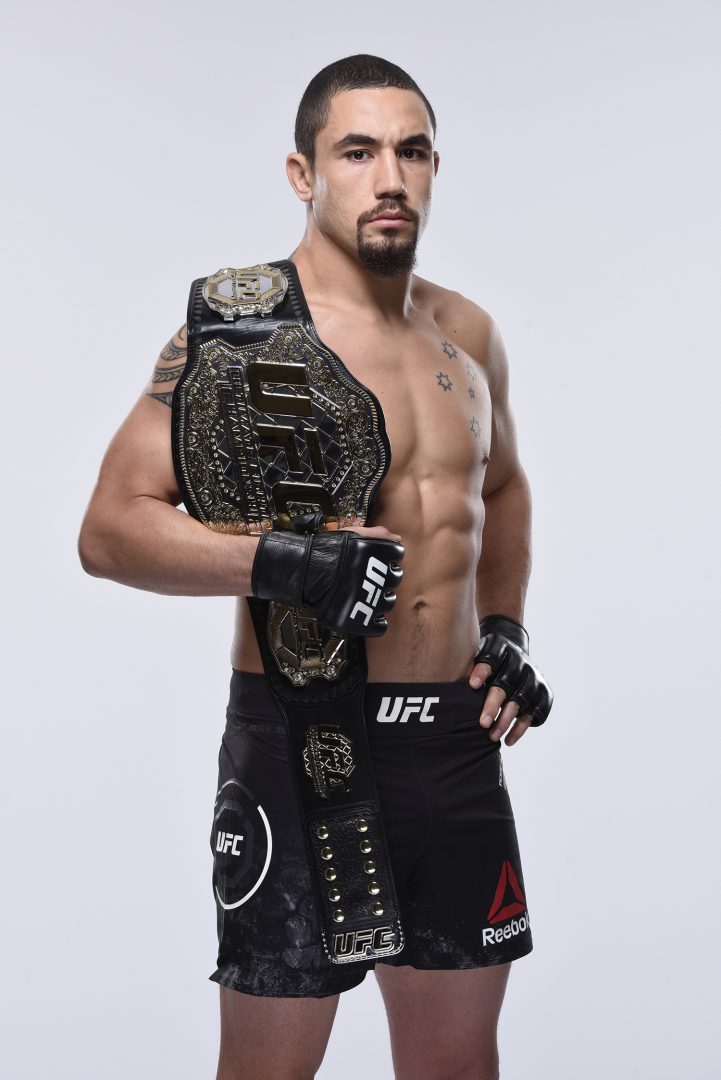 What was the moment you knew that fighting was a fireball career for you?
It wasn't so much watching fighters, it was just how my journey unfolded. I used to compete in mixed martial arts when I was younger, before I made the UFC. I used to just do it because that's just who I was.
I love fighting, and that's what I'm identified as: a fighter. One day I realised I can make a living doing this. It wasn't something I had set my sights on and worked towards. It was something that is where my journey ended, actually.
Do you have any cool pieces of advice from the UFC world?
Honestly, if you're a young kid and you want to become a professional fighter for a living, just train hard and stay out of trouble. That's it.
If you think you're going to get in trouble, just train, train, train, train, train. Your training can't let you down. You need to just believe in yourself or even the system. Just train away until you get your chance to shine.
Describe an average day for you…
I will do two hours of training in the morning and then I'll grab a quick bite to eat. Then I'll head over to the office where we have a podcast, host TV and we talk about a whole host of different things there. We talk about the programme, we talk about what I'm up to, we talk about the fights, specific stuff.
We also talk about other things that are someway connected to fighting. We have other doctors come on board, strength condition coaches, we have league professionals. Then I go home, see my kids, play with them for a bit, try getting a little bit of sleep and then come back, do another two hours of training and repeat.
How many podcasts have you done so far?
I think we've done about 26 episodes. We're still in the early stages of getting them out. We're having a lot of fun with that and enjoying it. It's very different to fighting, that's for sure.
Do you think about life after sport as well?
For sure, I have to. You cannot fight forever. I'm very aware of the spotlight and my clock on my career ticking. So that's why I'm making sure that when I am great in the spotlight, I will utilise it effectively.
I'm pushing the programmes that I'm running, I'm pushing my podcasts that I'm running. Every chance I'm given, I try to display another skillset to the best of my ability.
Do think that having kids changed your perspective on fighting?
Of course. It was having kids that made me feel like I had to fight for something. I just want to go fight. It changed me, to the core of fundamentally who I am.
You'll also like: