Bourbon, America's famous native spirit, pours $8.6 billion from their charred oak barrels into its birth state, Kentucky. Supplying 95% of the world's bourbon and generating over $1 billion in annual salaries, this tasty industry is an economic powerhouse for the Bluegrass State.
However, like anything else in a competitive industry, not all bourbon is made in the same way. When it comes to picking the juice, the study of craft, quality and history goes a long way. The fine art of making premium bourbon was born in the Woodford Reserve Distillery over 200 years ago.
A meticulous blend of corn, rye, malted barley and limestone-rich water makes for an incredibly well-balanced and flavourful pour. Not to mention, the extra long fermentation process allows for the sweet, spicy and nutty characters to soar with every sip. Due to the sheer time investment required to create good bourbon, each drop is a result of love and labour – it's a crime of the conscience for it to be wasted.
They say you can make out over an impressive 200 flavours in Woodford Reserve. In this issue of M2, we'll be discovering how to reach new heights of flavour by studying its compatibility with a variety of delicious things so you can learn to truly savour your bourbon and enjoy the best thing, or arguably purpose, of life – eating and drinking well.
Jeremy Nivern, Manager of Scandal Ponsonby, and all-round good-time booze connoisseur, takes the reins on this fancy tutorial today.
Let's start with the basics, what are the typical flavours within bourbon that we should be noting on the palate?
Well, with Bourbon, considering it is a spirit that is pretty simple in terms of the ingredients that are used to put it together, there's a surprising amount of flavour variations available. Flavours can vary from floral and fruity to spicy and dry with a whole pie chart full of flavours in between.
For a beginner, I personally would recommend a more mellow style of bourbon – something that won't punch you in the face but will let you know it's there. The flavours that you can expect to find would be slightly spicy with nutty notes and butterscotch – almost like toffee apple. I would recommend a bourbon sitting at around the 40% mark as it won't be too challenging for the inexperienced palate.
To what can we owe the creation of these distinct flavours?
The flavour profile of a premium bourbon, like Woodford Reserve, comes from its intricate production process and its associated five sources of flavour. The five sources can be modified in numerous ways to change the complex flavour profile to the distillers taste.
Even a small tweak can vastly change the flavour. They are grain, water, fermentation, distillation, and the final, and where 70% of its flavour comes from, is the maturation. This is where the distilled whiskey is put into carefully selected barrels and aged.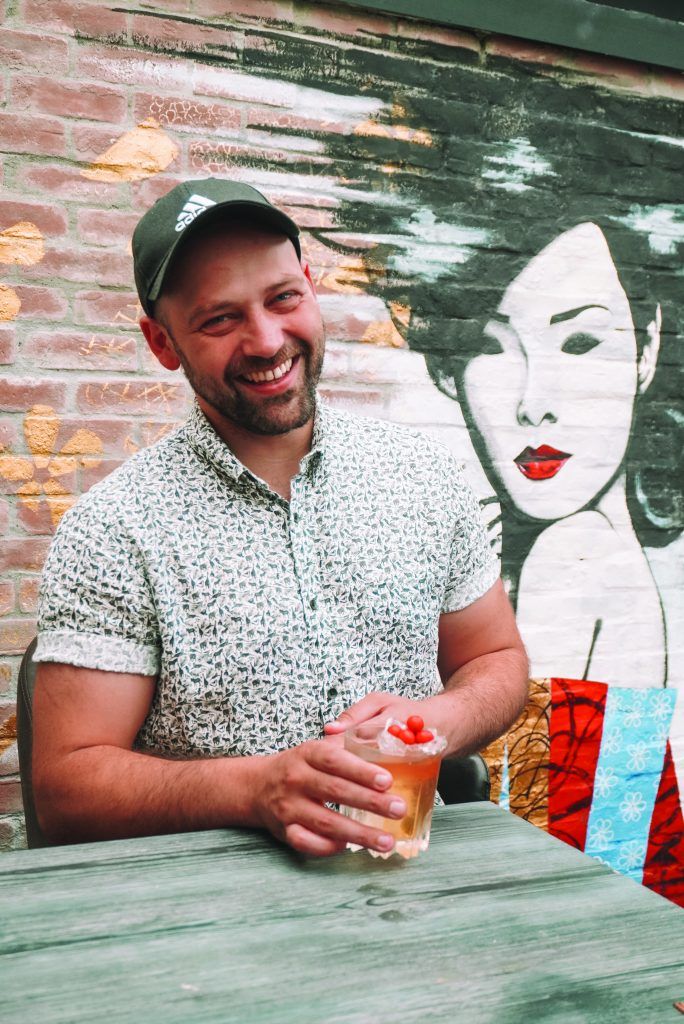 What do you recommend we place on the platter to maximise the tasting experience?
Adding food to the consumption of alcohol can really help to accentuate different flavour profiles within the given alcohol, hence why wine and food pairings really work. Using spirits can be more challenging but by following some simple rules, we can pair food with Woodford Reserve that will help you distinguish between various flavour notes of the alcohol.
Here are a couple of recommendations that will help bring out these wonderful flavours:
Aged Parmesan – Woody & Nutty
Cashew – Wood, Nut, Pecan
Dried Cranberry – Fruity, Floral, Blackberries
Orange Slice – Fragrant notes, Lemon, Peach
Dark Chocolate – Coffee, Clove, Tobacco Leaf
Maple Syrup – Caramel, Honey
And to really enhance your drinking experience, use the 3-step rule to discern between each flavour:
Step 1 – Chew the food sample and breathe through your nose to take in the full breath of the flavours.
Step 2 – Take a sip of Woodford Reserve
Step 3 – Cleanse palate with a sip of cool or room temperature water
When creating custom cocktails at home to suit the palate's predilection, what is the end goal in terms of flavour combinations?
With regards to making drinks at home, using fresh and seasonal ingredients is important to me. When produce is in season, you'll find that the fruit naturally has a good balance in terms of acidity and sweetness, meaning you have to do less to try and balance the drink. Strawberries a couple of months ago were fantastic and a welcome addition to any cocktail, in the coming months you are best to look out for tamarillos and feijoas – things that NZ is famous for, but should also be cheap as chips which means that having a good time doesn't break the bank.
The end goal, personally, in terms of flavour combinations is to maintain a good balance in terms of strength, sweetness and acidity. As long as you balance these three principles alongside tried and trusted flavour combos, such as strawberry & basil, apple & cinnamon, chocolate & orange, then the drinks that you make at home will be delicious.
How do you drink yours?
Well! That's a loaded question… straight down the hatch?
Personally, I like to drink my Woodford in an Old Fashioned – a nice and easy classic – that's if I'm drinking it at home. If I'm out, then a Sazerac is the number one go-to. The guys at Deadshot and Clipper are usually there to look after my needs whenever the moment arises.
Check out Jeremy's recipe for his spin on the classic Old Fashioned here.
You'll also like:
You're seeing this M2 article with compliments of our channel sponsor. If you enjoyed it why not try our entire library from only $1.99 a month - get instant access now - every issue of M2 since June 2017. Access local New Zealand made content on the future of work, style, business, superyachts, technology, entertainment, cars and more right now!
CLICK HERE
for more details.