Drinks International has for the fourth year in a row named Villa Maria as one of the most admired wine brands in the world and the highest ranking New Zealand winery in this year's "World's Most Admired Wine Brands" list.
And while Villa Maria has become an icon in the New Zealand wine industry and beyond it is still family owned and under the careful watch of its founder Sir George Fistonich. Even though he has recently handed over the reigns as CEO, he can still be found most days at Villa Maria's impressive Mangere-based winery and HQ still engaged with the company, the brand and the legacy that he began building in 1961.
Before we get to some wine tasting, Sir George shares with us some of the journey that has gone into building one of the world's most admired wine brands.
How would you describe a good leader?
I think a good leader is not all about themselves…it's all about their team. Good leaders can try to get teams to contribute and be part of formulating a plan or idea. A good leader can go around the table and canvas ideas – starting with the most junior people and working up to seniors. Quite often, people like that are not biased – they haven't got set views. I think leadership is actually more about encouraging people and mentoring better ideas. I think we have got that in our viticulture wine-making team. Our chief winemaker started at 17 or 18 years old as a junior – he is now 38. He has been here 20 years. He is very capable.
I think of a company as people. Bricks, mortar, machinery, and equipment are all important, but particularly the people. In the wine industry, grapes are also very important! Grapes are the foundation. Then comes the process. If you get that right that is your foundation. Viticulturist, grape growers and winemakers are important too. Then comes how good your exports, sales, marketing and communications are. A good leader guides every aspect of this.
Has there been a sense of responsibility in terms of the jobs that you have created and the wider family that you have pulled together?
I think when you run into problems with staff, or you're going to, say, put somebody in charge of a region and you have got 10 to 15 people working under you, you've got to make sure that you're a good leader. One person can do a lot of damage if they're in charge of a lot of other people or departments and they can't pull through. I suppose
I always sort of go back and think: I've got the responsibility of paying wages to 300 people, so I mustn't sacrifice the good of the company and the fact that there is a lot of people reliant on Villa Maria, including grape growers. The wider reliance is a lot bigger than one individual person. You have to look at the total good of the company first rather than somebody's ego.

It is interesting that you talk about bricks, mortar and grapes but in terms of brand, there are those sometimes intangible elements. For you, what is the most important element or the most important aspect to a brand?
You have got to make a good quality wine, but there are probably some fantastic wine brands which unfortunately no one knows about. You have to actually basically promote your brand and gain trust. You've got to be able to have a good marketing team, a good sales team. I think that all goes with it. If you do that well, then you have the brand exposure.
My advice is to have a good sales team and get distribution…get your pricing right. It is not only the wine…It is about everything.
In terms of the wider export and the wider industry picture as well, it seems like we are in an age where there is a growing sentiment away from free trade. Are you worried about that at all?
It is a bit hard to say. I always believe that you have got to keep doing what you're good at and we are good at making wine and growing grapes. I think we have been very successful with picking the right partners, because a lot of export is about getting the right distributors and the right agents and we are picking the right people. But I suppose as a security thing, we actually make sure we are strong in the domestic market. A lot of exporters are totally reliant on export and I think that is dangerous. We have got a big sales team and we are also putting a lot of energy into Australia. Funnily enough we have always been in the UK…we are very strong in the UK. America, is quite a big market so you can't ignore it. Potentially for a lot of wine companies, it is their number one. In terms of free trade, I think there is a game going on between China and America and I think Trump is really creating headlines for himself and trying to get people to say he is a hero and what have you. I am not political left or right…I always find in New Zealand, for instance, a lot of people are either left wing or right wing. Quite often there is good things in the National Party and there is good things in the Labour Party and there is good things with the Greens and things like that, so in a sense I always believe that you just need to carry on, run a tight ship and make sure you are efficient. You have got to make sure you've got a right balance sheet so if something goes wrong you can withstand the pressure. So it means keeping your stocks low and making sure your brand is strong. It is all about survival really.
Is China over rated in terms of future partnership?
If you are making motor bikes or milk powder or baby food, China is very big. You have got to be very careful I suppose in how you trade. Sure, there are a billion people, but the per capita wine consumption is pretty low, so it is not really that big yet.
If we wind the clock back a bit, back away from social media and online platforms and back to 1961. In your mind did you ever have a vision for what you would be building, for what you would be creating the path for?
My parents were Croatian and the wine industry had a bad name then, it was port and sherry in flagons and we probably had a stronger industry back in the previous century, but when I started it was pretty much a beer drinking country. So as a winery, it was quite hard to get into. Being a Croatian family, the second brother had to become a carpenter, go to build houses for your brother and your sister in the family and do the building. That was a very practical Croatian way. I did my duty and I did my apprenticeship. But I'd go out in Henderson and wander through the Nobilos, the Babichs and the Delegats and I thought that is a better bloody lifestyle! I got tasting and I was quite an avid wine collector. I just decided when I was probably 17 or 18 that I will finish this bloody apprenticeship. And so I did and got my trade cert. Out of 300 apprentices only three of us got trade cert but I was still determined to become a winemaker. About 40% of the population are doing jobs that they don't want to do.
But I had a little bit of a stubborn streak. I just wanted to make good wine because I did enjoy good wine. I think it is quite good to know what you like.
So when I interview winemakers I always ask them how often do you drink wine, do you like wine? Some will say 'I drink it on the weekends' and what have you… if they are not wine drinkers they are not going to make good wine makers.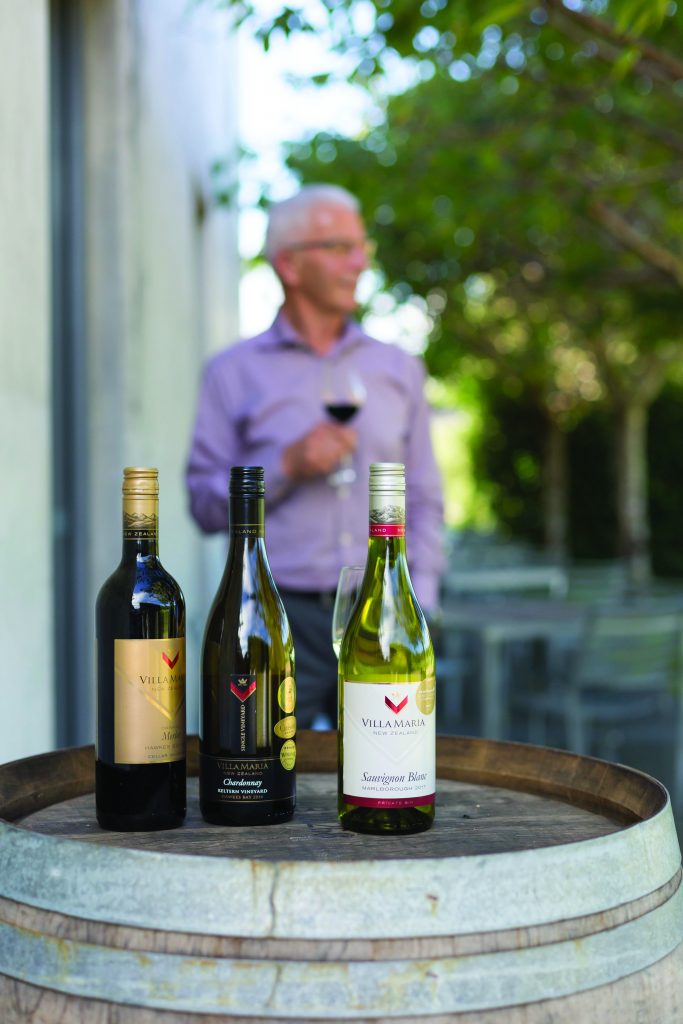 How often do you drink wine?
Daily. Every day of my life, except three days when I was late 20s and I was in hospital for some sort of operation and I wasn't allowed to drink wine for three days. Apart from that I have never missed a day since!
I guess having that passion to produce quality wine is a driver, but was that enough of a drive to give you the momentum to get through the really hard times as well? So when you go back to the 80s and you're having to deal with some real tough decisions, is there something else that was pushing you forward do you think?
I am a complete optimist. I think that helps. Being an optimist does help in terms of finding ways to succeed or overcome obstacles. But on reflection I was determined to make quality wine. I was the first to commit to 100% screw caps. That was quite an easy decision. It was risky and there was a chance of losing a lot of sales and finance were against it and the winemaker was pretty worried and against it and sales said you are going to lose customers – you can't take the risk, let the others do it first. I said our thing is to make quality wine and we decided we are going to be quality wine makers so lets focus on that. If we continued to use corks, we were going to guarantee that 8% of our wine would be faulty and 25% would be oxidised within 5 years, which is proven. So that made the decision easy. If you have got a strong philosophy… that will drive things for you. Decisions can be risky at times but it's easier if you have a strong basis from which to make them. .
Do you think we make too much of work-life balance? Is that too much of a consideration for entrepreneurs and business owners?
I think life work balance is doing what you like and if you're passionate about what you're doing you can put probably twice as many hours into it. I think the biggest thing is to be passionate about what you are doing. I think a lot of people find it hard to work more than 40 hours a week, maybe it is time they change their jobs.
One last question. What is the best piece of advice you have ever been given?
Actually, funnily enough an old farmer when I first opened up a wine shop many years ago and he used to come and buy wine off me, and he always told me you should always be confident in yourself – back yourself up. I think in some ways you've got to back yourself and back up your decisions really. When you don't backup your decisions you get into trouble.