Alpine Shelter
Skuta Mountain, Slovenia. OFIS architects and AKT II with harvard gsd students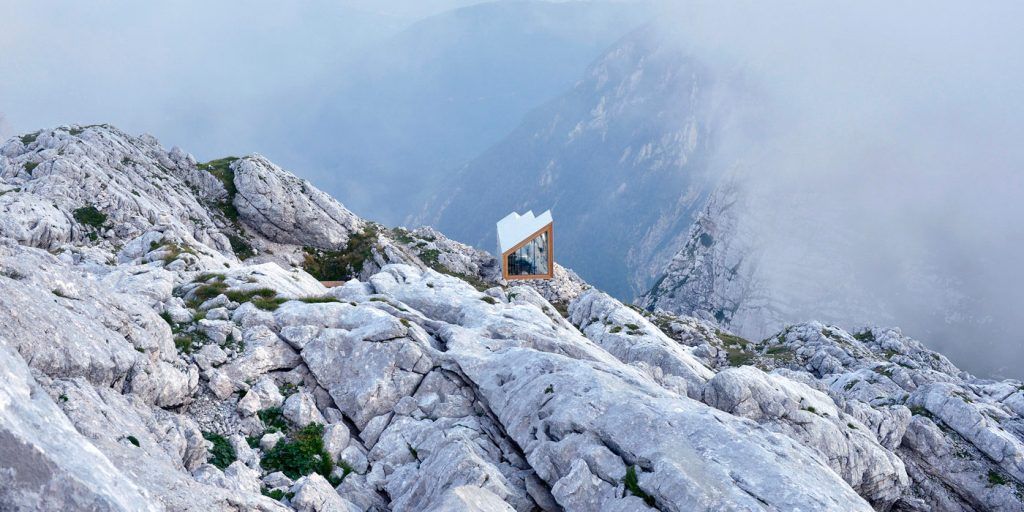 Inspired by the vernacular architecture of Slovenia, with its rich and diverse heritage, this gem is practical against the extreme alpine climate and radical temperature shifts. Embedded in the rugged terrain of Skuta Mountain in the Kamnik Alps, the shelter comprises three asymmetric modules with a modest interior. However, this shelter can accommodate up to eight mountaineers, with space for storage food preparation, sleeping and socialising, and windows at both ends to offer impressive panoramic views of the valley and Skuta Mountain. This impressive structure is the epitome of isolated minimalist living, but to access it, you need a good head for heights and a heart for treacherous adventures.
Kongsfjord wind shelter
Varanger peninsula, Norway. biotiope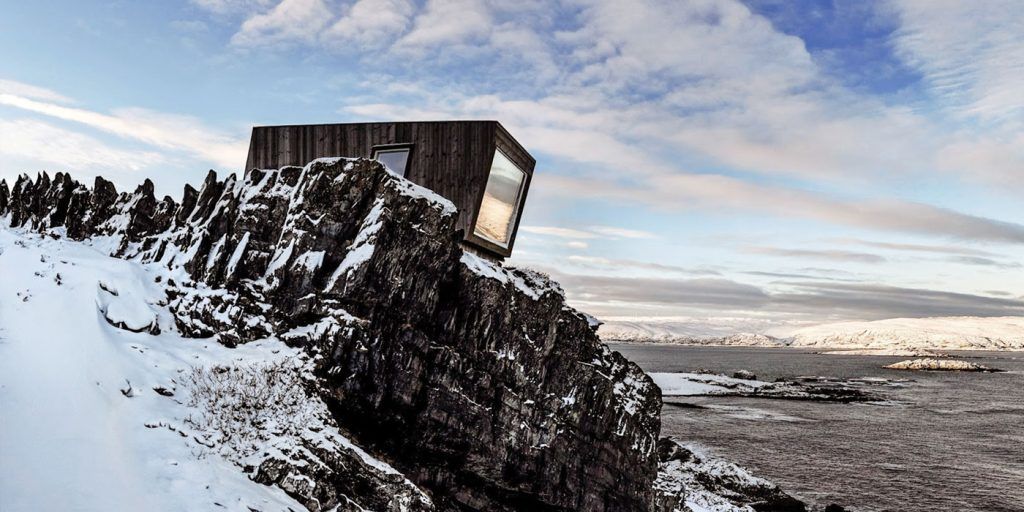 This unusual structure, situated on the cliff of northern Varanger Peninsula, is a piece of architecture with a conservation purpose. Kongsfjord Wind Shelter is part of a local bird conservation project aimed to protect the local bird life. Its heavy gray exterior allows it to harmonise with the surrounding harsh landscape, while the interior is clad with untreated pine for a cosy atmosphere.
Sheltered from the icy arctic wind, you could spend hours watching over the Barents Sea, rather than only a couple minutes due to the unbearable temperatures. For the ultimate Arctic experience, observing a fierce storm from inside this wooden shelter is truly something spectacular.
THE UFO
Harads, Sweden. Inredningsgruppen For Treehotel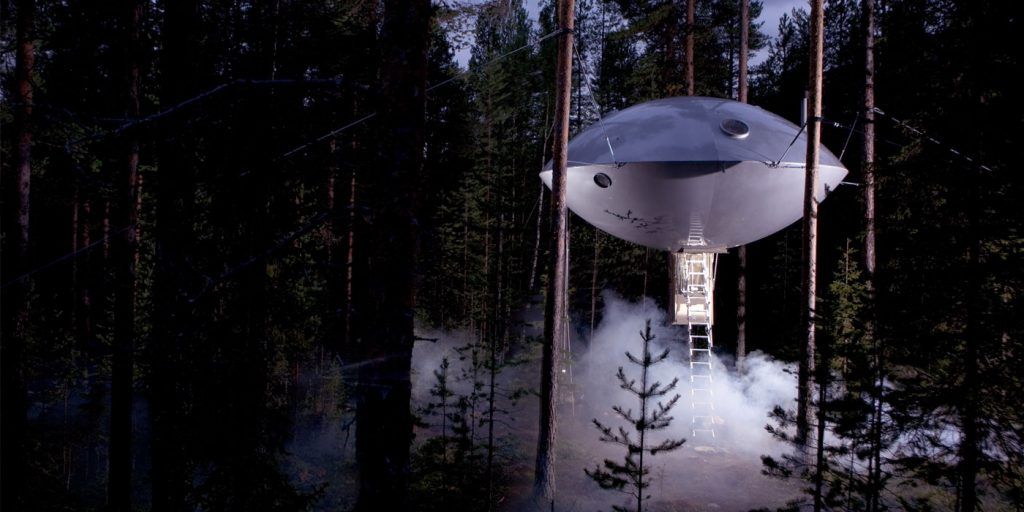 If mundane earthly matters are getting you down, take a holiday up in this floating spaceship nestled in the woodland of Harads. Whether extraterrestrial life exists or not, this hotel may the closest humanity will come to residing in a spaceship. The shell of the two-storey UFO was cast from composite materials for a combination of light weight and durability. It is suspended by cables from the surrounding trees, with retractable stairs. Porthole windows and a giant skylight offer unobstructed views of the Northern Lights and alien sightings, so this hotel has naturally earned a place on the bucket list.
The Dragonfly
Harads, Sweden. Rintala Eggertsson Architects For Treehotel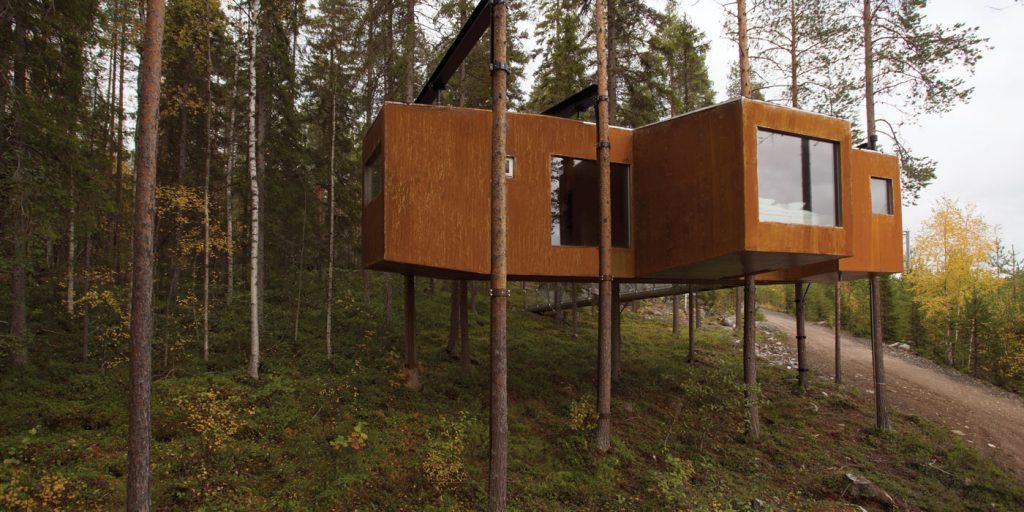 A treehouse reimagined with the luxuries of Wi-Fi, air conditioning and Scandinavian furnishing, the spacious Dragonfly can be used either as a conference space or a private suite. Accessed via a 15 metre-long ramp, this environmentally friendly cabin is completely constructed out of wood, with an exterior of sheet metal that will gradually turn rust-brown and blend in even more with the pine tree forest.
hus-1
Uddevalla, Sweden. Torsten Ottesjö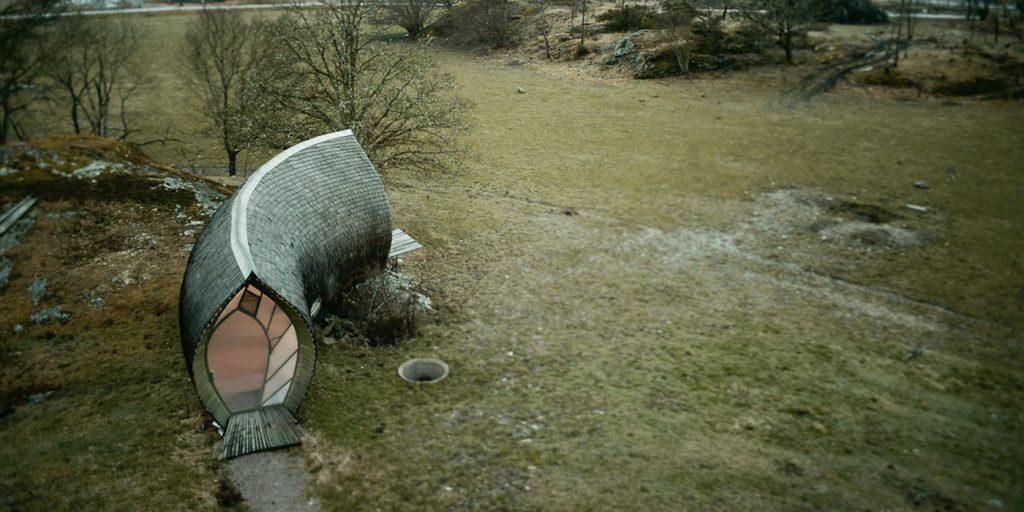 Situated in the unique cultural landscape of the Scandinavian West Coast, this 25 square-metre dwelling is the perfect marriage of nature and architecture. Featuring curved walls that seam together with the floor, Hus-1 is a natural living space devoid of any sharp angles, with the intention of appearing as if it has actually sprouted out of the ground it rests on. Constructed with natural materials,the majority of the furnishing is built into the house, with fully integrated kitchen, sleeping quarters, hallway and other functions. However, this small structure is freestanding, so it can be moved anywhere and will still blend effortlessly into its environment.
Valhalla cabin
Olympia, Washington. Jacob Witzling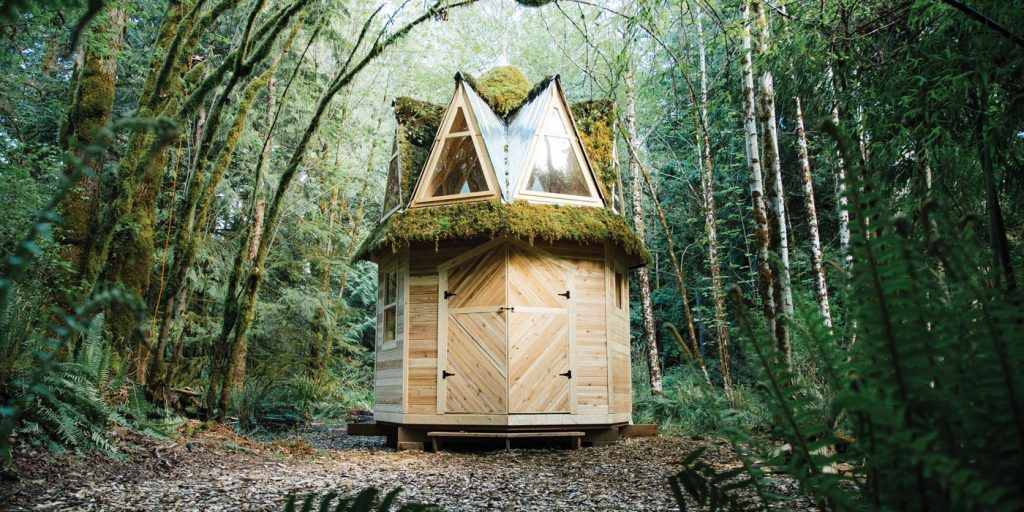 In a haven of moss and mist is Jacob Witzling's impressive octagonal cabin, featuring a pyramid roof, eight dormers, and French doors that close at 22.5 degrees. The entire cabin was single-handedly designed and built from scratch within a month. As a seasoned cabin builder, Witzling's vision for this project was a crown ascending from the forest floor. Coincidentally, the window trim of the pyramid roof has uncanny resemblance to the elemental symbol for air, representing creativity and new beginnings.
Fleinvær Refugium
Gildeskål, Norway. TYIN Tegnestue and Rintala Eggertsson Architects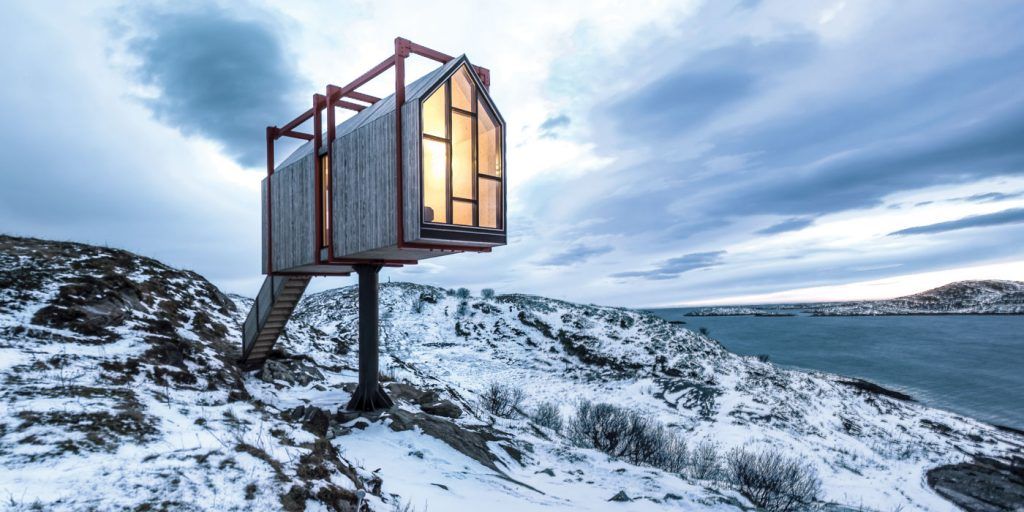 Located on the picturesque yet windswept island of Sørvær in Norway, a series of box-shaped houses have been recently designed to inspire creativity and offer a feeling of escape from the mania of modern life. Almost like a small self-sustaining community, four of the nine houses are intended for sleep, while the others are allocated for cooking, bathing, a sauna, a creative studio and even a 'thinking box'. With no access to cars or shops, these buildings are essentially designed and built for the ultimate contemplation in a tranquil isolated environment, disturbed only by the majesty of nature.
Mountain Cabin
Laterns, Vorarlberg, Austria. Marte.Marte Architects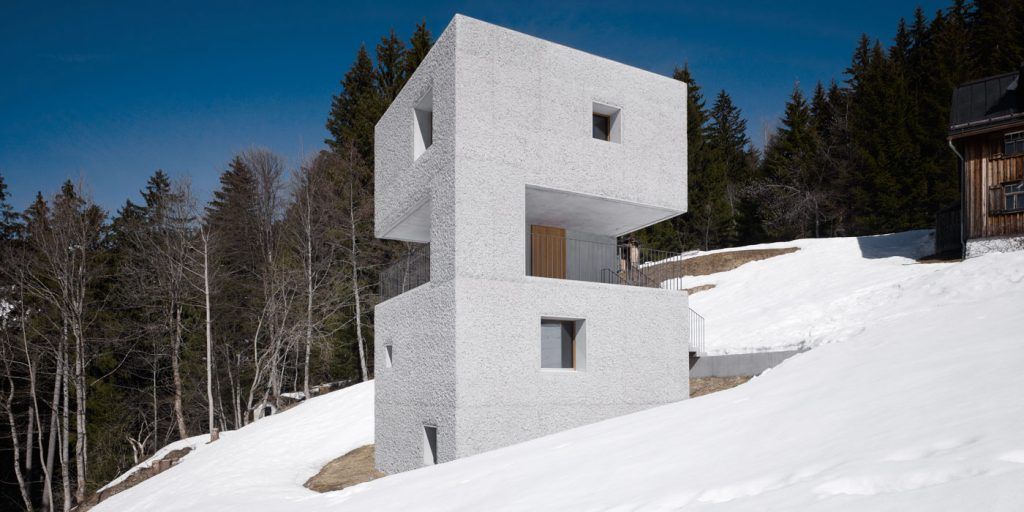 Striking yet modest in appearance, this small mountain cabin rises from the steep hillside at the edge of the forest. Constructed with rough concrete, its structure resembles an old-school fort, with randomly placed square windows of different sizes. This is not a typical flimsy holiday house, but instead a unique place of retreat that will remain standing for generations, despite any forthcoming changes of climate and landscape.