We all love a luxury dining experience, one filled with a chic interior, outstanding aesthetic and a complete sensory experience. Alibi restaurant delivers this and more, as Australia's first ever 100% fully plant-based restaurant.
Australia's first ever 100 percent fully plant-based restaurant, Alibi, opened this March.
Located in the Sydney suburb of Woolloomooloo, on the ground floor of Ovolo Woolloomooloo, Alibi is certainly a welcomed addition to its already bubbling dining hub. Designed with an artsy decor chic and industrial flavour, Alibi is definitely one to look at and admire. The sheek design manifests wooden textiles, mood lighting, bright colours and sharp edges. The layout of the restaurant is terraced across the dining section and the more laid-back bar setting with comfortable seats to relax in.
The design-led Ovolo Hotel is a perfect place for such a restaurant. Founded in 2002, Ovolo started as a family-owned business with a charitable outlook. The Hotel runs four hubs in Hong Kong, and six hotels across Sydney, Melbourne, Canberra and Brisbane. At the Sydney Hotel, luxury is a must. The hotel offers many modern rooms at different prices, as well as a swimming pool, shopping area and two restaurants and bars. Alibi is the jewel in Ovolo's crown..
America's world-renown food superstar (and acclaimed Tedx talker) Matthew Kenney, mans the kitchen at the Alibi and makes sure the ingredients sparkle on the plate. With a menu to impress, Alibi's dining has been devised to bring style, health and colour to the plate and to showcase a new capability in the kitchen. The man is a top French Culinary Institute graduate, so expect to be wow'd! A complete sensory experience with smoking, fermentation and other molecular techniques featuring in the cooking.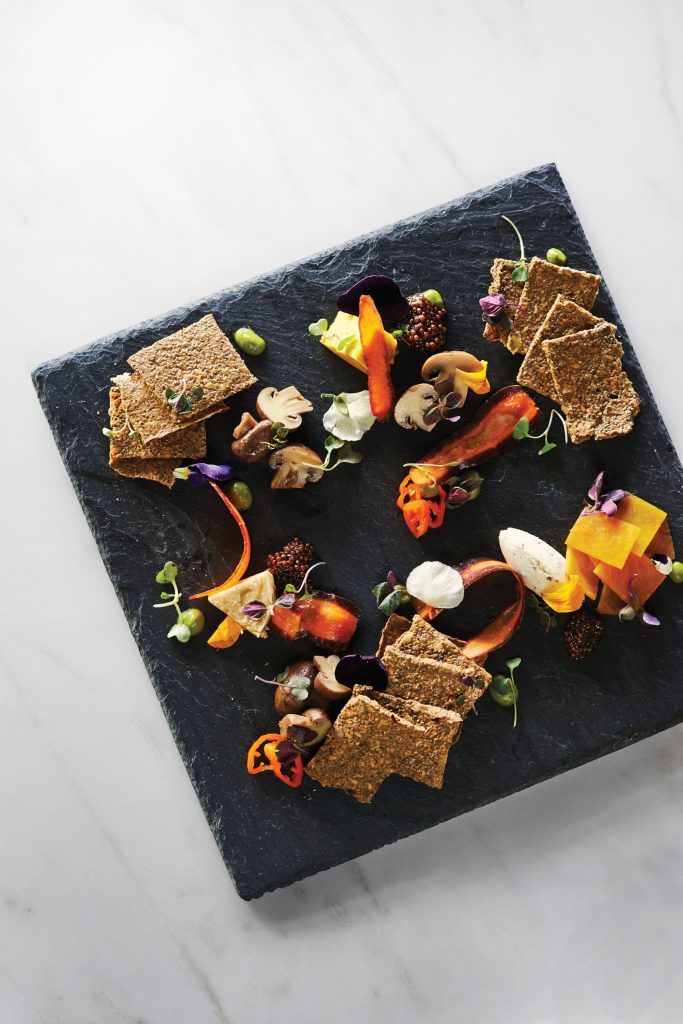 "The spirit of the menu is very global to show the potential of plant-based food," Kenney says. "We have dishes influenced by many cultures, but we respect those cultures, and we like to focus on small plates to encourage sharing – we think it's a lot more fun because people get to try a lot more and experiment."
The food is paired with a stunning wine-list curated by sommelier and author, Chris Morrison, who has brilliantly chosen traditional, boutique, national and international wines. Or one can journey to the bar where Alibi where you'll find original, in-house cocktails offering a fantastical experience with a great range of flavours.