I try my best to avoid cliche, but there's this famous quote that goes, "if you do what you love, you'll never have to work a day in your life".
While normally I would lump that quote in with gems such as "live, laugh, love" and "keep calm and carry on", I feel like using it to set the tone for a piece on Eddie Redmayne, the face of OMEGA, is rather apt.
The deep-seated feeling of existential ennui is common. It's that "where am I going, what am I doing?" feeling. "Ikigai" is a Japanese concept meaning, "reason for being", and in the Venn diagram of life, you'll find it sitting comfortably in the middle of the following concepts – what you're good at, what you love, what you can be paid for, and what the world needs.
Eddie Redmayne has found Ikigai. And, in researching the life and times of the only millennial winner of the Best Actor award, the reoccurring virtues of hard-work, persistence and passion continually ring true. None of his career was promised. And he had to work damn hard to get where he wanted to be.
Born and raised in London, the young Redmayne found his passion for acting and art at an early age. Redmayne's mother and father helped cultivate his love of performance and took him to drama lessons from a young age. Interestingly, the young Redmayne attended Jackie Palmer Stage School at the same time as late night host, James Corden. Stage production quickly became his first love, and Redmayne made his first appearance at 12 years-old in a West End production of Oliver! directed by future Skyfall director, Sam Mendes.
Redmayne attended the prestigious Eton College, where he and Prince William played on the same rugby team and were both members of the exclusive waistcoat-wearing, Eton Society. University soon came calling, and Redmayne was off to the University of Cambridge. He kept his interest for acting on the side while he pursued Art History, and wrote his dissertation on Yves Klein and his signature shade of blue. "I'm colour-blind," Redmayne said in a 2013 interview with W Magazine, "but I can pick out that blue anywhere. I wrote 30,000 words on this colour and I never grew tired of it. The pigment is staggering. It's amazing that a colour can be so emotional. One can only hope to achieve that intensity in acting."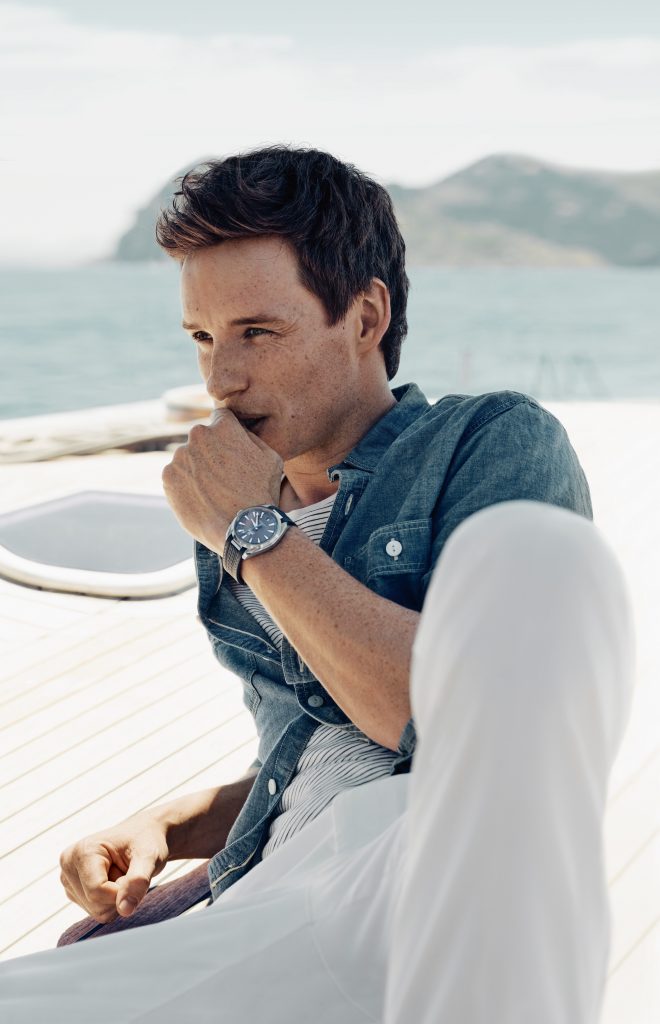 During his time at Cambridge, the fresh-faced Redmayne made his professional stage debut as female character, Viola in an entirely male cast of Twelfth Night at Shakespeare's Globe Theatre. Redmayne proved he had to the acting chops to convincingly play a female character (who then disguises herself as a boy), a skill he would fantastically call upon 13 years-later in The Danish Girl. "I'd remarked on the fact that he'd been drawn to the feminine," award-winning director, Tom Hooper said about Redmayne in an interview with Slate Magazine. "He played the girl's parts in school plays, he played Viola in Mark Rylance's Twelfth Night, so he was a young actor who had a body of work from which he could draw. Gender is on a spectrum and I just felt that he sat on an interesting place on that spectrum."
Redmayne's hard work started attracting the eyes and attention of many, and it was through his stellar performance on Twelfth Night that Redmayne secured his first agent. Springboarding off his initial stage success, Redmayne would move on to star in Edward Albee's The Goat, or Who Is Sylvia?, a role that earned him an Evening Standard Award. In the classic case of 'right place, right time', casting director, Lucy Bevan was watching him from the crowd. Impressed by his performance, she promptly cast him in his first feature film, Like Minds. Soon after, Redmayne landed a role alongside silver-screen superstars like Robert De Niro, Angelina Jolie and Matt Damon in The Good Shepherd, a valuable learning experience to learn from some of Hollywood's A-List.
"Working with these extraordinary talents, on day one, it's mind-blowing," Redmayne said in an interview with CBS News. "But what's so weird is that when you see these guys, and I know it's cliche, as 'normal people' and working within this kind of family environment and we [were] working on this film for a long time…to realise the normality of it is extraordinary."
The gigs began rolling in for Redmayne, and, as he's proven throughout his career, he doesn't take the easy road when accepting a role, thriving when confronted with challenging parts. In Savage Grace, Redmayne played Antony Baekeland, a gay schizophrenic who sleeps with and then eventually murders his mother, played by Oscar-winner Julianne Moore. Films like: Powder Blue, The Other Boleyn Girl, Glorious 39 then followed, but it was the return to stage that saw him add some serious silverware to his cabinet when in 2010, he won a Tony and an Olivier Award for his part as Mark Rothko's assistant in the play, Red. Landing a part in Les Miserables proved to be a vital stepping stone; it paired him with director Tom Hooper, who would come calling three years later to cast him in his Oscar-nominated role in The Danish Girl.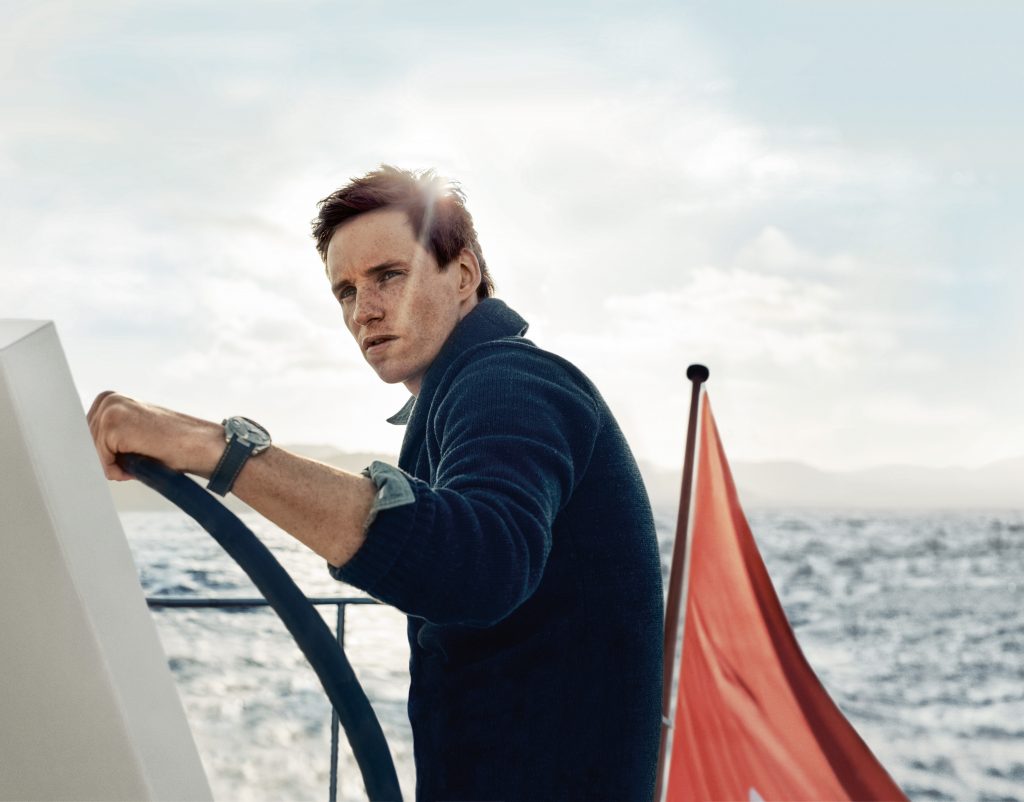 The Theory of Everything, was the breakthrough role of Redmayne's career and his first leading role, but he wasn't the first pick initially. Names like Michael Fassbender and Andrew Garfield were on the shortlist and Redmayne wasn't even considered. It wasn't until his agent tee'd up a meeting with the film's director, James Marsh, that Redmayne made his case to play the theoretical physicist. "It was three in the afternoon," Redmayne said in an interview with Variety. "In the end, he ended up drinking a ton of coffee and I ended up drinking a ton of beer, so I was pissed and he was high on caffeine." Caffeine and alcohol proved to be the formula to help bond the pair creatively. "We had a like-minded attitude of 'We have no idea how we're going to do this, but we trust in each other to be brave enough to make mistakes'".
There's a specific element of sensitivity and tact required when trying to accurately portray someone with Lou Gehrig's disease, and Redmayne, ever the consummate professional, threw himself into the role completely. He studied Stephen Hawking's books, papers and work to try and grasp the concepts and ideas Hawking was working to pioneer. To immerse himself in Hawking's mannerisms, Redmayne worked with a choreographer four hours a day to nail the idiosyncrasies of the famed physicist – from walking, to picking up pens, to getting the right 'glint' in his eye. Detailed preparation and tremendous research thus became Redmayne's modus operandi in order to do Hawking justice. He visited a London neurology clinic, meeting with patients to not only understand the progression of ALS for his role in the film, but to also empathise and intellectualise the internal battle against the degenerative neuron disease. Redmayne would walk around set with a sheet of paper with his detailed character notes as a constant reminder and commitment to detail.
The promising young actor understood that he had an obligation to play the part to perfection. "I knew that Stephen Hawking would see the film. If you're playing someone as brilliant as him, you know he's going to see it and be the ultimate critic", Redmayne shared in an interview with Men's Health. "Jane and Stephen and the Hawking family let us into their world for a few months, so I felt a great responsibility. I wanted to do them proud".
Redmayne went to win an Oscar for Best Actor at the 87th Academy Awards, but the win was not guaranteed. It was a two-horse race. A young rising star looking to realise potential against an established veteran making a miraculous resurgence. A month prior at the Golden Globes, Michael Keaton, the elder statesman, took home the award for Best Performance in a Motion Picture (Musical or Comedy) for his eerily self-referential role as a washed up actor seeking redemption in Birdman. Redmayne, the fervent up-and-comer, netted a Golden Globe for Best Performance in a Motion Picture (Drama) for his work in The Theory of Everything. The Golden Globes had the Best Actors separated by category; the Academy Awards would not.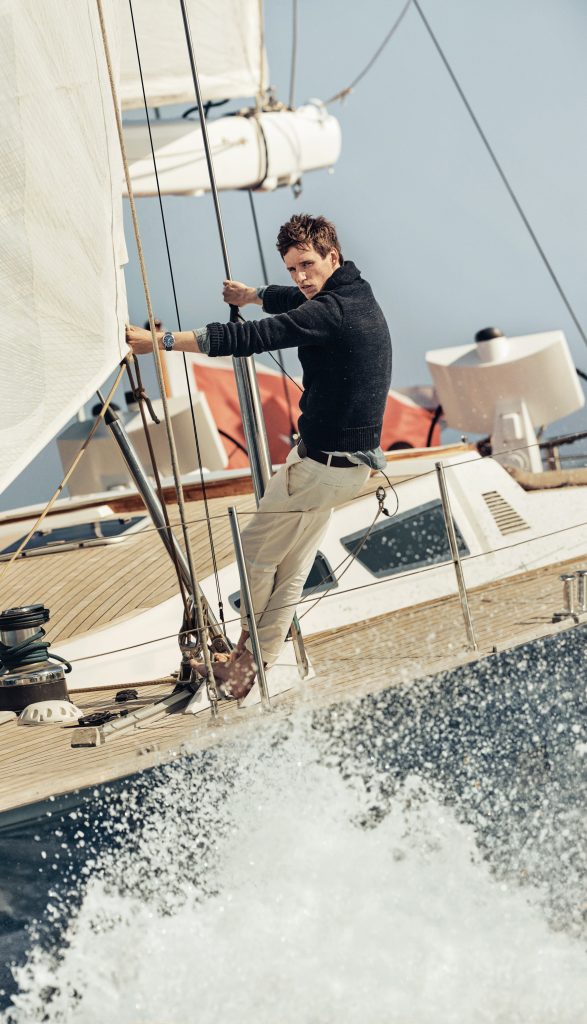 So when Cate Blanchett announced Redmayne as the winner, it signified a pivotal moment in the young actor's career; the fulfillment of meticulous preparation and research, all summed up in a award nicknamed Oscar. During his acceptance speech, there's a beautifully sincere moment where he steps aside and exclaims, "Wow!" clutching onto the award with golden ticket-esque passion. It's was in that moment that Redmayne exercised the textbook humility he's known for:
"This Oscar, it belongs to all of those people around the world battling ALS. It belongs to one exceptional family – Stephen, Jane and the Hawking children. And I will be its custodian. And I will promise you I will look after him." Hard-work, passion and gratitude. It's no surprise that Redmayne would find himself back in the mix for another Best Actor award for his role as Lili Elbe in The Danish Girl.
"I was first offered this role by Tom Hooper who directed Les Miserables when I was making that film", Redmayne said in a 2015 TODAY show interview. "I was warbling on the barricades and one day he gave me the script, said nothing about it other than 'just have a read'. And I read this amazing beautiful love story." The Danish Girl follows the life of Lili Elbe, a Danish transgender woman and one of the first recipients of sex reassignment surgery – unheard of during the 1920s.
Redmayne's aptitude and history in tackling roles where cisgender actors might struggle, coupled with his diligent work ethic meant that he was a lock for the part. In preparation, the already slim actor lost seven kgs to play Lili Elbe but had to manage his weight carefully so that clothing fit correctly and that his face didn't appear too gaunt. Redmayne used the resources around him to prepare, consulting with transgender director Lana Wachowski, who he worked with on Jupiter Ascending. Wachowski's deep knowledge of Elbe's story assisted Redmayne greatly, and she pointed him towards works such as Conundrum by Jan Morris, Gender Outlaw by Kate Bornstein and Niels Hoyer's, Man Into Woman as sources of inspiration. Mastering the tone would make or break the film; the purpose of the story was to portray a woman trapped in a man's body, rather than a man playing a woman, something understood clearly by Redmayne and Tom Hooper.
"Rather than witnessing an actor being someone else, one felt that Eddie had revealed something that was latent", Hooper said in an interview with Variety. "I felt like he was realising some kind of femininity inside himself".
His performance received critical acclaim, and Eddie had the potential to make history with back-to-back Best Actor wins. Although the Oscar would wind up in the hands of Leonardo DiCaprio for his role in The Revenant, the distinction of being nominated for a Best Actor award in consecutive years (and winning one in the process) helped cement Redmayne's status as a bona fide talent in Hollywood.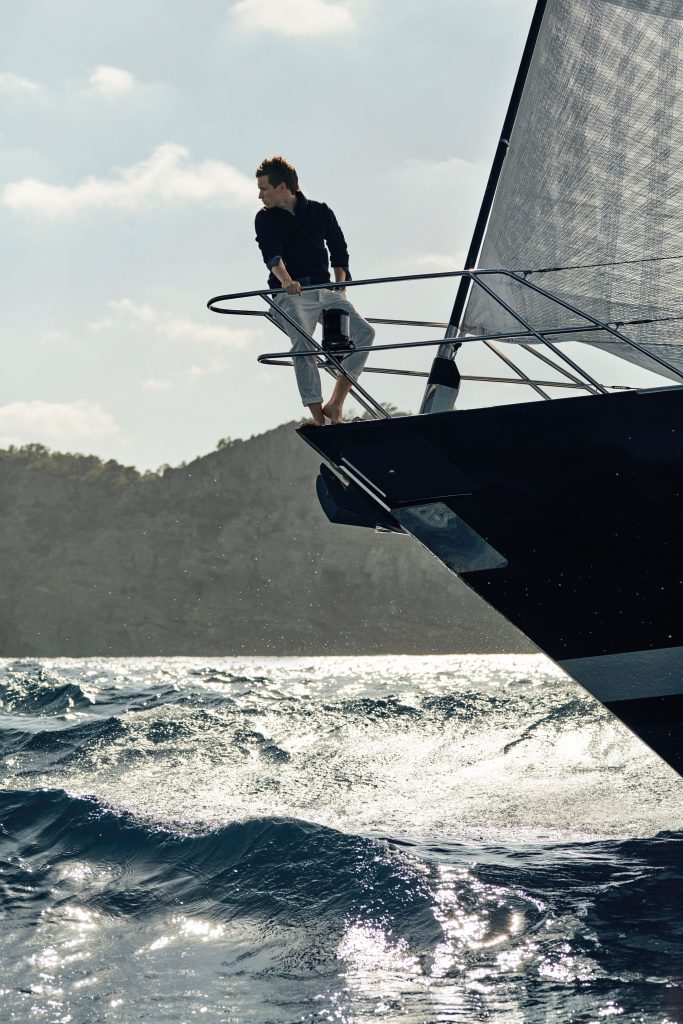 The Harry Potter franchise is, to put it plainly, a fantastic beast. So when the film adaptation of Harry Potter spin-off and prequel, Fantastic Beasts and Where to Find Them was announced, furore buzzed around who would play the lead role of Newt Scamander and carry on the legacy of the gargantuan wizarding franchise. Like his role in The Danish Girl, Redmayne was the only pick to play the part. "From the outset, Eddie Redmayne was our first and only choice," said film producer, David Heyman in an interview with The Telegraph. "Not only does he look as if he lives in 1926, but he has all the elements required to be Newt: he's smart, funny, utterly British, and immensely sympathetic."
Redmayne's take on the quirky and eccentric Scamander proved to be a hit with the devoted fans of the Harry Potter franchise as well as mainstream audiences. J.K. Rowling's announcement that Fantastic Beasts would expand to be its own five-film franchise with Redmayne as its star served to only further boost his starpower; the sequel, Fantastic Beasts: The Crimes of Grindelwald is set for release later this year.
Redmayne, quite simply, is an actor with gravitas. He displays a unique adeptness in rationalising a character's story and portraying it in a manner that audiences can connect and empathise with. Redmayne the person however, has also shown to be a down-to-earth individual aware of his placement in the world. It's no surprise that in the wake of Hollywood sex scandals and the push for gender equality, that Redmayne vocalised the importance for equal pay.
"It's incredibly important and I think that it's been a long time coming, and I think the fact that last year three of the top films were female-led films is showing there is change, but there is a huge amount of change needed yet." Redmayne said at the premiere of animated flick, Early Man. "It's sort of systemic."
Driven, humble and hard-working. It's a simple formula that works wonders and helped Redmayne not just find Ikigai, his calling, but to hold onto it too. In this interview with OMEGA, Eddie Redmayne talks about success, his experience with balancing work and family, and his plans for the future:
Eddie, you're pretty young but you've already had the honour of winning an Oscar. What other goals do you want to achieve in the future?
You know the interesting thing is, I know it sounds a cliché, but the reason I got into acting is because I loved doing it as a kid. At school, I loved doing plays. I really enjoyed that world. I didn't really know much about film. So the weird thing for me, winning an Oscar, was it was never my aspiration in life. And so the extraordinary thing for me was just getting to work, to keep acting, because it feels like it should be illegal to do the job you really love. You know, it doesn't feel like it should be a job and of course that moment of winning an Oscar was the most extraordinary thing but it felt unreal and it never felt like a real goal and I don't really have those sorts of goals. My goal is to keep playing interesting characters, compelling characters and complicated characters and if I get to do that… you know the thing I notice about actors is… if they're lucky enough to keep working, they never want to retire – other than Daniel Day Lewis. They want to keep going because it's so fulfilling.
How do you maintain the balance between your work and family life?
When I was making the Danish Girl, I was promoting The Theory of Everything on my days off. When I was making Fantastic Beasts, every weekend, I'd fly from London to L.A to promote The Danish Girl, and you know, what I do I love and it's all-consuming and I'm really passionate about it, but the hours you work when you're filming, it does take over your life. It's a monastic existence. You work till 5 in the morning till sometimes 9, 10 at night. At the moment when I leave in the morning, Iris, my daughter, who we hope wakes up around 7, is beginning to think about it at 5, 6, so I have to get out of the house like a Ninja. I have to leave my shoes downstairs, I have to leave the door open, I have to creep past. So the point is, it's all consuming when you're working and so after the first Fantastic Beasts came out, I took a year just to be with my family when Iris was born. So the answer is I didn't have a summer holiday but I did have a year off. So I can't complain.
How did you get used to that new role in your life?
It's so interesting, because so many people tell you things beforehand about what to expect and yet the experience feels completely new. I think we've learned that every day shifts and changes and we therefore are shifting and changing in relation to Iris. So have I changed, yes, but I don't think it's in a concrete way, it's quite fluid.
You have a reputation for being a style icon and you've worn some pretty eye-catching timepieces, tell us about your first OMEGA.
My first OMEGA watch was a De Ville which my dad had for many many years. He used to let me wear it. Then a few years ago when the Globemaster was released I became the face of that model. It had this very simple, beautiful elegance to it and I loved it. And then just last year the guys said there's this new Aqua Terra, it's kind of land and sea mixed together thing and I thought, great, I'm useless at sailing, but I love the idea of it and it's what I love about OMEGA. They have a history and I'm quite interested in that. They were the first watches that the British Air Corp used, in the second decade of the 20th century. They went to the moon and I love the stories.
How was the Seamaster Aqua Terra campaign?
I got a phone call saying we're going to shoot the Aqua Terra campaign on a boat in Ibiza, my wife said, you bastard, I want your job! But we had the most amazing few days. We went out on this incredibly elegant boat and we got to sail around Ibiza. It was the end of the summer and I'd had quite an intense year of work and I said to my wife it's like my one day summer holiday: a whole summer holiday in one day. And I started the day with some freckles, but not too many and despite putting loads of sunscreen on, by the end of the day, as you can see in the photos, I had many freckles. But it was a special day and we have this expression, the magic hour, the 15 minutes at the end of the day when the light is low and it was very very beautiful. When we wrapped I had a vodka and tonic on the boat and after a hard day's work, it was wonderful.
Is there an existing or non-existing role you'd love to play?
You know, as an actor, I never said I'd love to play Hamlet. I mean there have been lots of lovely parts offered like Lili Elbe when Tom Hooper said I want you to play this. Or even with Stephen Hawking, I didn't think I looked anything like him, but it's often interesting that you don't have the best view of yourself, from inside. I remember once when I was making My Week with Marilyn and I got a call from a theatre director I'd worked with before and he said" I'm going to say two words to you and you have to say yes or no to this part" and he said "Richard the 2nd". Now throughout my life, enough people had said the same thing to me about playing Richard, so I said yes. Then I went and read the play and this guy's really pathetic, slightly annoying, self-centered, so I thought, alright, so these are the characters you want me to play! And I did end up playing that one. I suppose what I'm saying is that it's better that other people see the qualities in you.