The new MINI John Cooper Works Countryman has rolled into town and it could possibly be the gruntiest model of MINI ever approved for public road use. It can go from 0 to 100km in 5.1 seconds, 1.5 seconds faster than its predecessor, the MINI Cooper S Countryman.
It's really an all round improvement on the S Countryman. It's beating heart is a redesigned 4-cylinder engine based on the 2.0 litre drive from the S. It's undergone model-specific modifications to the crankshaft drive and also benefits from the latest generation of MINI TwinPower Turbo technology. Along with a bigger turbocharger, it's coupled with the latest generation of direct petrol injection, delivering optimum efficiency.
You can feel the power in the pedal, it reacts to the slightest tap. The high-performance drive generates a maximum torque of 450 Nm in the broad engine speed range between 1,750 and 4,500 rpm, which is around 28 percent higher than that of the previous engine. That means the maximum output of the new 4-cylinder engine has been increased by about 32 percent.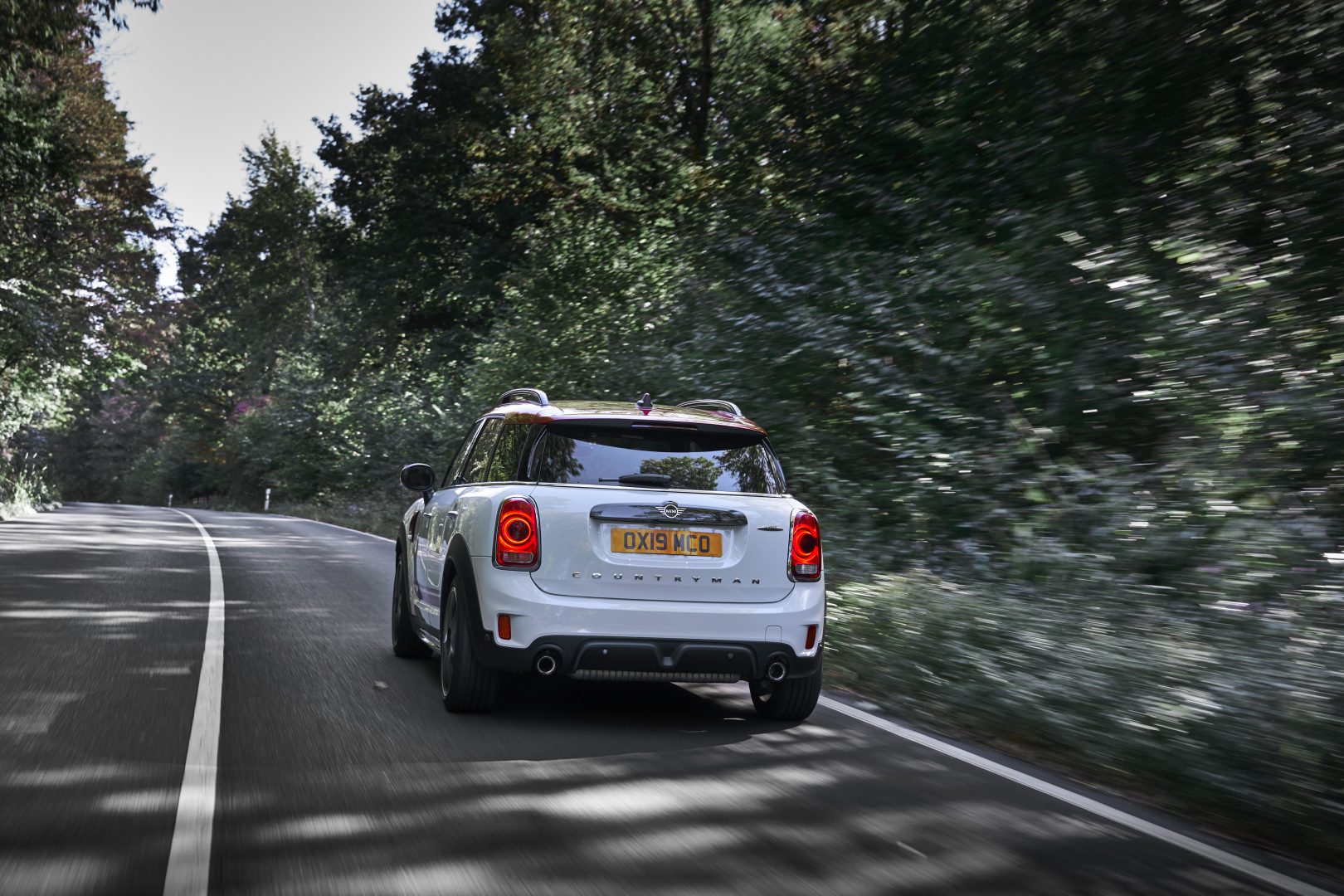 To deal with all this power in the road model, the guys at MINI have made sure it has the most efficient cooling methods squeezed into that iconic MINI silhouette. If you manage to try one of these out on the track, they guarantee an optimal running temperature at all times due to two external radiators, an independent cooling module mounting, an electric ventilator with increased output, and a third cooling level realised using a condenser.
Enough about the engine, you'll be spending most of your time in the cockpit so let's discuss that for a bit. The sportiness of the exterior is followed through in the interior with the help of the John Cooper Works sports seats with integrated head rests. Multifunction buttons are built into the steering wheel and the dash has all the usual bells and whistles including the Radio MINI Visual Boost with it's 6.5 inch display. Additional options include the Connected Navigation Plus with an 8.8 inch touch display and it's Real Time Traffic Information service ready to keep you out of congestion and get you where you want to go as quick as possible. What's the point in having a MINI like this if you're in stop-start traffic after all?
For more information, visit:
You'll also like:
You're seeing this M2 article with compliments of our channel sponsor. If you enjoyed it why not try our entire library from only $1.99 a month - get instant access now - every issue of M2 since June 2017. Access local New Zealand made content on the future of work, style, business, superyachts, technology, entertainment, cars and more right now!
CLICK HERE
for more details.