Ex-engineering student, sport fanatic and skilled gymnast, David Bishop is a perfect example of someone who emulates the good ol' Kiwi spirit. He has a can-do attitude, that lovable personality and the type of ability any sportsman would love to encompass. He is a medal-winning gymnast, fitness coach, and with some big competitions coming up, including the Gold Coast Commonwealth Games, Bishop has a lot on his plate. But nothing seems to be too much for this talented Kiwi sporting icon.
Born in 1990 in Auckland, Bishop grew up immersed in such Kiwi sports as rugby and cricket. Over the years, his abilities and interests changed, leading him down a different path, which he embraced with enthusiasm – and both hands – gaining a Commonwealth Games medal en route. M2 sat down with Bishop to talk about his achievements, strengths and what the future holds for this budding gymnast.
How did you get to where you are today?
I went to Saint Kentigern College and then I went to Auckland University. I started off doing a of Bachelor of Science degree, majoring in physics and mathematics. But at the end of the first year, whilst thinking about my career, I made a shift to engineering. There were a few times when I would take a semester off, in order to focus on gymnastics competitions and to focus on my training – especially when I was leading [going] into the last Commonwealth Games. I was discovering who I was, and what I wanted to do. And I came to the conclusion that I wanted to stick with what I was passionate about. And what I was passionate about is gymnastics.
So you were working in the gymnastics industry while you were studying? Growing up, I never considered gymnastics as a profession; because my coaches were full-time working elsewhere, they would [work only] part-time as coaches. But, of course, I'm lucky I have the opportunity to have a full-time role here… which I did not consider an option when I was growing up. And even when I was in my 20s, I still didn't think that was even a path I could take. So, once I realised that it could take me places, I really saw clearly what I wanted to do with my life.
How did you first discover gymnastics?
I started at a local YMCA. My parents went up to the coaches and were like: 'he finds it too easy.' I remember going to the Tri Star Gym in Mount Albert and being tested. I loved that I was finally challenged. Basically, since then, I never looked back. Last year was my 20th year at this club as an athlete and coach. It really is my second home. Do you feel the YMCA is quite a good starting point for a lot of young athletes? Well, yeah. I mean, there are a lot of little programs around in all sorts of sports that they provide. That's where YMCA thrives. They have a bunch of sports for all ages! So [a kid] can try a whole lot of different things. Which is always good. We would always recommend young kids try as many sports as possible. And, for a lot of the sports, they recommend a later age-group.
Let's talk about the apparatus you compete on.
Up until this year, I've competed on all the men's apparatus. That is, the floor, the pommel horse, rings, the vault, the parallel bars and the high bar. After my selection to the Commonwealth Games, I'm likely to do five of those.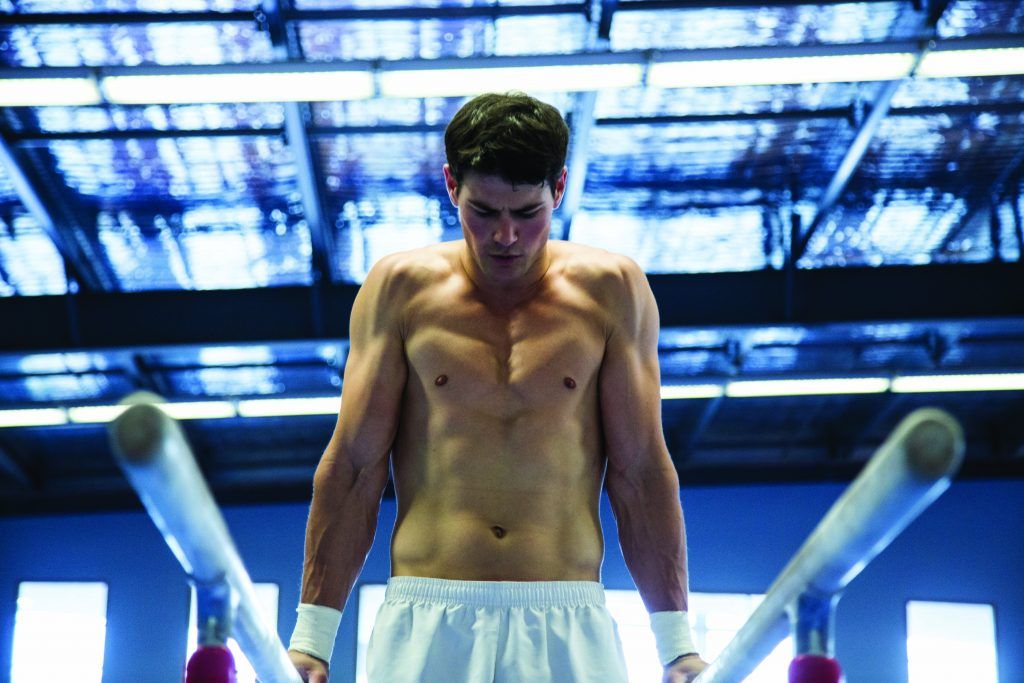 What do you think is your strongest one?
My strongest apparatus is definitely the floor. That's the apparatus I managed to grab a medal on last time round. That was a bronze at the Glasgow Commonwealth Games 2014. That was huge for me. I was gunning for floor, with an outside shot on the vault and the high bar, to make finals. I just thought: 'if things happen to go my way, then sweet, there'd be potential on those ones as well.'
What are some of the biggest challenges you face leading up to the Games? What's going through your head?
Well, what I've got on my side is that I'm experienced and I know what I'm dealing with. However, this time round, I'm a lot older. So I need to make sure I'm looking after my body. The average age of a male gymnast is around about 23. So I'm definitely on the older end of the scale for that. I need to make sure I take care of my body. The other challenge for me is that I have to work full-time to be able to afford to pay for training and for my trips overseas. Sometimes it can be tough… to kinda get away from it all, because I'm coaching the whole time. And that can take up a lot of my thoughts, then sometimes those thoughts can carry into my training, which sometimes isn't helpful.  But I would say my biggest challenge is time management. Making sure I can do everything necessary to achieve everything I need to do. I mean. I've had to cut back the hours that I train. Leading up to the last Commonwealth Games, I was able to train 30-plus hours a week.
Has it been a goal of yours to get to the Olympics?
We'd only ever had – prior to last Olympics – two New Zealand Olympic male gymnasts… and one of them was my coach. It's something I've always wanted, but I didn't really know if that was within my reach. It's quite tough to get there, you know. But, for Rio, it became more possible and I was happy to be named on the long list for it. It was between me and one other athlete – my teammate, Misha, who's on the Commonwealth Games team. It basically came down to the World Champs before the Olympics in 2015. Misha had a really good competition [and won]. So he deserved to be sent to the Olympic test event. And he did really well there and got selected to the Olympics. I mean, I was just happy to be on the long list. And I was happy for my teammate to be the third athlete New Zealand sent over to the Games.
You said you are on the older side as gymnast are you still thinking about future Olympics and future Commonwealth Games? Or is this going to be your last Commonwealth Games?
Yeah, I reckon this will be my last Commonwealth Games. I reckon it will be my last competition before I retire.
Was that a hard decision to come to?
It was quite an easy decision, actually. It was harder a couple of years ago. I wasn't sure if I was going to retire, and I didn't know if I was going to attempt to go for these Games or not. I made that decision at the beginning of last year. In 2016, I had one competition in April. After that competition in America, I said: 'I'm taking nine months off. I'll reflect at the end of that nine months what I want to do and whether I'll try for these Commonwealth Games.'
How would you physically prepare yourself for a competition? What does the training look like?
For a big competition, I will make sure of all of the skills I plan to have in my routine – that I can do them a good year before the competition, so that they aren't difficult. Then I'll work [on my] fitness, and I'll do a whole bunch of routines. About three weeks prior to the competition, I'll ease off on how heavily I'm training, and I'll also go a lot stricter in my diet. I find it works better to have a generally good diet, but not completely 'hard-out strict', because that mentally gets to me. Then, three months, before the Games, I start to restrict and limit what I eat, so that I'm feeling really good for optimum performance.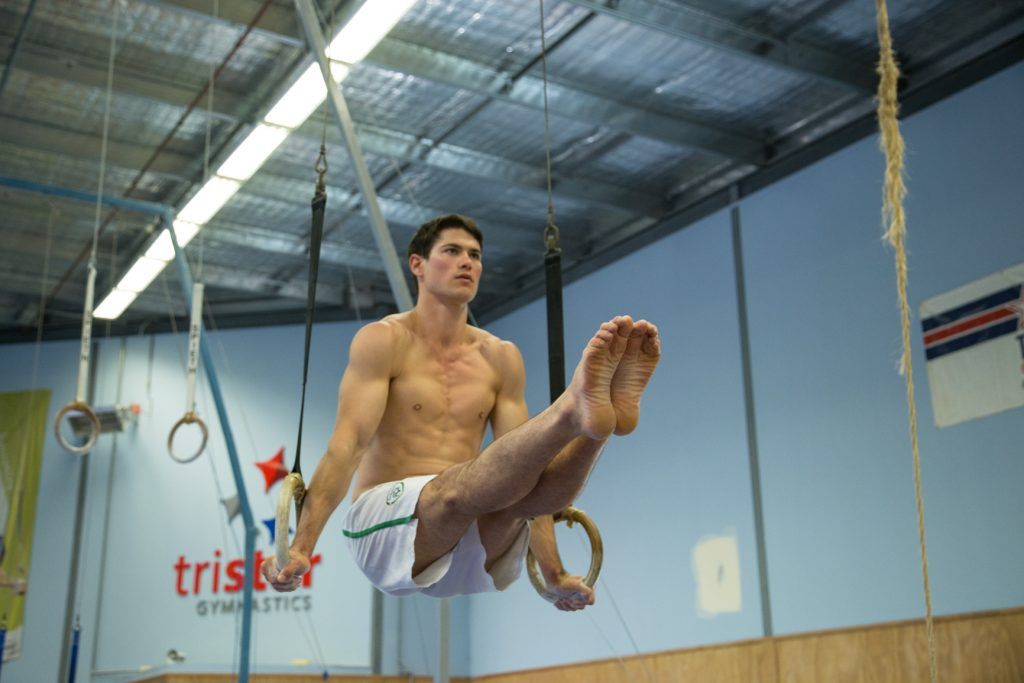 In terms of physical preparation, do you head to the gym and do other weight training?
In gymnastics, we generally use our own bodies as the weight. We use weights for our wrists, for wrist strength. I know the Americans use a lot more weights training. But we, at TriStar, train mainly on the gym floor.
Then there's the mental preparation side of things. Do you have to do a lot of mental training?
Yeah, I think mental training's huge. You do see less-experienced athletes going to games and crumbling, nowadays. Because it's high pressure, and the sport itself is brutal. The skills you're having to display are difficult as it is, and it's hard to get them consistent. But you've got to do it. Performing on a stage where you've got a lot of people watching, TV cameras on you, [is difficult]… I do a lot of mental imagery in my routines, like I visualise myself being at the Games. Building, working on my confidence and belief, is huge. It's almost not okay to be ambitious and try your hardest, because you'll get labelled as a 'try hard'. There is a fine line between arrogance and overconfidence, and just the belief in yourself, and knowing that you're not doing it for anyone else.
In terms of achievements, we've talked about your bronze medal at Glasgow. Have there been other competitions where you've got awards?
I'm happy to have won four National Champs here in New Zealand. And I've managed to go on a tour every year since 2009. I had set myself a goal to make a World Cup Final. That, unfortunately, has not yet happened. So I was a bit disappointed [about] that. And I know I have one more shot. I've got the February World Cup in Melbourne, which is my last chance before I retire to try and achieve that dream of mine. We get rankings, World Cup rankings. I was at a couple of World Cups, ranking 24th at the World Champs, and that's something I'm happy about!
What are some of the effects gymnastics has on your body, and do you spend much time recovering from competition?
This sport is brutal on the body, on the joints. You're asking the body to do stuff that is not natural for it. Sometimes we have to hold shapes and positions that our body is not really made to do, so it can put a lot of strain on tendons. Specifically the shoulders, and sometimes with a lot of loading on the body, there can be a lot of pressure on the back. All the joints are susceptible to being injured. I don't think I know a single international-level gymnast that hasn't had an injury.
So you're familiar with pain from this industry?
Yeah. It's rare to have a day at training where you do not feel pain. If I didn't feel pain in a training session, I know I haven't worked hard enough.
What advice would you give young athletes who may want to follow a career similar to yours?
I think one of the biggest things for New Zealanders is to believe in themselves, and that they can do it. There's always the saying: if you really want something, you can always achieve it. Also, another bit of advice I think is relevant is to learn that failure is just another part of the process, that we learn the most by making mistakes. So we need to be prepared to make those mistakes, and to learn from those mistakes and to not get too frustrated or take it out on yourself, and to just understand that is how we learn.
Have you got any kids you train that you can see taking things further in gymnastics?
I've got seven and eight year olds that I've had since they were five. I see some potential there, for sure. I guess it's just up to them if that's where they want to take it. It's up to them and it's up to what happens in the future. You can't always tell what they're going to want in the future. So all you can do is give them an environment where they can thrive and hope they take it to where they want to get to. I know they have high ambitions, and I have high ambitions for them.
What does the future hold for you after retiring from competing?
I've really already made the switch to coach. It's helping my training, because I'm thinking like a coach. And I have a goal to represent New Zealand as a coach. I really enjoy coaching the kids and developing the young minds from a young age – from five to seven or eight. I really do enjoy that. I also enjoy teaching gymnasts at a higher level – and those bigger tricks!