Heinrich Storm, Goldie Estate
Goldie Estate (formerly known as Goldwater Estate) is the oldest winery on Waiheke Island and one that has helped define the island as an integral part of New Zealand's wine offering.
When Kim and Jean Goldwater first planted the vineyard in 1978, there were many logistical hurdles including having to bring vines, material and posts over by boat. The first two seasons were also failures but over the years, through their hard work and dedication, they were able to build one of New Zealand's most respected wineries.
In 2011 when they wanted to retire from the industry, they saw an opportunity to give back to New Zealand. Having a long connection with the University of Auckland, the Goldwater's decided that a partnership with them made sense.
So Goldwater Estate has become Goldie Estate and a commercial vineyard works side by side with a wine science programme and an opportunity for students to get practical experience. Still, the most important factor for the estate is the wine they produce. The man with this weight of responsibility on his shoulders is winemaker Heinrich Storm. We talk to him about the evolution of Goldie Estate, Waiheke and himself.
Do you think it has been a fairly balanced symbiotic relationship?  As well as the University getting access to this incredible experience and this opportunity for students to really immerse themselves in an industry, how does it work the other way in terms of what Goldie Estate is getting out of that relationship in regards to research, technology and other developments?
It is definitely a symbiotic relationship.  I think being part of this unique set up gives us a broader audience. The University of Auckland are one of the biggest employers in New Zealand and they keep on seeing our brand in front of them. And the story has changed as well, obviously also from the wine science and research point of view. That is where it has really benefited us, that sort of diverse relationship that exists now.
It has also benefited Goldie because of the investment from the University, in equipment and infrastructure. In terms of the wines being produced now, I would say that there has been an improved quality and that is directly related to the investment that the University has put in.
There is bigger scope now if we really want to push the boundaries. The University encourages us to push the boundaries and make the best possible product that we can make and they are enabling us to do that by having the equipment, the research behind it, the knowledge and information behind it.  There should be no excuse for us not to make world class wine.
What do you think it was about Waiheke, in spite of all the challenges, that inspired the Goldwater's to start a vineyard?
I think it was that sort of Kiwi spirit.  As an expat South African I wasn't familiar with the no.8 wire concept, but I can surely appreciate that sort of Kiwi ingenuity or that Kiwi spirit of adventure. They were keen boaties and they used to frequently visit Waiheke Island on holidays sailing into the bay down at the bottom of Goldie, which is Putiki Bay.
So I think they fell in love with the land and then secondly they probably fell in love with the idea of having a vineyard.  They travelled around the Mediterranean and France a lot and when they came back and the land was for sale…I think the idea of having their own vineyard, the idea of living on this beautiful Mediterranean-like island really appealed to them.
Sure, there were lots of challenges and logistics was probably one of the biggest things for them back then. Ken has actually written a book on Goldwater which is quite a funny insight into what they went through in those original stages.  They had to bring over planting material, so the original grape vines and the posts and wires for the vineyards would have been sailed over on the weekend.  It was not easy for them.  It was hugely challenging. The first vintage, for instance, all got eaten by birds. Then the second vintage, I think, the Council sprayed, and it failed.
It is a massive challenge for anyone that wants to start a vineyard or own a vineyard.  The idea is always very romantic, but the reality is quite different.  That is why it is so special for anyone that persists with that dream because it is certainly not easily achievable.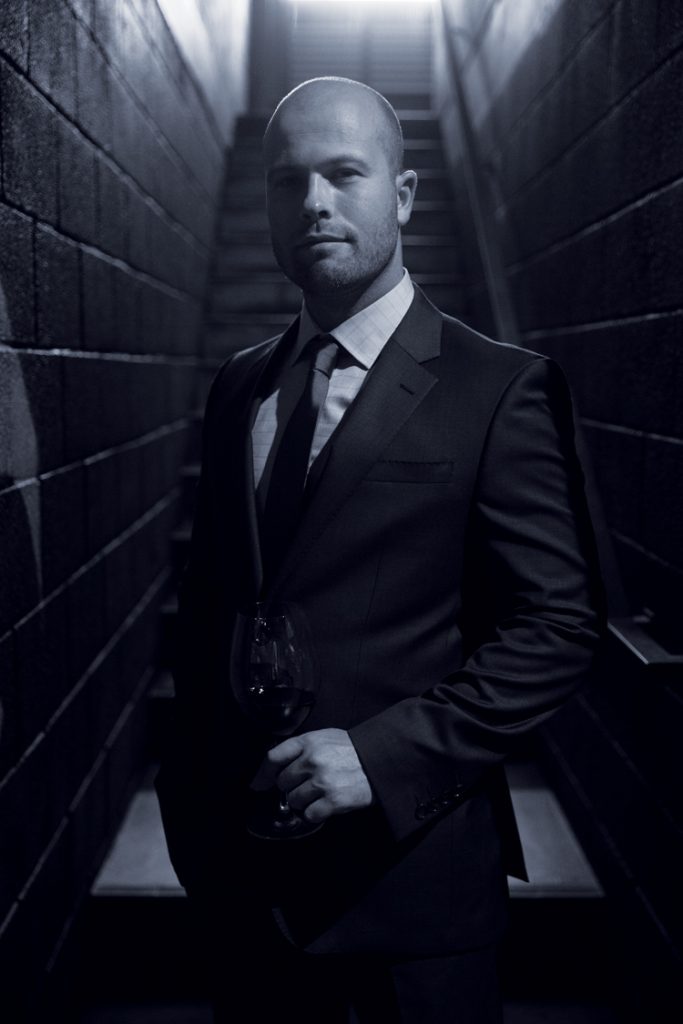 As well as all the hurdles, what are the benefits do you think? Are there specific nuances that the island brings?
Waiheke Island has its own identity that is made up from different soils, aspects and climate. There is also some very interesting people that add to this identity and make the wine industry on the Island unique. Wine drinkers and consumers, I believe enjoy that aspect of it – looking for something different, something exclusive. The wines from Waiheke  certainly offer that.
Where do you see the potential of the region? Where are you now in its evolution and what sort of scale do you think you could be playing at in terms of New Zealand's export?
In terms of export on Waiheke, just to give you an idea, the New Zealand wine industry is responsible for 1% of the total world production – and that is the whole of New Zealand. We are only 1% of the total world production and then Waiheke is 1% of New Zealand's production. We are such a small part of the New Zealand wine industry and I don't think we will ever play a big part in terms of export. If you talk to a lot of the island growers, our objectives are not necessarily to export either, and if it is, it is high value items.  The key is to get our wines directly in front of the consumer and that is what has changed massively over the last ten years in terms of the number of fantastic restaurants and hospitality operations on the island. I don't think it is ever going to make its way all over the world because we just don't have those volumes, but it is being recognised as a world tourist destination and then having an amazing product when people come and visit us.
Where did your inspiration to become a winemaker come from? Was there an epiphany moment you can recall?
I developed a strong interest for the wine industry while studying in 2005. I was fortunate enough to have Cameron Douglas, MS (Master Sommelier – in charge of the Wine and Beverage Programme at AUT University in Auckland), as one of my tutors at the time. It was his passion for wine which really struck a chord with me and made me want to pursue a career in the wine industry.
What's your winemaking philosophy?
Quality is my main focus. In the first instance, a lot of time, resources and energy are spent in the vineyard to achieve optimal fruit quality. If we manage to succeed, it allows us to produce great wines with minimal intervention that have a sense of place. The people behind the scenes are hugely important for success, everyone has an important part to play for Goldie to be successful.
What has been the most outstanding moment in your winemaking career to date?
We have received numerous awards for our Syrah's in recent years which we are very proud of, however what I cherish the most is the great people I work with every day. We have some great camaraderie and friendships on Waiheke Island. This, along with living on a beautiful island, truly makes the job so much more enjoyable and produces outstanding moments every day.
What was the hardest moment in your winemaking career?
Every vintage brings new challenges, however my first vintage at the helm in 2011 was a bit of a shocker. 2011 was a particularly difficult year. I presented my wines to a peer review blind tasting panel and got scolded. They did not hold back. My confidence and ego took a bit of a hit but it also motivated me to improve. Fortunately, that vintage equipped me to make some changes and allowed me to grow as a winemaker, it also helps that we have had some great vintages since then.
Describe an average day in winemaking …
Being a small boutique producer means no day is ever the same. During harvest it can be a bit hectic and the team put in some big days. During this time we spend a lot of time looking at different weather models and assessing fruit ripeness to ascertain ideal picking times. It's an exciting and nerve racking time of the year and you need to be well fueled to keep the energy levels up once the adrenalin has worn off. My typical harvest diet includes coffee, special coffee, bread, cheese, coffee, wine, beer and you guessed it, coffee. I have also been spotted on the odd occasion thigh deep in Syrah ferment, one of my favourite activities during harvest. Outside of the harvest season, the position is a lot more varied. We do a lot of cleaning, cleaning and cleaning. We also do a lot of tastings, tastings and tastings. There is also the boring stuff like spreadsheets, budgets and meetings. We generally try and finish the working week with a planning session on the water which might include taking home some fish for dinner.
Tell us about your latest release?
Our current release 2014 Reserve Syrah is a magnificent specimen, with notes of dark fruits and mocha on the nose and a velvet textured palate – truly delicious.  At the same time, we are quietly excited about our 2018 Rose which is due for release in August.
What is the next big thing for New Zealand wines?
Sauvignon Blanc will always rule the New Zealand wine market alongside Pinot Noir, but with increased pressure on the environment I think sustainably produced wines will become increasingly popular. I also believe there is huge potential for New Zealand Chardonnay and wait for it, drumroll……….Waiheke Island Syrah!
What was the best piece of advice you've ever been given?
Measure once cut twice. You're not always going to get it perfect but it's important to keep at it and try and make small improvements every season.  Surround yourself with good people so that you're in a position to receive good advice in the first place. I've been fortunate to have had some great mentors guiding me and advising along the way.
You'll also like: