PHOTOGRAPHY BY KAREN ISHIGURO
STYLING BY JUVENA WORSFOLD
Quadrennially, the Commonwealth Games push out a fine selection of leading athletes onto the track and field. In April this year, the 2018 Games were held in the Gold Coast in Australia and we as kiwis celebrated a stunning line-up of medal wins and signs of greatness in the Games.
Ben O'Dea is certainly a New Zealand sportsman who follows that hard work and determination mould, but he is neither on the track nor the field, he plays in the sand. A bronze-medallist in the Men's Pair Beach Volleyball at this year's Games, Ben O'Dea is an athlete that is at the height of his sport. He's also a working, professional model with 62 Models and runs a small businesses in Tauranga.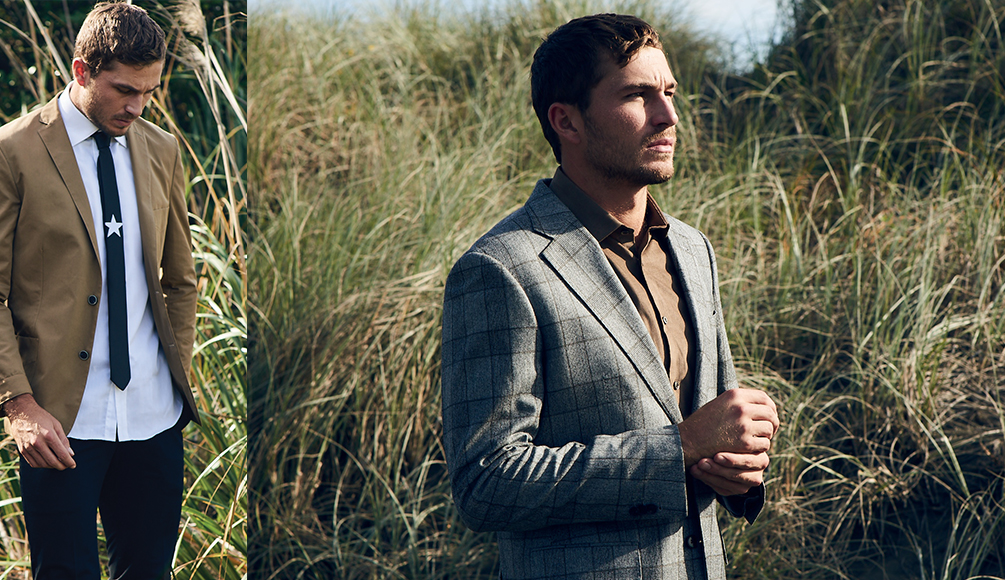 Tell us about the man behind the volleyball…
I grew up in Te Puke, on farms and kiwifruit orchards with my two older brothers and our mum before moving to Tauranga when I was 10. We attended Otumoetai College where we all started our volleyball careers. Volleyball has been the main ingredient to my development so far and has offered me huge amounts of growth through travel and people I have been able to meet along the way. I aim for a lot of balance in my life and divide my time outside of volleyball between my small business maintaining and cleaning solar panel systems and community and charity projects. I consider myself very driven but also like to leave a lot unplanned as I am also pretty spontaneous.
How did you first become interested in the sport?
We were mad about sports ever since we could walk and when we decided to make the move to Tauranga, our eldest brother Edwin emailed the local sporting body to find out what we could get into when we arrived. We all fell in love with volleyball and got pretty obsessed with it pretty quickly. Our mother wanted to provide us with a link to nature and the outdoors throughout our early upbringing and I feel this had a big impact on our love for being outside and competing.
Were you a sporty kid growing up?
I played almost every sport and I was possibly over competitive at times. I'm a pretty chilled out guy now but I still don't like to lose.
What was the most important lesson that you have learnt as a volleyball player and how has it helped you in the game and in everyday life?
I would say the biggest thing – which I'm sure a lot of athletes can agree on – is that you only get out what you put in. If you don't train hard enough, you won't win. This translates in to all areas of life. Volleyball is a platform on which I can test myself physically, mentally, emotionally all at once. It is great for identifying your strengths and also things you need work on.
What is your greatest accomplishment?
Within the sport it would have to be the medal at the Commonwealth Games, although it would have been nice to come home with Gold. I have just had shoulder surgery on an injury I have struggled with for 3 years. Our journey to even get there was testing to say the least, not being able to compete internationally for 18 months so a medal was a really cool piece of hardware to signify our hard work and persistence. There were a lot of people who believed in us and supported us through those times and it was an awesome way to repay them. The routine of training, playing the game you love, and living a healthy lifestyle must be strenuous at times.
How do you find the balance?
Like I said earlier, balance is key for me. I would go crazy doing the same thing every day and I've know that since I was young and I'm sure my teachers did too. I am pretty stoked to wake up every day in a position where I can do what I love, do great things for my body and influence people around me in a positive way. I know I worked hard to get where I am but I also know how lucky I am, so the hard work never gets me down.
How do you prepare physically for a big volleyball comp? Is there a rigorous training routine with the sport and hitting the gym hard?
We are working at our craft all year round in some way. A few months out from a big competition, we are on the sand 6 days a week, in the gym for 5 and rehabbing – whether it be yoga or something else – basically every day. You push your body to its limits for a good chunk of your training time and beach volleyball is a really demanding sport physically. We tend to wind the volume down as we get close to competition to giver the body a chance to recuperate so we can compete at optimum. We have an amazing team of physios and coaches around us who keep us healthy.
DON'T BE TOO PROUD TO LEARN FROM YOUR FAILURES. IF I LOOK BACK ON MY CAREER SO FAR, EVERY TIME I MADE NOTICEABLE IMPROVEMENTS WITH MY GAME, IT WAS AFTER THOSE TOUGH LOSSES OR UNCOMFORTABLE SITUATIONS."
What about mental preparation?
It is the most important part of the game once you get to a certain level, physically and skill-wise. I love the mental aspect of sports and I treat competition as a battle. Confidence comes from hard work and you can tell pretty quickly when your opponent realises you've worked harder than them. Going in to a game knowing that you did all you could to perform at your highest level in that moment is essential to being the best. One thing I have worked on with our coach in the last two years is training mentality. Focusing on competing and focusing on getting better at your craft are two very different mentalities. Choosing when to enter each mind state is really important or figuring out how to find a happy medium. Both are important and both help you win the battle.
Do you have any sportsmen that have really inspired you?
It may sound overused but I am a big fight fan and Conor McGregor has been a big influence on the mental side of competition. Self-belief is paramount in sports and when you aren't afraid of speaking about your potential, regardless of what people may say, amazing things can happen. I followed him from before he went to the UFC and the guy did exactly what he said he was going to do from day one. You can tell when somebody truly believes what they are preaching and I could see it in him from day one.
What is your dream aspiration for volleyball playing?
I would like to be the best in the world at some point, to end my career being able to call myself a World Champion would make me a very happy man. We have a great team around us and I feel like we are just getting started. I'd also like to make sure I never lose track of the learnings available in the journey, it is easy to lose yourself in a goal. An awesome writer, Hunter S, Thompson, once said in a letter to a fan that you should make the goal conform to the individual rather than the individual conforming to the goal, This has always stuck with me and I think it is bang on.
You've recently been in the Gold Coast, competing at the Commonwealth Games where you came away with a Bronze medal. What was that experience like for you?
It was amazing, we as beach volleyball players in New Zealand don't often get the opportunity to be in a high performance environment for an extended period of time. Being in the village for two weeks, surrounded by the elite and supported by such an awesome team with all of the resources available to let us as athletes perform was motivating. The NZ Olympic Committee did a great job.
You also won a bronze medal at the Shepparton Open in Australia on the 2017 FIVB Beach Volleyball World Tour with your brother, Sam. That must've been pretty insane to have such a cool achievement with a sibling. Was it easy playing volleyball with your brother? Or was there still that sibling rivalry?
It is a question Sam and I get asked a lot. I started playing with Sam when I was 16 and at that age you are still trying to figure out how to deal with your own emotions, then you throw in high level competition and things can get out of hand pretty quickly. We took a break from playing together for three years and we both grew a lot in that period of time. We respect
SELF-BELIEF IS PARAMOUNT IN SPORTS AND WHEN YOU AREN'T AFRAID OF SPEAKING ABOUT YOUR POTENTIAL, REGARDLESS OF WHAT PEOPLE MAY SAY, AMAZING THINGS CAN HAPPEN."
each other as people a lot more now. Our coach played with his brother as one of the best teams in the world for the majority of his career so we have a good guy in our corner.
What's been the best experience of playing volleyball over the years?
I would have to say the growing opportunities. Being faced with high pressure situations constantly is a blessing, you really get to see the real you when the pressure is on. You get to see how hard you are willing to work for your goals and you learn the repercussions of mistakes in real time. All of these scenarios can be translated to other areas of life and I am a better person because of sports. I think it is the best game in the world. It is hard to understand for people who haven't seen it at a high level, most people relate volleyball to a casual game at the beach but it is very different, it is incredibly beautiful and exciting in real life at that high level.
What are your main motivations?
Testing my self is the biggest one, as I have touched on a few times. Aside from that, it is making my family friends and supporters proud and gaining opportunities to help others through my sport or my profile. The more eyes on you, the more respect you gain, the more opportunity you have to impact others. What advice would you give to young volleyball players? Don't be too proud to learn from your failures. If I look back on my career so far, every time I made noticeable improvements with my game, it was after those tough losses or uncomfortable situations. Try to become comfortable being uncomfortable, eventually it will make the hard times seem easy.
On your days off the court, what do you enjoy doing?
I love being amongst nature more and more as I grow older. Being an athlete, you are quite often fatigued when you are off the court so I like to be in nature, chilling with friends. I have a new idea for a overseas trip, an adventure or a business venture almost every day so I like to keep my schedule open so I can put time in to what I want to do. Everything I do that is considered "work", I enjoy or I do it to create time to do the things I enjoy.
What's the best piece of advice you've received?
Good things happen to good people. It is pretty simple but I think it is so important. Everyone is on their own journey and we don't have to compromise convictions to show compassion. We all have our moments but when people see you making an effort to do good, it influences them to do the same.
What's next for you in volleyball?
I am recovering from my shoulder surgery until early 2019. When I return to competition, Sam and I are on a run to get to the Tokyo Olympics. We are currently working on trying to find sponsors and putting things in place to make our journey a little easier. We are pumped for a huge 2018 and beyond.