Creative, crafty and clever, we catch up with the duo behind Monmouth Glass Studio and get familiar with the incredible process that is glassblowing.
How long have you been blowing glass?
Isaac Katzoff: 18 years.
Stephen Bradbourne: 25 years.
How did Monmouth come about?
IK: We got a commission for a big lighting job and decided we should create a business around it. Our name is the name of the street our studio is on. We liked the sound of the name plus it would give people a clue to our location, which is kind of tucked away down a back street off Great North Road [Auckland]. Monmouth is a collaboration between Steve and me. We work together in every aspect. We work together when we are making glass, in the design of the glass and during the initial prototyping process. Our brand is obviously all about handmade but, more importantly, it's about using handmade, about using things that have value in our daily life, not putting them on a shelf to get dusty.
SB: We met while Isaac was working at Gaffer Glass, and then while we were both hiring blowing time at what was then Peter Viesnik's studio. We had some designer friends work on the branding and they came up with a solution that fitted well with the feel of the name.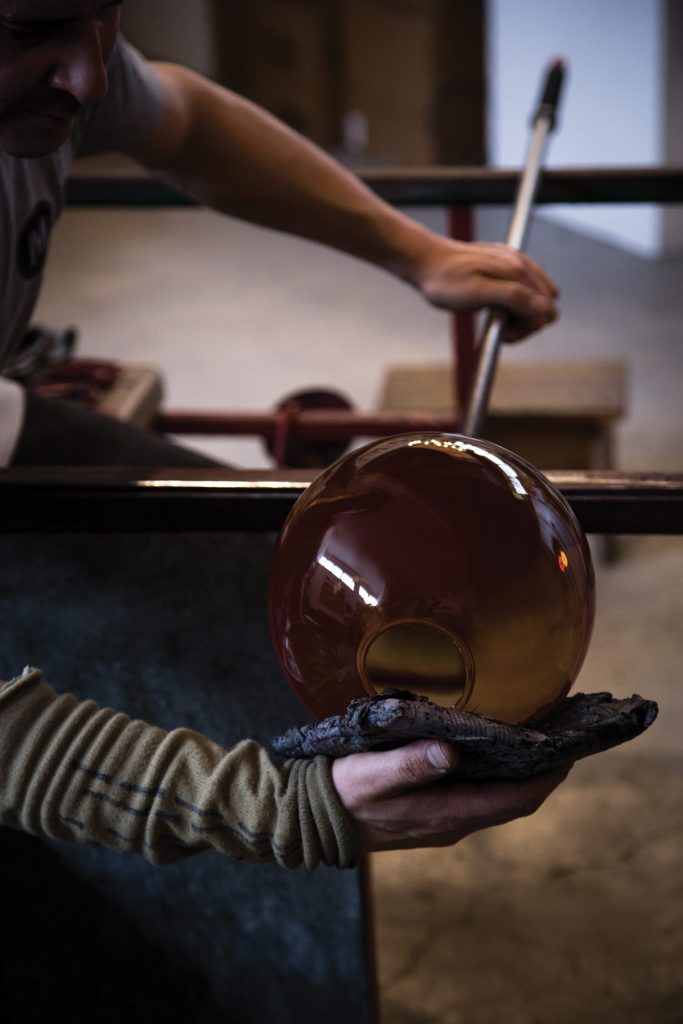 What inspired you to get into this industry?
IK: I learned when I was at university in the United States. It was just such a complicated and frustrating thing to do. I had to keep doing it and figure it out.
SB: Before I started blowing glass, I had trained as a potter so I was already a dedicated maker. Glass was a material that had always interested and fascinated me so when I had the opportunity to learn how to blow glass, I went for it and discovered what an amazing material it is. I've been hooked ever since.
How have you seen the industry change over the 20-plus years you have been working in it?
IK: Yes, of course. Tastes have changed, styles have changed and the way that people are working has definitely changed. The outlandishness of the 80s and 90s has been replaced with a refined and much more skilled aesthetic… I think a lot of us are looking back at the big manufacturing glass houses of Europe and North America from the 20th century and applying those ideas of use and design to our modern lifestyle.
SB: I think glassblowing in New Zealand is generally very craft-focused, with most glassblowers happy to keep it that way. A few practitioners like ourselves are trying to push the boundaries and evolve the whole attitude to and appreciation of glassblowing by bringing a much more design-focused approach and collaborating and working alongside designers and architects.
What does a normal working day usually look like for you?
SB: It all depends on the day. If it's a production day, we start early – around 7am or 8am, prepping glass colour and equipment, [we] start blowing around 10.30, and work through till 5pm. If it's not a production day, we're generally busy in the studio taking care of the myriad of other jobs that need to be done to keep things running smoothly, meeting with clients, going on site visits or supervising installs.
Where do you find your inspiration for the pieces you make?
IK: We are inspired by those glass manufacturers that I mentioned earlier and also by contemporary New Zealand architecture; refined, clean spaces and raw, exposed materials. Our work is similar; clean, simple design that emphasises the material, the glass.
SB: Everything we make at Monmouth is a combination of timeless beauty and function.We try to work with a strong design aesthetic,classic shapes and a pared back colour palette, so for me a lot of inspiration is drawn from mid to late-20th-century – design from object and furniture through to architecture.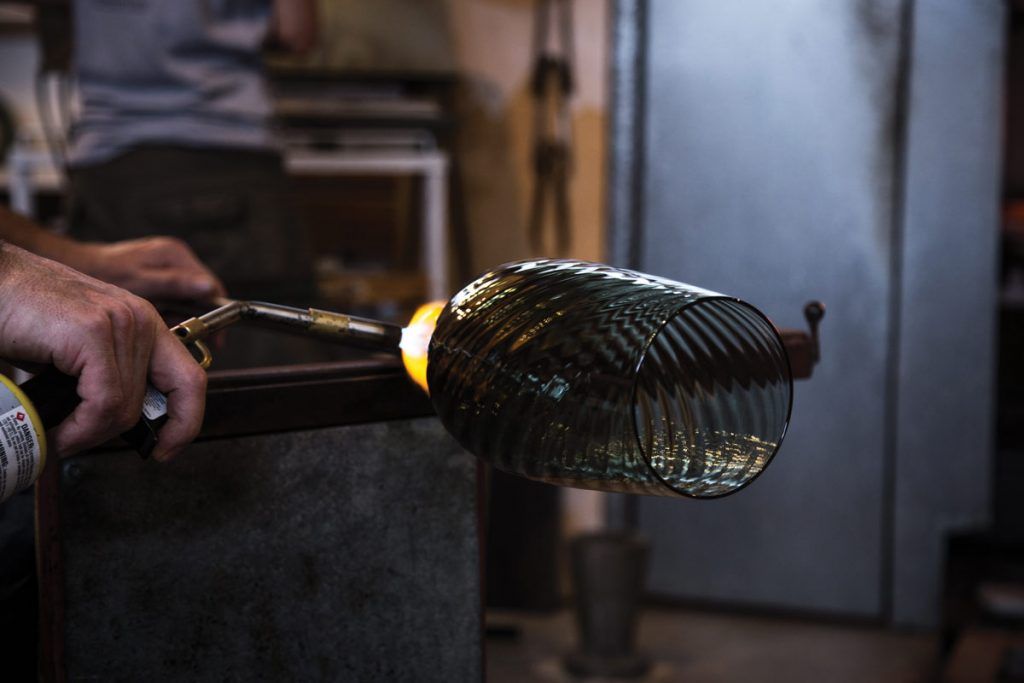 What are some of the toughest parts?
IK: Glassblowing is tough. It's hot, it's noisy, you're risking being burnt, you're doing 100 things at once, while focusing on the process and getting the glass to become the thing you want it to be… But the toughest part is running a business. The glassblowing is easy…
SB: … Because we're creatives, not accountants or business men.
What is something that still surprises/excites you, after blowing glass for this long?
SB: The great thing about working with molten glass is that the possibilities are endless; you just need to figure out the process of making a new shape. So when we're prototyping and developing new designs, we make little discoveries and breakthroughs all the time, which is always exciting.
Is it a competitive industry in New Zealand?
IK: Yes
SB: Glassblowing in New Zealand can be competitive due to the small size of the market that everyone competes for a share of. We are really the only glass studio in New Zealand making an extensive range of homewares and bespoke lighting, so in that respect, we don't really have a lot of competition.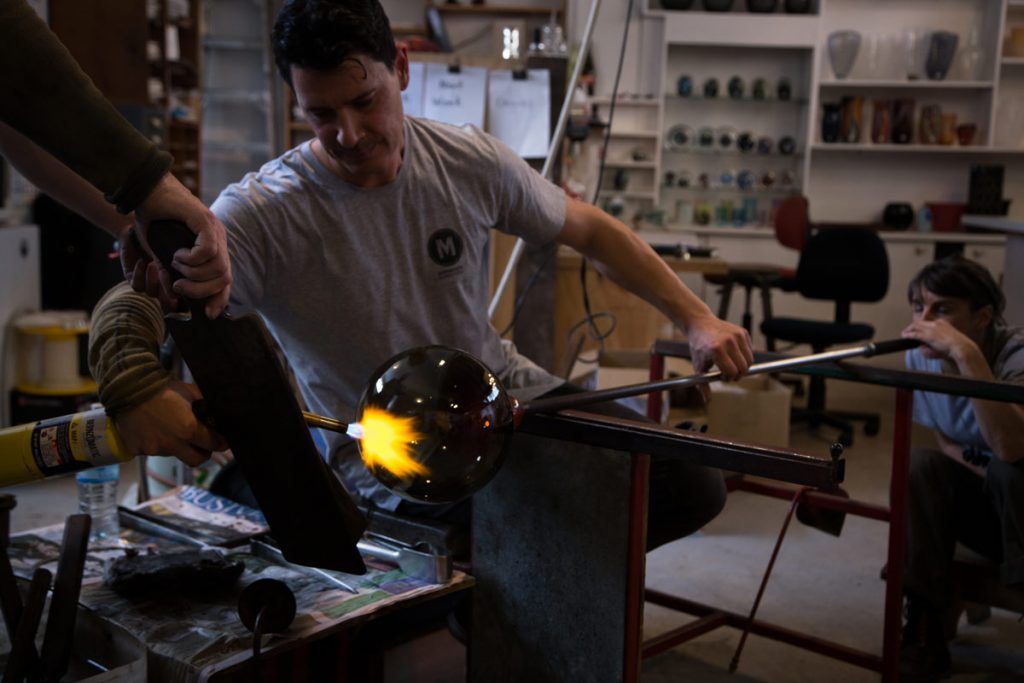 Watching the process, I notice you both work seamlessly together on the same piece. Is this something that took time to develop?
IK: Yes, but we've worked well together from the beginning. Steve and I get along really well. We've been working together for a quite a few years and we've worked through the processes for everything we make together. So, we have a mutual understanding of what we are making and we are really open about new ideas and how they might be made.
How does working this way, compared with working alone, affect the process?
IK: The process is much faster with the two of us, and working through problems and process is much faster as well. Plus, how boring would it be to work alone?
SB: Working as a team is generally a lot more efficient, making it easier to achieve a wider range of refined shapes.It also gives us the ability to design and develop new pieces on the fly as we make them, which is a huge advantage.
Glassblowing is an ancient Roman art; how different do you think the process is now compared with ancient times?
IK: The process would have been much more labour intensive, requiring many more people. We have mains gas and electricity and programmers to control the heat. I don't think it would have been possible for a glassblower to work alone or even with just two people in those days.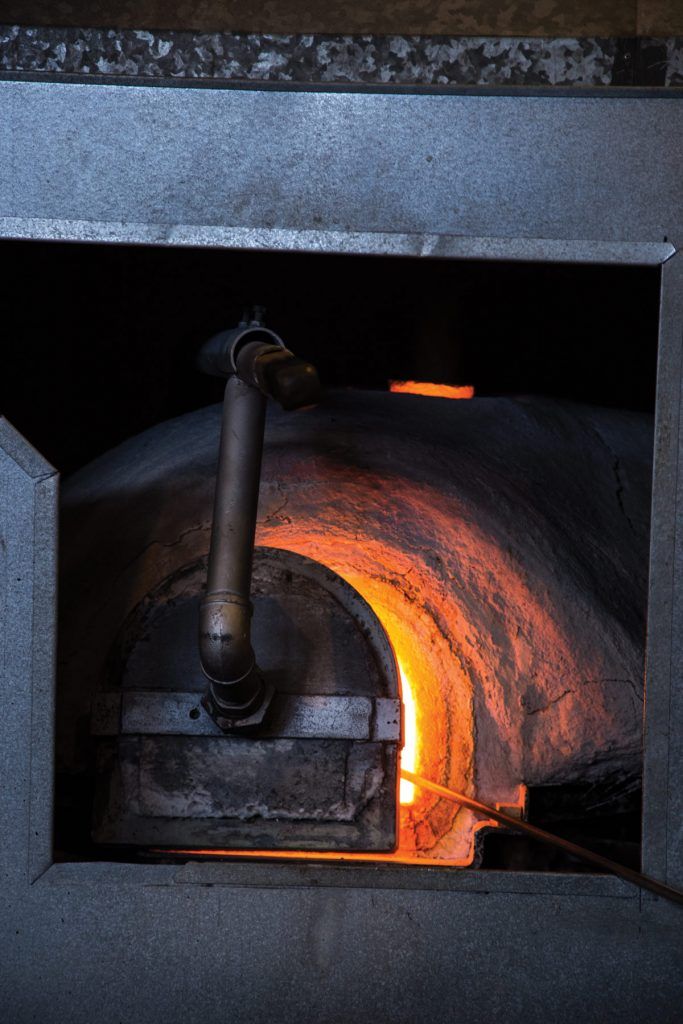 What is your favourite piece you've created?
IK: It's hard to pick one. We've had a lot of challenging projects over the years and it is always very satisfying when they are completed and the vision has been realised. I can't pick one…
SB: Over the last few years, we've worked on a number of challenging projects that have all worked and been really successful, so it's difficult to pick one favourite. One that stands out would still have to be the lighting installation we did for Ortolana restaurant.
Where to next for Monmouth?
IK: We'll just keep making bigger and better things.
SB: I think from here we intend to strengthen and grow the brand, develop the range and continue to foster collaborations with like-minded creatives.We're also very interested in introducing other materials that will complement the blown glass in our range, which I think will open up a whole new world of exciting design possibilities.