With winter rolling in, many wine lovers are turning their focus to savouring warming full-bodied reds on cooler evenings and to complement hearty seasonal fare.
When it comes to which bottle you should be picking off the shelf, one consistently excellent producer is Mills Reef Winery, who over the last thirty years has built a reputation as one of New Zealand's foremost red wine producers.
In New Zealand, if you can't use a plot of land for grazing, it may as well be good for nothing. That was the case for a plot in Hawke's Bay which was, for the most part, stony and desolate. But a select few pioneers, including Mills Reef, had an inkling that it could otherwise be the perfect spot for premium winegrowing. Their passionate persistence and toil over the next decade quickly elevated and proved the world-class potential of the land, leading to its formal recognition and definition in 2001 as the now famous Gimblett Gravels Winegrowing District. From those beginnings, Mills Reef had early on embarked on a significant programme to plant their vineyard in the most ideally suited grape varieties, comprised of the red Bordeaux-varietals and Rhone Syrah.
Our recommendations here at M2 would have to go to their 2016 vintage top-tier Elspeth range and the equally stunning 2018 vintage mid-tier Reserve and Estate ranges. Each range is crafted for differing wine experiences and occasions. Estate for fruit emphasis and earlier approachability, Reserve for complexity and harmony with food, and Elspeth for structure and magnificent ageability. To back up these choices, Chief Winemaker, Tim Preston, agrees "both vintages were outstanding for Hawke's Bay, and that's certainly expressing in the wines".
As with all information, you should get it independently verified, even for how good a wine is. Fortunately, that isn't hard to find, with gold medal awards earned in all three tiers – Estate, Reserve and Elspeth. "Quality is sensational across the board" says Tim. So you really can't go wrong with any of them. True to their mantra, they offer "unmistakable quality" and a sensational wine experience. Discover, experience and enjoy.
If you're ready to try these reds for yourself, Mills Reef are currently offering a special pack, comprising of wines across all three of these ranges.
The Gold Medal Reds Six Pack gives you 2 bottles of Mills Reef Estate Merlot Cabernet 2018; 2 bottles of Mills Reef Reserve Cabernet Merlot 2018; and 2 bottles of Mills Reef Elspeth Cabernet Sauvignon 2016 for only $159.99 (RRP $188).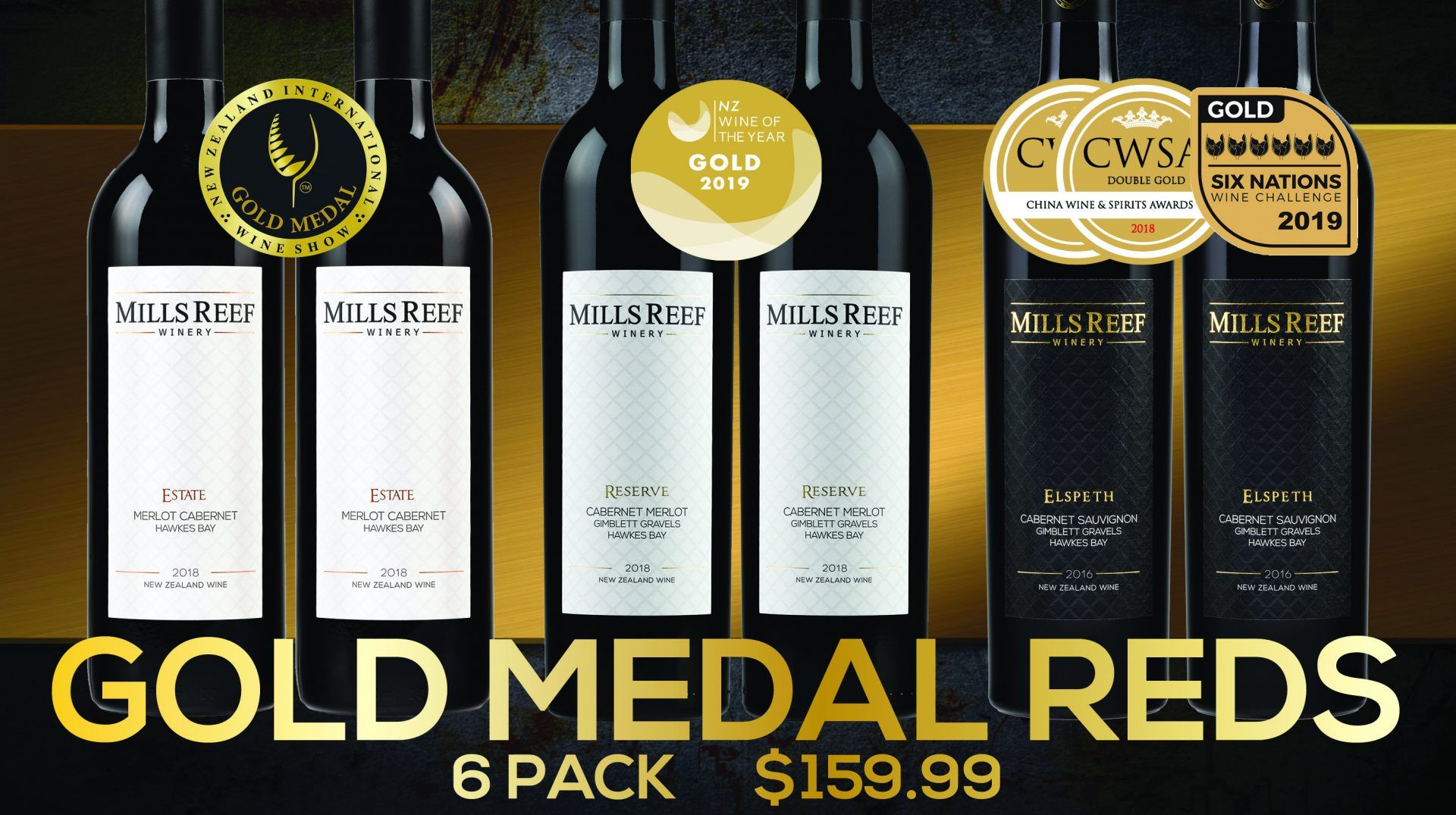 Gold medals & other highlight accolades:
Estate Merlot Cabernet 2018 – NZ International Wine Show
Reserve Cabernet Merlot 2018 – NZ Wine Of The Year Awards
Reserve Syrah 2018 – 3rd/TOP12 NZ Syrah – Dish Magazine
Elspeth Cabernet Sauvignon 2016 – China Wine & Spirit Awards, Six Nations Wine Challenge
Elspeth Merlot 2016 – Six Nations Wine Challenge
Elspeth Syrah 2016 – China Wine & Spirit Awards, 5 Stars – Michael Cooper
Mills Reef – 14th rank – Bob Campbell MW – 170 Top NZ Wineries (of 700+ NZ wineries total)
You'll also like:
You're seeing this M2 article with compliments of our channel sponsor. If you enjoyed it why not try our entire library from only $1.99 a month - get instant access now - every issue of M2 since June 2017. Access local New Zealand made content on the future of work, style, business, superyachts, technology, entertainment, cars and more right now!
CLICK HERE
for more details.