I recently had a chat with Dominic Bowden, (X-Factor, Dancing With the Stars, The Bachelor) about our shared connection with 'anamorphic' artist Edgar Mueller, who recently passed through the country as part of the launch for Mazda's new CX-5. I had the ignoble task of holding Mueller up in the departures lounge for an interview while earlier, Dominic played the perfect, and far more handy, host and picked Mueller up from the airport. I chatted to Bowden about the state of the media industry, its future and how he got his big break in the American TV scene.
So, you met Edgar as well, what did you think of him?
Edgar is a talented guy. He's a funny dude. His mindset and ethos is about having art that doesn't live in an art gallery. [By] the fact he does it for the love of it and not the dollar signs, you can really see that passion. I like that he spends time doing these [pavement art installations], a day or two, and then it's all wiped away. That interactivity as well… some of the stuff he's done in Europe is mind blowing. It's getting people really engaged with art again.
You've interviewed a range of talent over the years; is there a connection with their drive and passion?
With the celebrity interviews you only get 15 minutes and it's hard to get a read on someone. But I've been in the Mojave Desert in a winnebago, where Richard Branson is launching a commercial spaceship into outer space and having those in-depth conversations, or working with someone in Dancing With The Stars where you're with someone for three or four months. And when you do, you get down to this sense that they have passion and a story that is uniquely theirs. I guess their driving force is that they're doing something they love, they skip to work and do something they love. [They're] almost childlike enjoyment in their craft.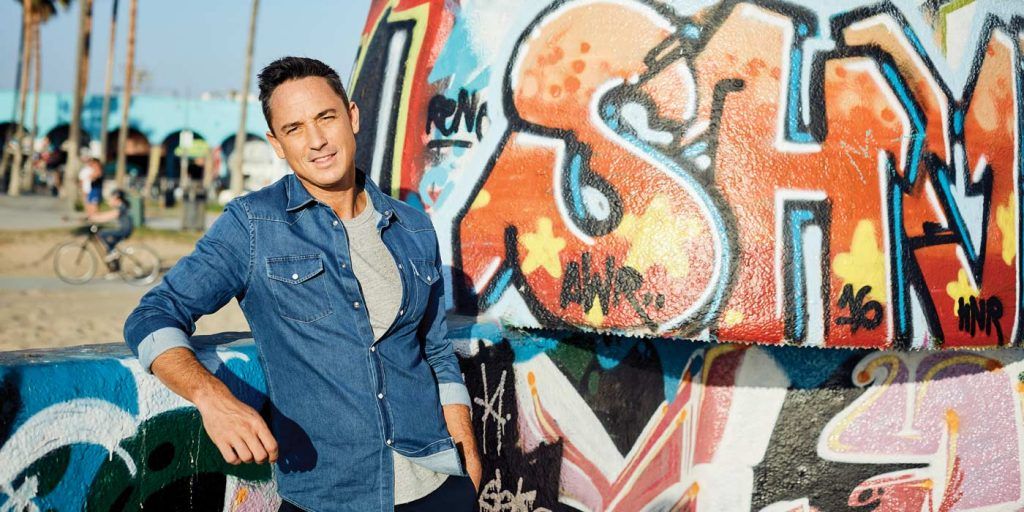 Where do you see your passion and drive going? Are you where you want to be?
Getting the chance to live and work in America has always been a dream I thought wouldn't happen. But now being able to both work there and come back here, it's amazing. Being able to do both is really rewarding. New Zealand never felt so hot a commodity before this. Coming back with people from the States, and they end up showing me around because they've done amazing walks or seen something I never have… it makes me incredibly proud to be a New Zealander. America is just a huge vast space with opportunity. More and more Kiwis are achieving at a high level there. It's cool seeing how they're disrupting.
Do you feel like you appreciate NZ more now you've been away and come back?
The film industry has always felt very close-knit and everyone knows who you are. But going overseas, no one knows who you are and there are millions of people. In New Zealand if you work hard you can get to the top. We also take for granted how safe we are and we can do so much.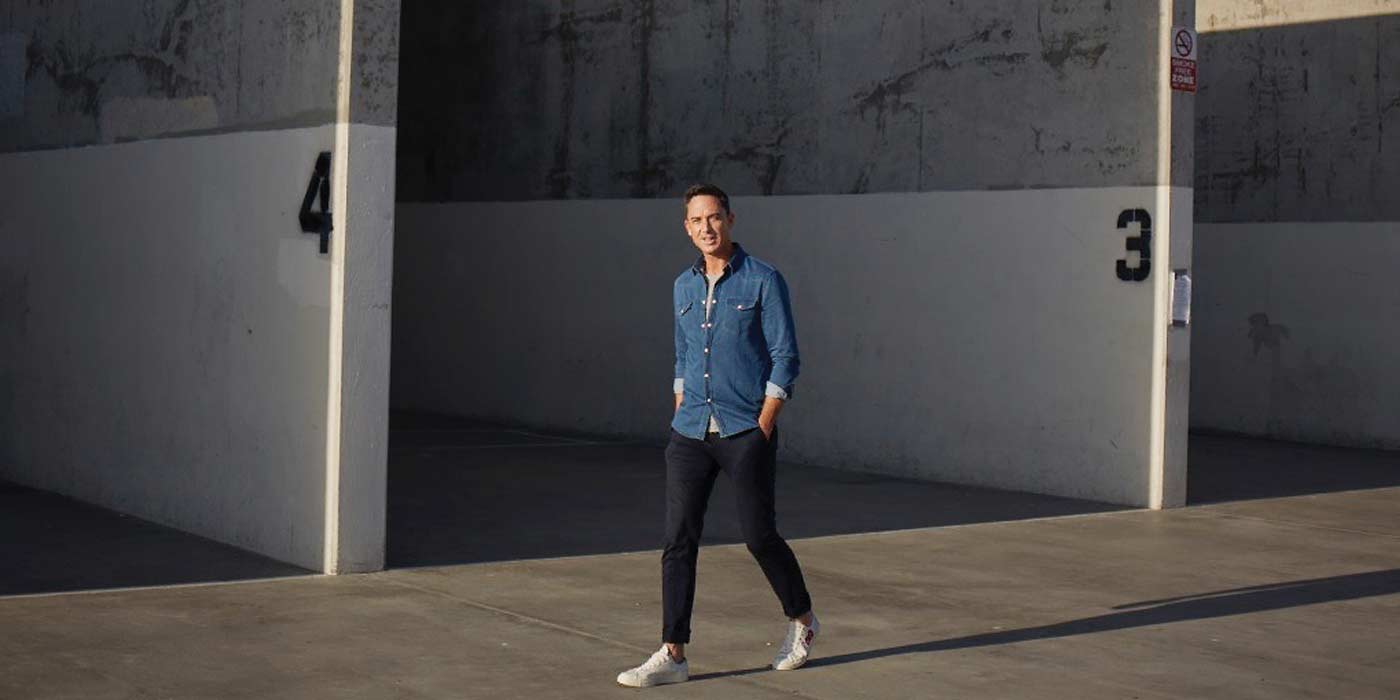 I heard you got your big break while interviewing Ryan Seacrest and getting hooked up with his manager?
We wanted to do a tongue-in-cheek thing where we have the same job hosting Idol but I drive a Datsun and he drives a Bentley. To get access to Ryan, I had to shmooze with his team so they knew it wasn't a stitch-up job. I think things had recently been going down between Ryan and Teri Hatcher from Desperate Housewives, so his team were really concerned because I was someone they hadn't heard of. I was from New Zealand and who was I? What was I playing at? But I spent a lot of time with his team, manager and agent. And after that they said: 'we really like you, we want to work with you', which I thought at the time was just lip service. Then a contract turned up in the mail. I didn't even read it, I signed it and sent it back. Then a month later I started going over [to the US].
That speaks a lot about your personality that you'd hang out with them and they'd want to sign you up.
I think they liked the idea that I had a lot of live TV experience. Their take on it was that whether you're doing live TV in front of 500,000 or 15 million [people] it's the same pressure, there are eight cameras and a live audience. There weren't really any other live hosts; there was just Ryan and he couldn't take everything. I'd get his offcasts and the small pieces he didn't have time for. Those were still ginormous pieces in my world.
Were you under any pressure to change your accent for the American crowd?
When I went there I certainly did voice training. I was so lucky though, because up till then if you had anything but an American accent you were dead to the US networks. Then Simon Cowell and all these people coming in from the UK made accents cool, and that's when I arrived. I took courses to offer the accent as an option. It was a very bad accent. I think with live [hosting] it's about authenticity, and it's hard to go into your brain and think of something to say off the cuff and then convert it *moves into a southern drawl* into an American accent.
You're right. That was pretty bad.
Exactly. You witnessed it first hand.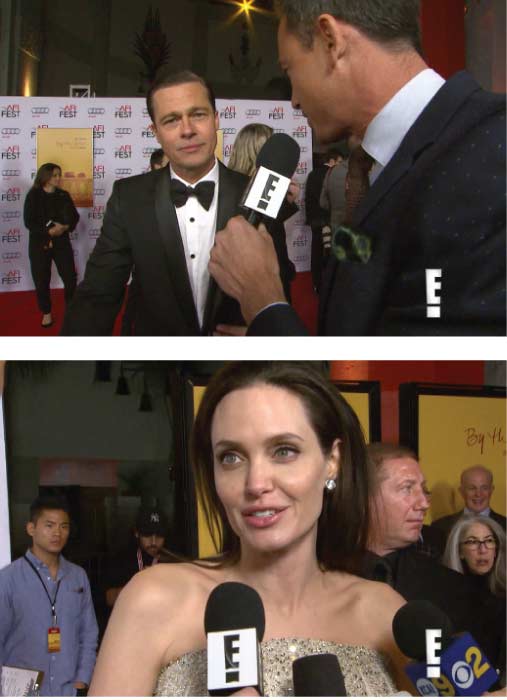 You say working live in both countries is the same, but there must be some major differences in working TV in the States?
Budget is the big difference. For example, Dancing With The Stars, their budget was $70 million and the New Zealand budget is about $4 million. Even if you've got incredibly talented people working on the New Zealand one, it's hard. We haven't got the resources to build the incredible sets and lighting. Working on that show in America, every department was like a kid in a candy shop. They were ordering cameras from Japan and experimental stuff. They were like 'pigs in sh*t' about all the things they were getting. But Americans coming over here are always blown away by the shows we put together with the budgets we have. In fact, a lot of my friends over the years have got jobs in the States in other departments purely because they're so resourceful. They have been able to create what they need on such small amounts of money. Part of that, I think, is because of the union system in America; you're not allowed to be a jack of all trades. You have to pick one very small niche. But people in New Zealand working in TV can do 100 things that make them an asset to production.
Our number 8 wire mentality.
It's the Kiwi attitude as well. A lot of the actors I've met, like Tom Hardy and Robert Downy Jr, say: "Hey my best friend's a Kiwi!" I don't know if that's a coincidence, but I like to think it's part of the Kiwi nature. They're not interested in lip service. They're more honest and genuine. They're not interested in who you are, but what sort of person you are. You meet a lot of wealthy Kiwis, but you'd never know. I think that's a testament to who we are. The Americans can be quite showy, especially in LA.
What are the best bars and restaurants in LA (for when I head over there)? The most fun is downtown, the fashion district. Bestia is impossible to get a reservation at. You have to book way in advance. But it's well worth it.
What prompted your relationship with Mazda?
I've been working with them since X-Factor. We've done a lot of fun things together and they get what I want to do. They're really onboard with doing cool, creative stuff.
Where to from here? You're right up there with Seacrest. Is this it?
The way we consume content is changing. The one thing still trending upwards is live broadcast. People love live, they love the ability to watch it as it happens. The opportunities in digital are huge. People talk about how TV's changing, but it's exciting to have new opportunities to pick and choose from. If you're young and working in the media, it used to be very limited. Now, someone can be in New Zealand, then two months later, you can be on US TV. Like Ellen DeGeneres putting out that call for an internship, and a young Kiwi kid here picks it up. New Zealand is not as isolated as we think, and it's a great time to be alive.