From a gym goer's point of view, the bench press is one of the most popular exercises in terms of increasing upper body strength. From a supine position on top of a bench (and using weights on a barbell), the motion consists of raising the bar from chest to the full extent of the arms and then controlling it back down to the chest again. The exercise works the pecs, arms and shoulder muscles and is ideal in terms of bodybuilding to help grow strength and upper body size.
Just like bicep curls, it's a great way to make a quick aesthetic difference, but what many gym buffs fail to do is pay attention to the rest of their body (especially their legs) and end up looking like Johnny Bravo – however, as I have just found out, it's certainly not the case when it comes to the Macan Turbo 'Performance Pack' – it's got muscles from head to toe.
In the sports car segment of the compact SUV category, the Macan arguably comes in as THE benchmark. Since its debut in 2013/4, the Macan has been pushing the boundaries as to what is possible in an SUV and it would seem that with the Performance Pack, Porsche has done it again.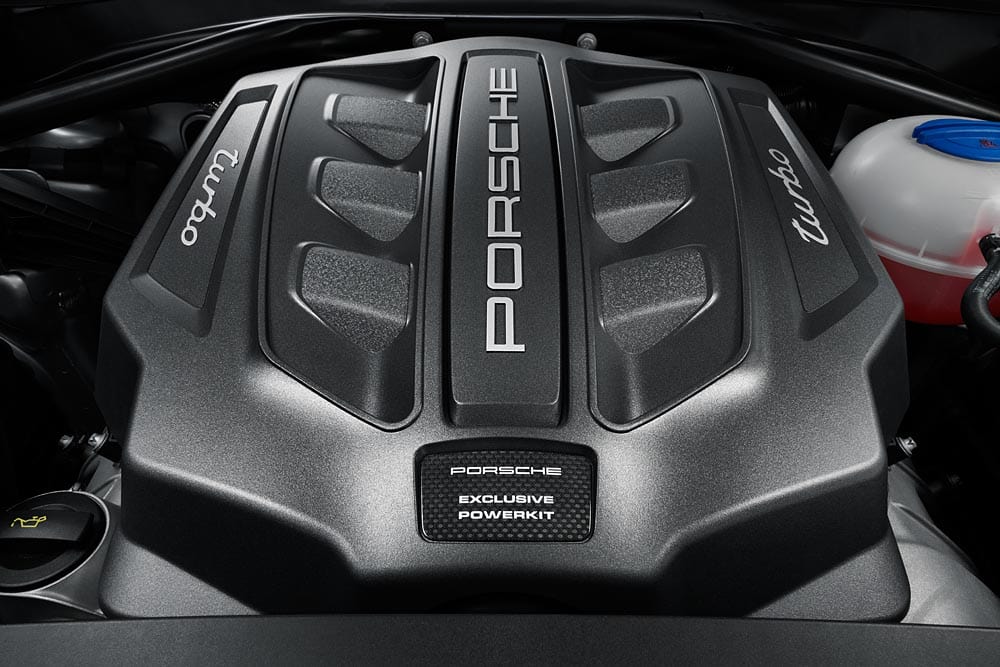 I have driven a Porsche Macan before and been suitably impressed, but approaching the Agate Grey Metallic performance pack version, you can't miss the differences ,however subtle they are. First of all, even with the 21" 911 turbo design shoes on, she sits a little lower. The Macan Turbo with performance package comes standard with air suspension and Porsche Active Suspension Management (PASM), but in this case, with an overall ride height reduction of 25 millimetres – which is a further 10 millimetres lower than the regular Macan Turbo with air suspension and PASM. The black SportDesign exterior mirrors shine brightly at the base of the curved A pillar and the alloy roof rails boldly stand watch over the panoramic roof system.
Look a little closer and you can see the red paint finish on the six-piston brake calipers, which in turn (and when necessary) grab ahold of the 390-millimetre grooved brake discs (30 millimetres larger than the Macan Turbo) located on the front axle. Believe me, you want to be sure this sports SUV will stop when you want it to.
Its heart beats with a twin-turbocharged, 3.6-litre V6 engine that has been upgraded to deliver 324 kW (30 kW more than the Macan Turbo). It accelerates from zero to 100km/h in just 4.4 seconds and has a new top speed of 272km/h (an increase of 6km/h). The maximum torque has been elevated too; now it's a formidable 600 Nm that joins you at 1500rpm and stays a while too, leaving at 4500rpm.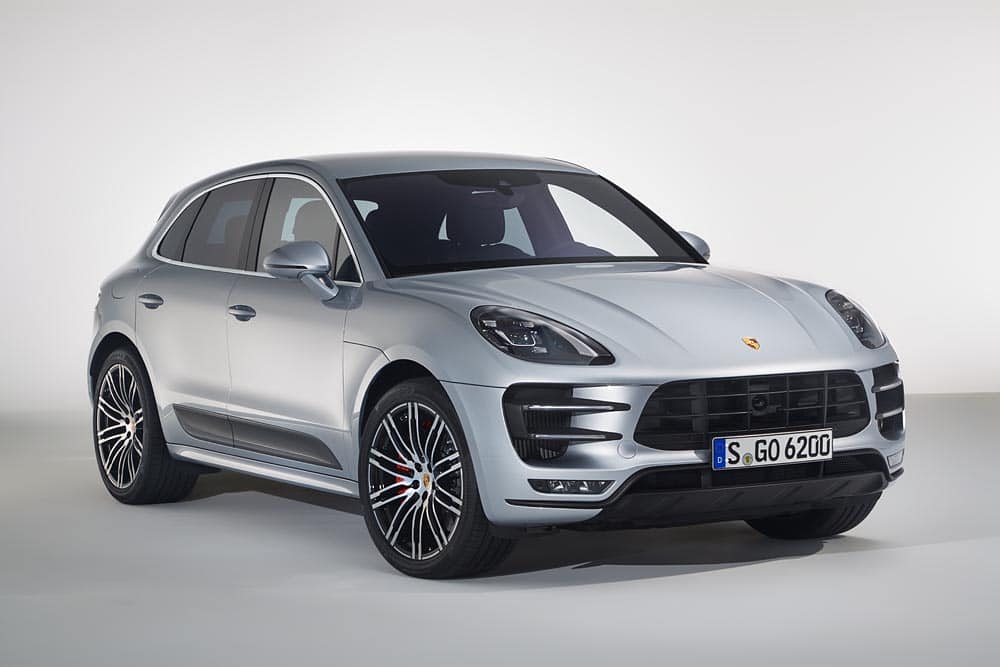 Helping to manage the power is a seven-speed PDK double-clutch transmission that has (as Porsche put it) been designed to deliver extremely short response times, optimum switching points and increased torque during gear changes for maximum acceleration – a statement to which I can attest.
The interior offers soft black leather and a cabin dripping with tactile Alcantara highlights, and carbon lovers won't be left wanting either. The centre console is still an imposing sight, though, with an array of buttons and switches that would make an aircraft pilot wince, but once you're over the initial shock and start to examine the line-up, they all make sense. Upon ignition (which is in the usual place but without the need for a key), the first button you will want to push is the exhaust one. It opens up the baffles in the sports exhaust and cements the fact that you're in a performance vehicle – without venturing into Sports mode – I'll get to that in a moment.
Slipping into traffic behind the wheel of a Macan Turbo is not as terrifying as you would think. Despite being voluptuous on the exterior, she feels relatively nimble and agile around town, I'd even go as far as saying 'pleasingly docile'. Navigating city streets is fine and dandy and parking is hardly a problem since it has ParkAssist and Surround View. In fact, when in 'normal', and with the driver aids turned on (like lane change assist), you could simply go about your business in quiet luxury – that is, of course, if it wasn't for that sporty exhaust note (yes I know you can turn it off, but why would you?).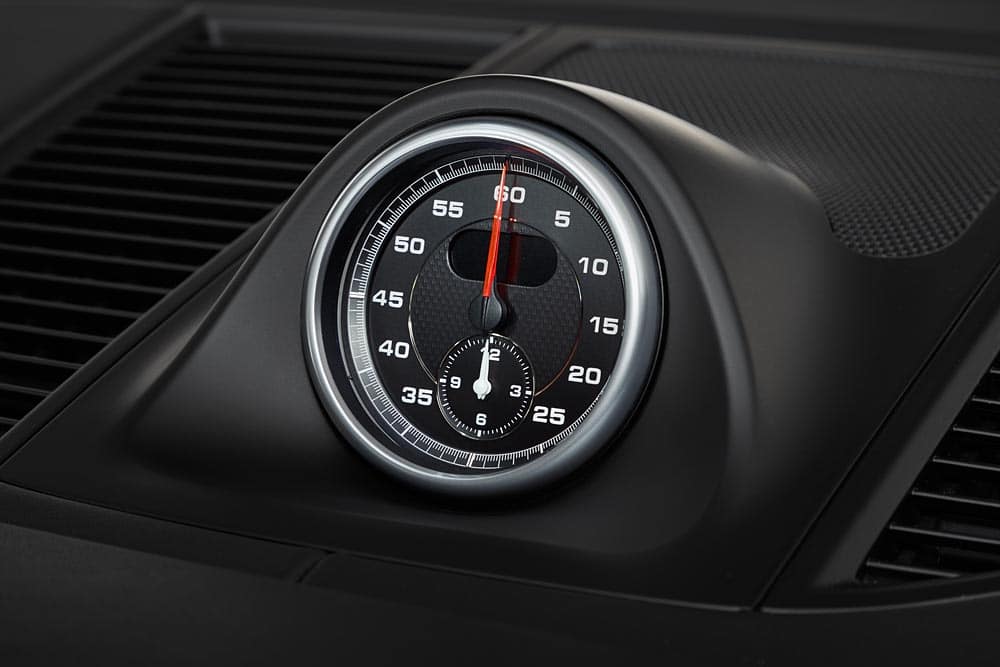 Shrug off the city congestion and it's time to turn it up a notch. Switch the Macan into Sport and the gentle SUV really wants to play. The air suspension hunkers down a little and the revs go up. Steering response time is increased and the same goes for the throttle – game on.
Everything seems to come alive, the power is thrilling and the sound (windows open of course) truly lifts your spirits. It's quick on the open road and I mean really quick and it travels round bends like a SUV shouldn't. However, it doesn't stop there. Fitted as standard to the Performance Pack is the Sport Chrono Package. This comes with an analogue and a digital stopwatch in the centre/top of the dashboard and the performance display in PCM (infotainment screen) shows your driving stats, (total driving time, current lap distance and lap times). More importantly, there is also a SPORT PLUS button added to the centre console, which when pushed makes the engine become even more responsive and the rev limiter is adjusted to a higher setting. The Porsche Traction Management (PTM) eases its grip on the wheels, the Porsche Active Suspension Management has harder damping, the trigger threshold for PSM is raised for increased longitudinal and lateral dynamics, the shift times become even shorter (the gear changes even sportier), the air suspension drops to Low Level and the Launch Control is primed to deliver optimum acceleration from a standing start – that is one awesome button! Alright, it's a button that is best left alone until you are on the track, but I did feel the need to poke it once or twice – hmmm!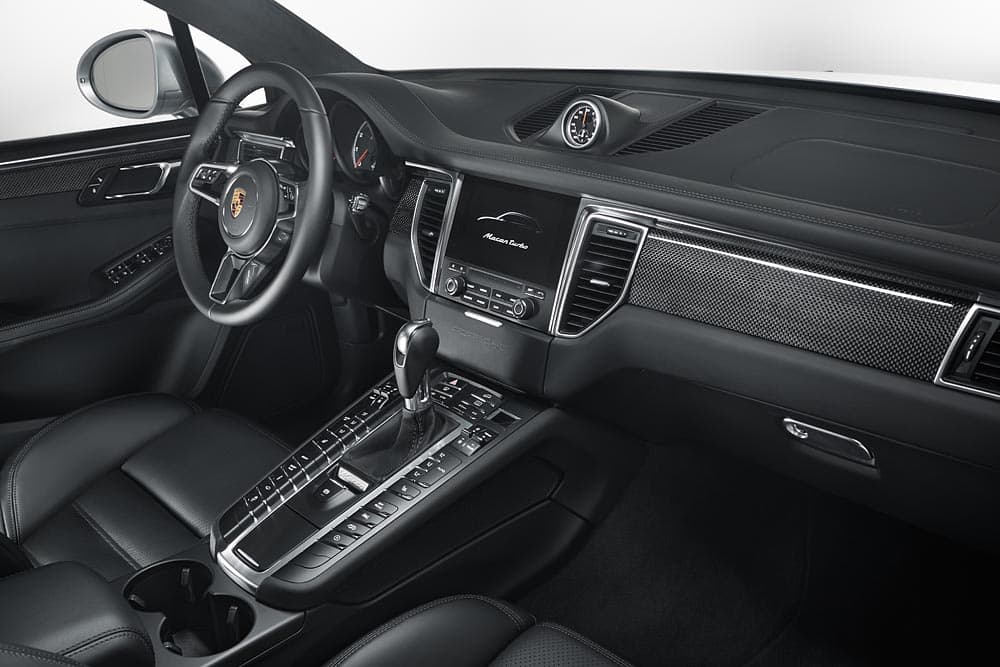 Taking the SUV to work via a daily commute really brings the Macan's performance back to reality. If you ('accidentally') choose to leave her in Sports mode in heavy traffic, you'll find the gears snatch and grab uncomfortably, and quite rightly too. It's best to return to Normal, turn up the very powerful sound system and relax in plush leather luxury.
Being at the top of your game means you can either rest easy and wait for the others to catch up, or you can choose to continually lift the bar and increase the divide. With its enhanced driving dynamics and increased agility, the Porsche Macan Performance Pack now tops off an already impressive model line and is why I deem it a Bench Lifter.