Rimowa, a luxury luggage brand that LVMH has an 80% stake in, is collaborating with high-end streetwear brand, Off-White, in anticipation of its 120th anniversary.
"The original luggage with the grooves," has previously collaborated with other next-generation streetwear brands such as Supreme and Anti Social Social Club as well as fashion houses such as Fendi. This series of collaborations may come as a surprise to those who have not been a part of street wears recent integration and domination of the fashion sphere. As Alexandre Arnault, co-chief executive at Rimowa and son of LVMH chairman explains "Maybe there's a bit of fatigue from customers of traditional brands and they're excited by fresh products done in a different way and this is something that's really well embraced by streetwear."
Virgil Abloh, the founder of Off-White and was named earlier this year as the new Creative Director for Louis Vuitton menswear. He is expected to bring his ultramodern style that has put his streetwear brand on the map to his new role at Louis Vuitton as he has to countless other collaborations (including Nike, KITH, Moncler and Jimmy Choo) including this one with Rimowa.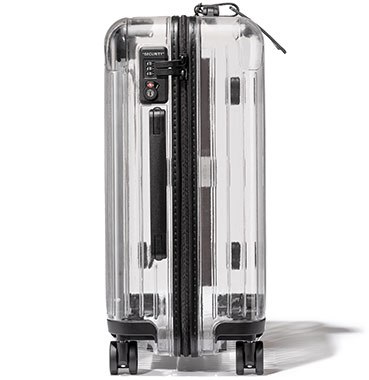 The product of the collaboration is a capsule collection consisting of clear suitcases made of lightweight polycarbonate. "It's like 3.0 of personalisation. It's not just putting your initials on it but allowing another layer come into play," explained Abloh to Business of Fashion, "There's an emotional component to owning [the suitcase] and you become a performance art piece just by using the thing. It's like putting your items on display and rethinking the premise of a product."  The suitcase is accompanied by a divider labelled by words enclosed in the signature Off-White quotation marks. There's also a spare pair of orange wheels and a diagonally striped luggage tag add to the recognizable Off-White look.