"It needs to be raw, it needs to be honest," Nick Herd, covered in paint tells me of his artwork. Characteristically energetic, the art emerges from the canvas, both metaphorically and literally. The strokes and dabs are so thick it creates a visceral image. Everything about it tells me he doesn't like hesitation. I had to know more.
Photography by Nick Phipps
You work in a really interesting space, could you tell us about it?
It's a bizarre place I find myself in. It's an original 18th century mansion and the original owner was Judge Thomas Gillies, one of Auckland's pioneers. It really bewilders me how small our history is in New Zealand and that, just over a hundred years later, I'm painting in this house that was one of the first in our city.
Once I step inside, it almost feels like I'm travelling back in time or into another world. Downstairs has this massive, beautiful ballroom, with the craziest details. Inside is these head sculptures on pillars going around the whole room, with leaded windows.
Upstairs, where I work, is a little more decrepit. There's all these random rooms and mirrors which has a maze-like feeling to it. Then there's the watch tower up the very top. Every time I'm up there, I wonder what this could have looked like back in the day. There would have been maybe one house off in the distance, now there are thousands of them.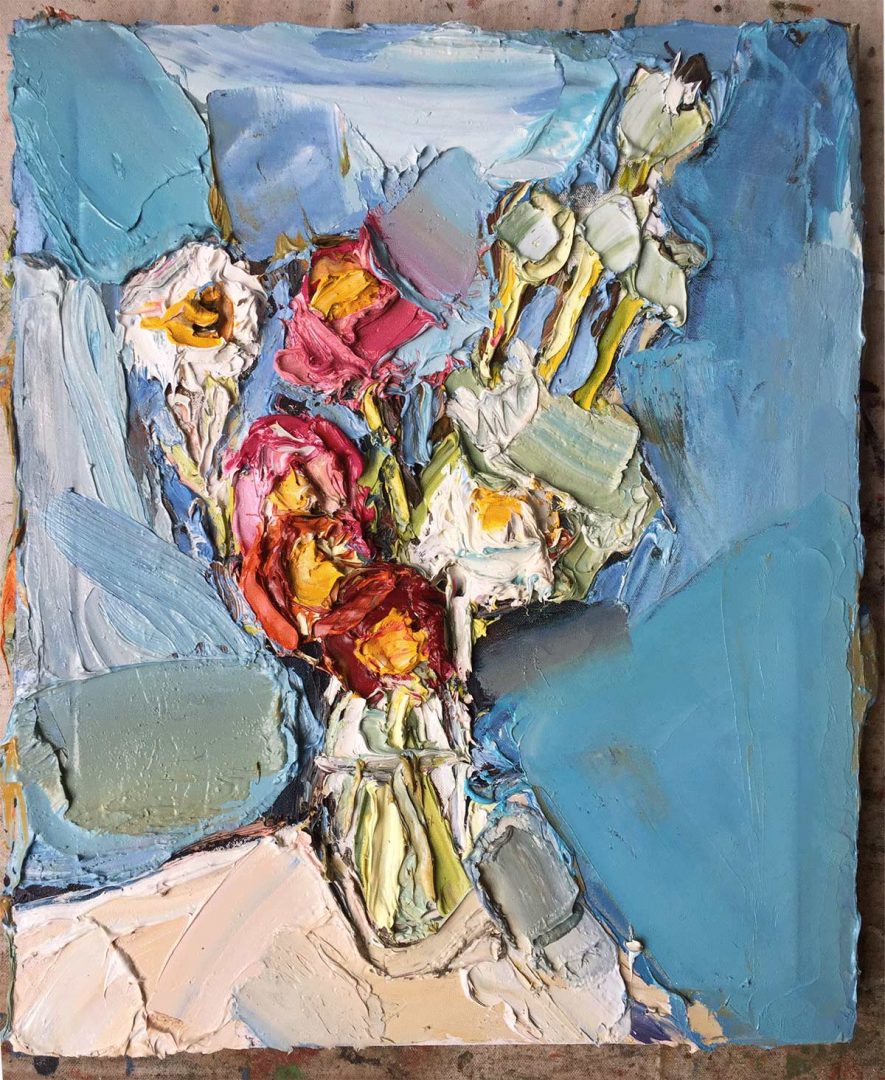 How important do you think your workspace is to the creative process?
Like any environment, it's going to affect my work. I've been spending a little time outside painting, whic is a game changer. When you're out in the elements, light is constantly changing, the sun is making me sweat and the wind is blowing things over.
But the mansion is magical. I find myself moving around rooms throughout the day, chasing light as the sun moves. I only paint in natural light. My whole process can be a big build up to the whole act of painting. I'll be sketching, writing down thoughts, moving things around, getting everything ready, just waiting for that light I'm after.
It's almost like a football game when I was a kid; there's all this energy and anxiety built up waiting for that whistle to blow. When I actually get to throw paint around, you can't stop me. At the end, I'm absolutely exhausted.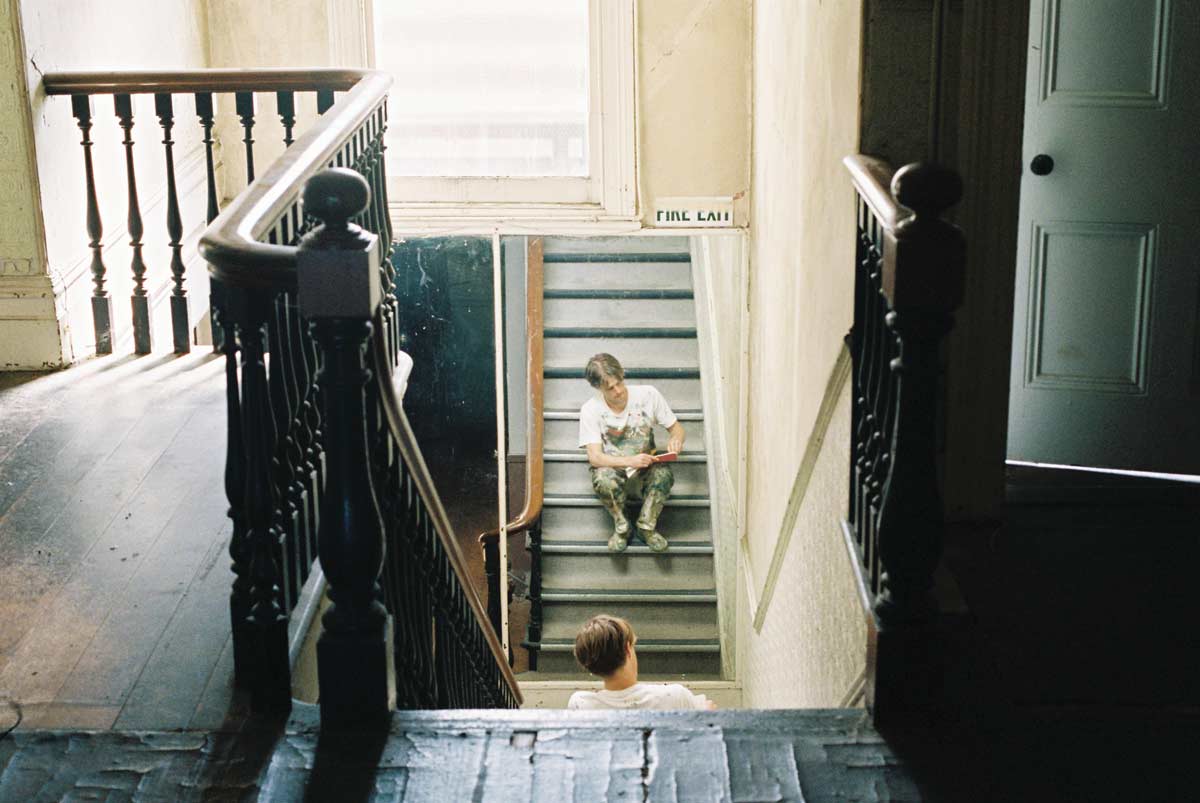 What is it you hope your paintings tell people?
I don't really have an agenda with my paintings. If anything, I want people to feel like they're looking at something that feels very human. I have no traditional training, what I do is very instinctual.
If they feel something or get a funny feeling inside, then I'm winning. To me, art is like dancing to music; it's the part where you're moving the way your body needs to move and everything in your mind stops. If anything, the people and lifeforms I encounter are my music.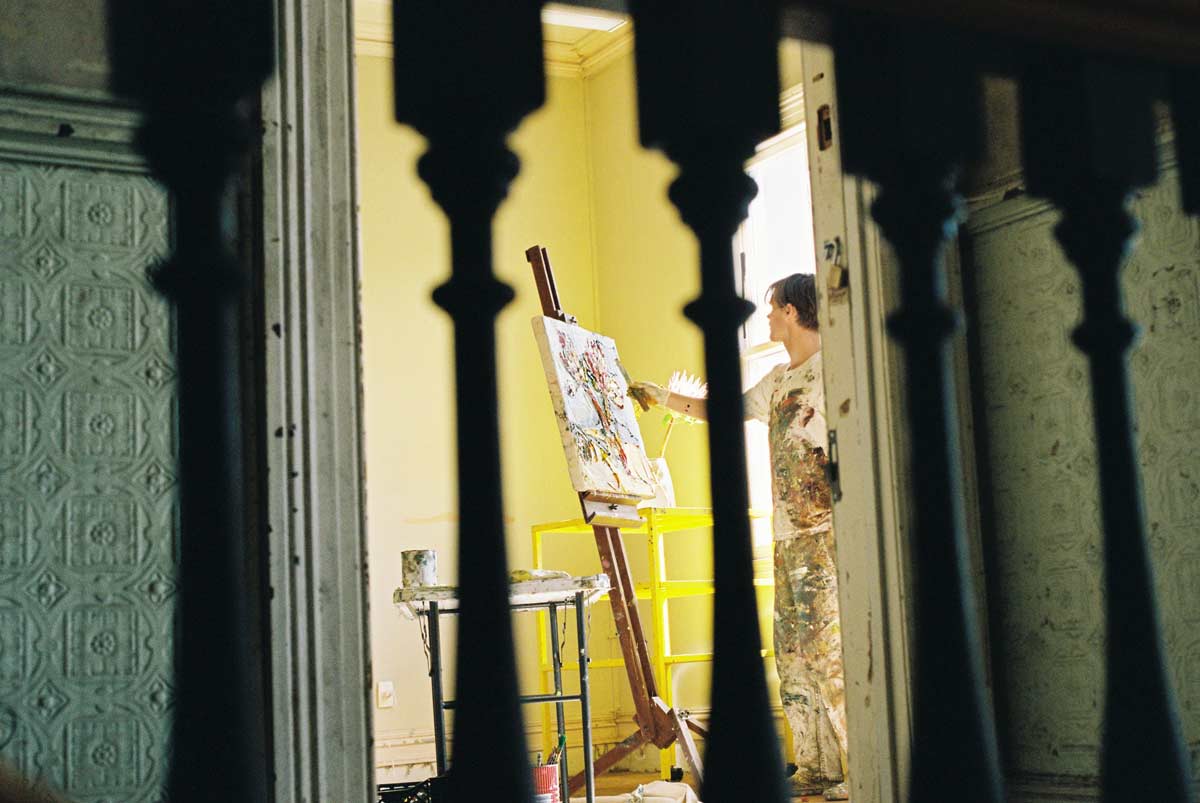 What inspires your craft?
People have always interested me my whole life. Questions and curiosities keep me going. What is it to be alive/human or to be apart of this universe? We're all pretty lucky to be even alive, it's all by chance we're here. We all have our own thoughts going on in our heads, yet we're all connected to this thing called life.
Take for example, me painting flowers. How boring does it sound? I never thought I would have seen the day. But when I painted them, I discovered there's so much life in them. I watch them twist, open and die, all in the brief time I'm painting them. They're kind of like mini metaphors of us, nature and its cycle of life.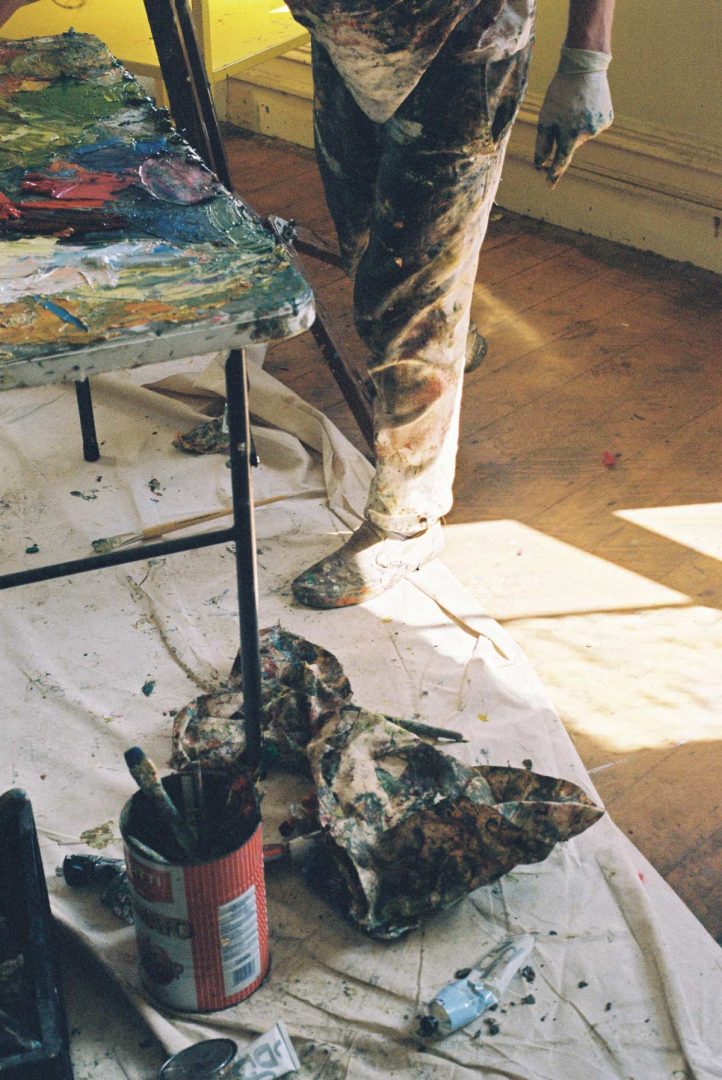 You grew up in Dairy Flat, now you're here in the city. is travel anything you have on the agenda?
What a place, Dairy Flat. How lucky I was to grow up on a farm with many animals. We even had a pig that was part of the family. It would roam around the deck and walk inside our house.
Now I'm living in the city, waking up to the sound of construction all huddled into this little area, chasing this dream city life. I definitely want to travel, to look at some masterpieces of art and see some human history. But I also feel like I'm going to have to spend some time somewhere where the people are connected to their land. Where I can paint, gather food and spend sometime in the water surfing. I'd like to just keep it simple.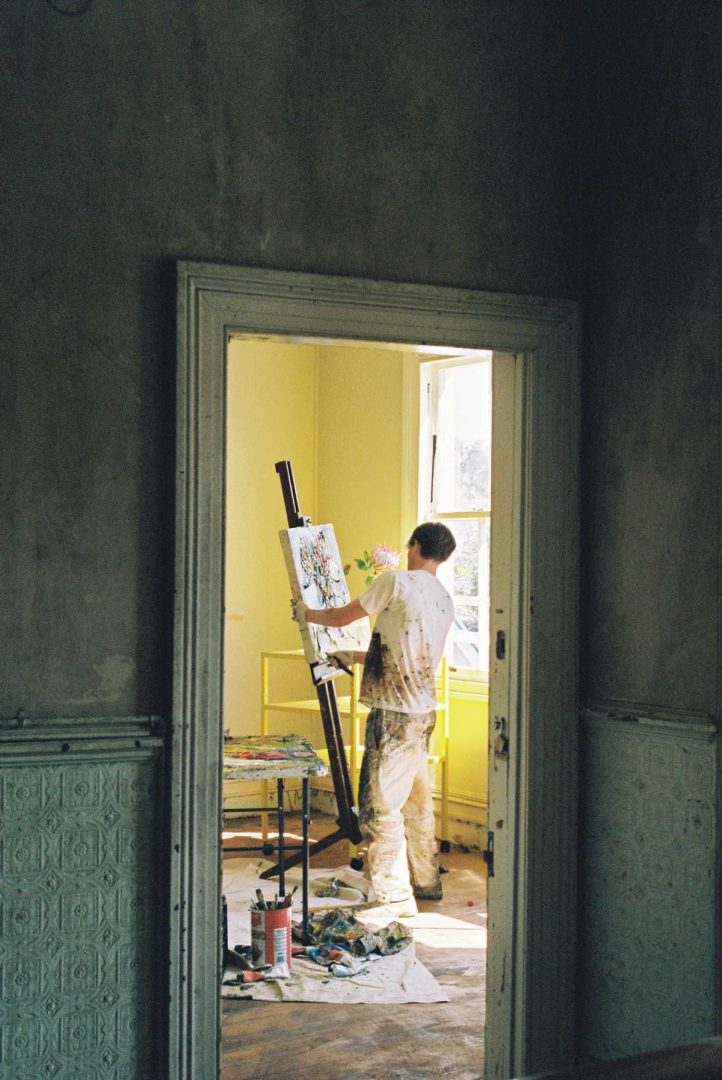 You use an intense amount of paint, it's almost visceral. How long does it take you to finish a piece?
It all happens very quickly and sporadically. All the paint is squeezed from the tube on to the table and sometimes straight on to the canvas. I have finished paintings in one go, but that's only a dream situation. I often spend too long on a painting, I become too conscious of what I'm doing and the painting loses its feeling. It needs to be raw, it needs to be honest.
What do you do outside of art?
A lot of the time, I'm by myself in the studio. I'm always looking to be around those close to me, to spend time in the in the water and get amongst the elements. Surfing really gives me that experience, where you're out there, so far from anything else. Any little thought you had becomes insignificant and the amazing thing is you can share that with a pal.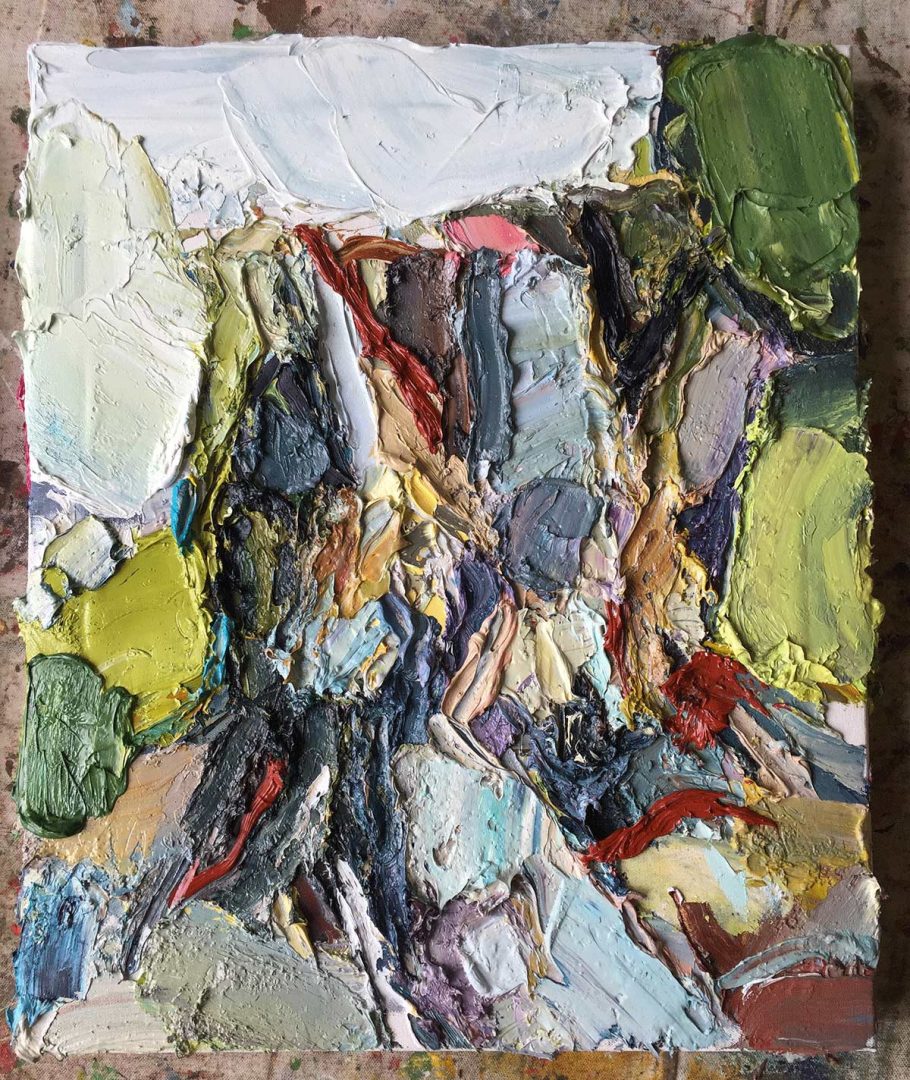 I heard you bought a spade to use as a palette knife. did that ever end up working out?
I gave it a couple of whacks on the canvas, it was quite refreshing using something I have not used before. It was really a nice way to explore making new marks and wasn't as easy as I thought it would be. It didn't do exactly what I thought it would do, but I went with it.
Have you tried any other experiments like that?
Recently, I added a masonry trowel to the paint brush stack. I kept looking at this self portrait that wasn't quite working, it looked too safe and calculated. As if it was painted in my own painting glass, like a Bob Ross session. So I got the pointy end of the masonry trowel and set up the mirror and canvas again, and literally ripped into the thick paint. It was like drawing in mud. It now feels like the painting has emotion, or whatever I felt at that moment of time is in that painting. It's quite confronting when I look at it now.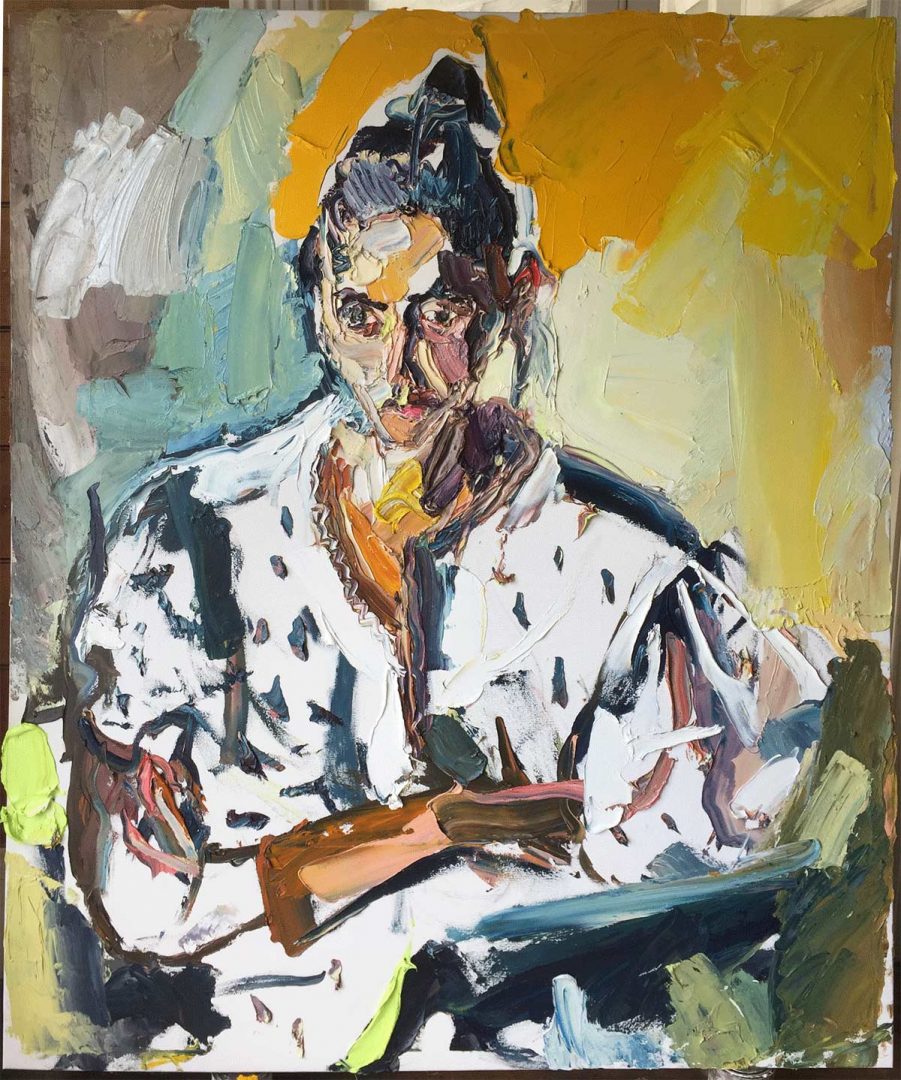 What's the best piece of advice you've been given?
My mum would always tell me "Nick, don't be silly". I was overthinking things one time, worried about saying the wrong thing to someone, because someone in their family had passed. However, I thought of what mum said and she was right; it doesn't matter how you say it, if your intentions are for the best, then just do it. Don't waste time overthinking it.
I can carry that over to anything in life, even my paintings. I'm going to get nowhere with a painting, if I'm hesitating, thinking about colours and this and that. When I just go for it, that's how they become what they are now: rough, raw and energetic. If I think too much, the chance is lost.