While the majority of Kiwis will be rubbing their hands to get warm, there's another section of society waiting for winter with bated breath and rubbing their hands with pleasure. The cold has arrived quickly and early on both islands and given all of the ranges a great base dumping which bodes well for the rest of the season. Serious investment has taken place at several popular spots in order to cope with or coax the increase of visitors and mobile Kiwis.
In the North Island, it's business as usual for Mt Ruapehu and the significant capital investment in the facilities has cemented its place in the hierarchy of New Zealand ski fields. Further south there's the usual haunts for the recreational skier but there's a myriad of relatively unknown slopes to explore like Ohau, Mt Olympus and Craigieburn. As our thirst for adventure grows so too does our known quantity and quality of winter playgrounds. Same again or something off the beaten track this winter?
MT RUAPEHU – NORTH ISLAND'S WINTER PLAYGROUND
WHAKAPAPA
New Zealand's biggest ski field has been making some serious enhancements over recent off seasons and it's only the beginning. Bold plans are in place over the next decade for visitor amenities and transportation but in the meantime, you can enjoy extra runs, a range of new lifts & even a Corona Bar with views of Mt Ngauruhoe. Whakapapa were able to be the first commercial ski area open this season due to their advanced snowmaking technology & some large snow dumps in May. Whakapapa's undoubted drawcard for families is the biggest learner's area in the country while night skiing attracts the older 'kids' and apres ski enthusiasts. What is sometimes forgotten is there's plenty for the advanced too. 25% of NZ's largest ski area is set aside for the skilled and daring among us with advanced black runs.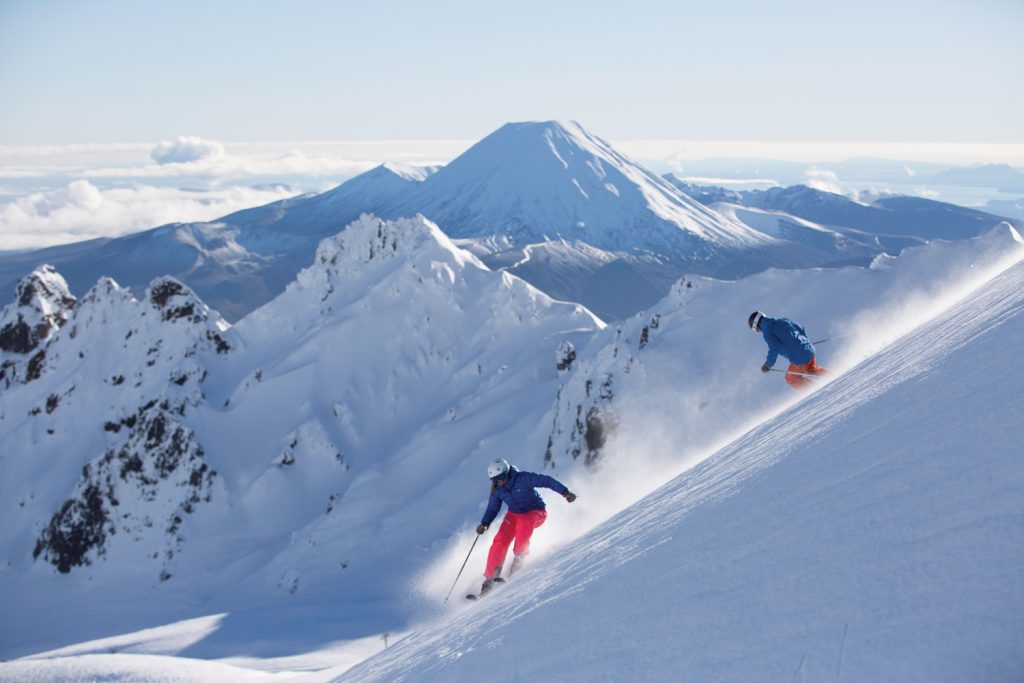 TUROA
Tūroa got the grunt of the large May snow dumps, at one point nearly having a metre base on the upper mountain in June. Mighty Tūroa has a loyal following and it's not hard to see why. Boasting the nation's highest chairlift and with an abundance of intermediate/advanced runs on volcanic terrain, it's a unique snow experience you'd be hard pressed to find anywhere else. It also has a whopping 722m of vertical descent coupled with the North Island's most extensive terrain parks. You'll be experiencing winter in its wildest form at Tūroa, which many deem as one of the country's most pure commercial ski areas.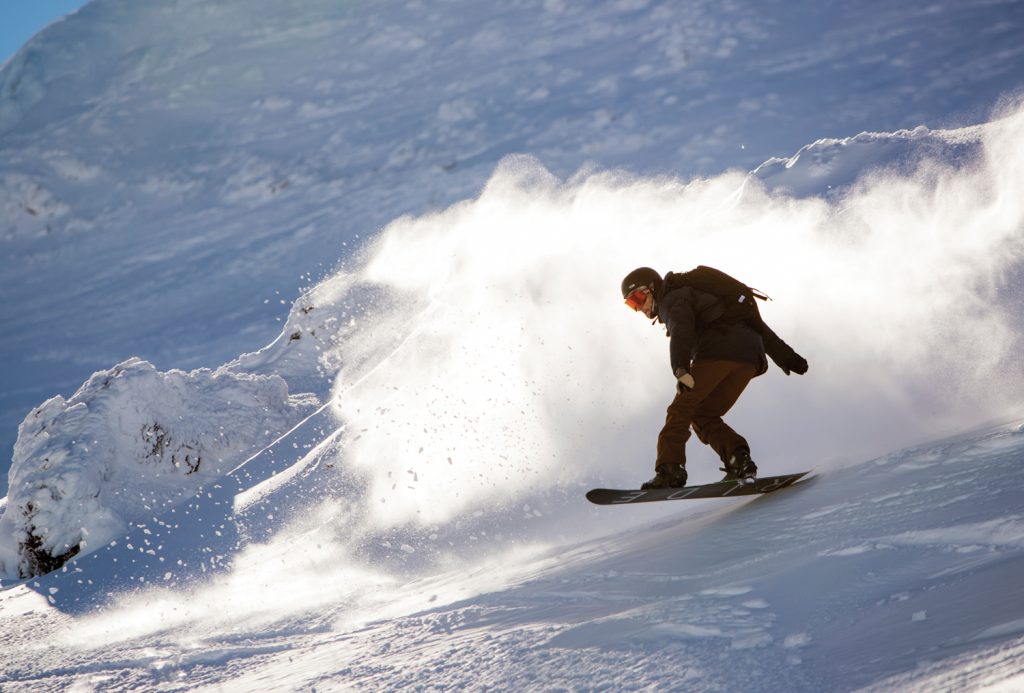 PRICING:
5 Day Flexi Passes: $73/day for Adults, $44/day for Youth (5-17)
Lift/Rental Packages (rental gear and lift pass): $165 for Adult. Youth (5-17): $110 . Lift Pass (1-Day): $125 for Adult, $75 for Youth (5-17)
Passes can be used at both Whakapapa & Tūroa
GETTING THERE:
If you travel down State Highway 1 you can't miss it or if you'd like to sit back and take in the views, there are shuttles from Turangi and Taupo to the slopes on the Whakapapa side of the mountain. If Turoa is your target, shuttles run from Ohakune daily throughout the winter taking the hassle out of your mission.
WHERE TO STAY:
With a bead of service towns and villages surrounding the Tongariro National Park you have a bevvy of choices depending on which ski field you are eyeing up. Early birds get in as close as possible to Whakapapa at National Park Village with a lot of AirBnB offerings at Turangi. For a city stay, Taupo is packed with the full range of motel and hotel options.
OHAU – OH, HOW MARVELLOUS
Hidden away from the spotlight of the big fields and big crowds is Lake Ohau and its adjacent snowfield in the Mackenzie High Country. The operation is privately run and preserved by Mike and Louise Neilson and caters for all levels and abilities but is predominantly for the intermediate skier or snowboarder. A beginners area is provided as well as moderately steep runs through the valley as well as off-piste runs overlooking the surrounding ranges if you are up for a walk. Three lifts service the mountain and when it's time for a break, there's a cafeteria with compulsory log burner. Renowned for its quality powder and service since 1953, Ohau is worth a look in.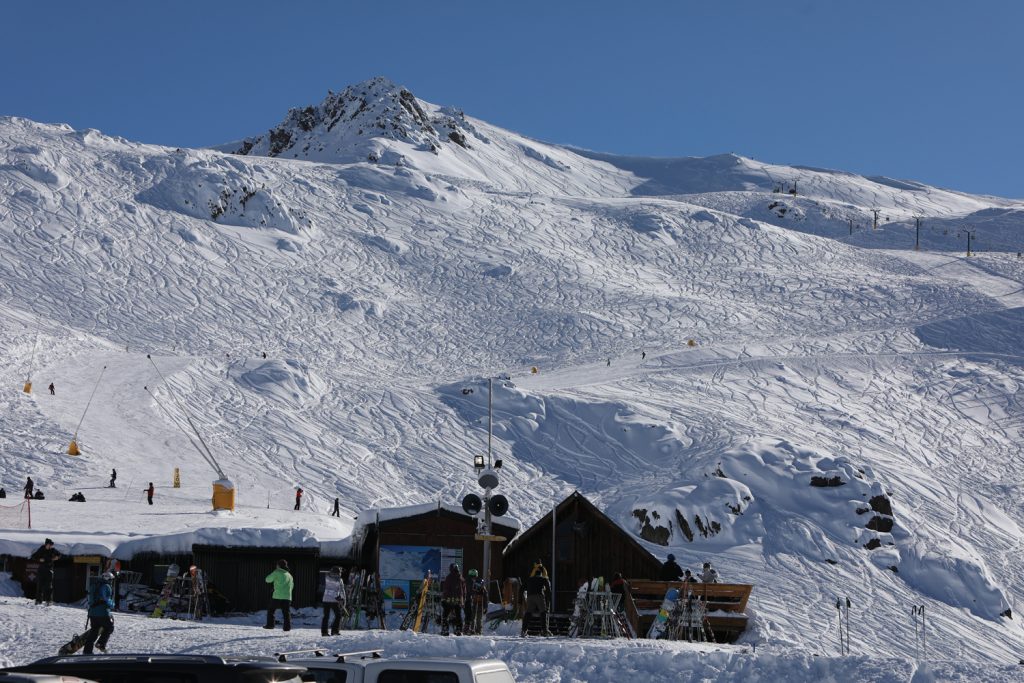 PRICING:
Season Passes: $1020 for Adult, $255 for Youth
Day Passes (with rental and lesson): $105-160 for Adult, $75-90 for Youth
Lift Pass (1-Day): $93 for Adult, $37 for Youth
Bus: $30 for Adult, $18 for Youth (Chains from $25)
GETTING THERE:
The bonus of choosing Ohau is the journey there and the best bet is to head towards Twizel from either Timaru or Oamaru in the south. Once at Ohau Lodge, a shuttle can transport you up to the slopes at 9.15am or the staff can fit chains onto your own vehicle for the 15 minute trip.
WHERE TO STAY:
When all the skiing for the day is done, it's all about the Ohau Lodge on the lakefront. There's five different grades of rooms for whatever budget and a restaurant and bar on site.
CARDRONA – THE ASPEN OF AUSTRALASIA
The name is synonymous with winter in New Zealand like an Aspen or Whistler but what makes Cardrona special is its versatility. Much like Whakapapa in the north, the varied and well-groomed slopes cater for all to the point there's a ski kindy so mum and dad can cavort into the high country. The 'skaters' of the snow world have the Southern Hemisphere's most expansive terrain park to trick upon while those ballsy or skilled enough can take on the 85 foot Big Air jump. There's eight different cafes, covered conveyor belts, tubing, halfpipes and epic views over the Queenstown region. The back country can also be opened up with exclusive learner packages away from the masses with experience specialists Bravos and their heli-accessed Snow Academy.
www.bravos.co.nz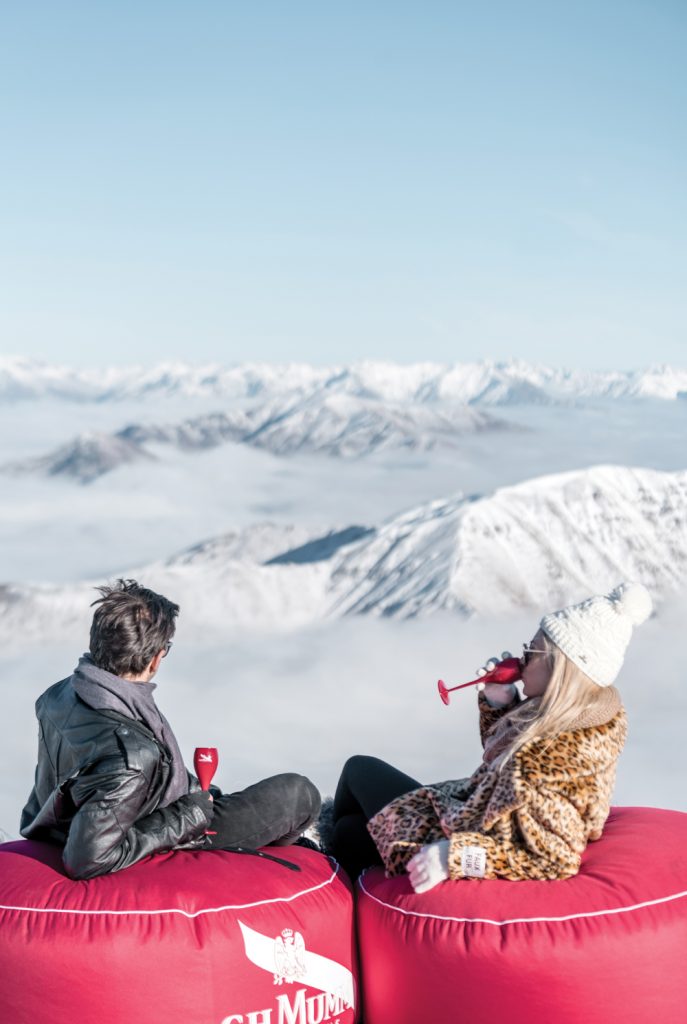 PRICING:
For all of it's attractions, Cardrona is priced on par with all other New Zealand fields. Check their website for a multitude of pricing options.
GETTING THERE:
With most Cardrona skiers staying in either Queenstown or Wanaka, it's an easy 30-45 minute drive but there's multiple shuttle runs from either town and from the base of the Cardrona access road.
WHERE TO STAY:
Those who don't choose to make the commute in for a further day of skiing have the option of several apartments that are mere footsteps from the lifts. Not your average high country ski lodge, most apartments have Sky TV and some can sleep up to ten people.
TREBLE CONE – SOUTH ISLAND'S LARGEST BACKYARD
Like its contemporaries in Queenstown, Treble Cone is placed as a premier snowfield and caters for a wide range of skill levels and ages. It does however lend itself to more advanced and intermediate skiers and boarders with around 90% of its runs designated. Treble Cone is Wanaka's baby and despite the heavy weighting to the experienced they take care their young with very affordable rates for children. The Treble Cone reputation has come from its long and uncrowded runs though, boasting key statistics to rival any other slope in New Zealand. Covering a staggering 550 hectares of terrain, there's room for the wide berths and validation as South Island's largest ski area. Furthermore, back country skiing is available at Treble Cone and for a reasonable price you can get whisked to the top close to 2000m high.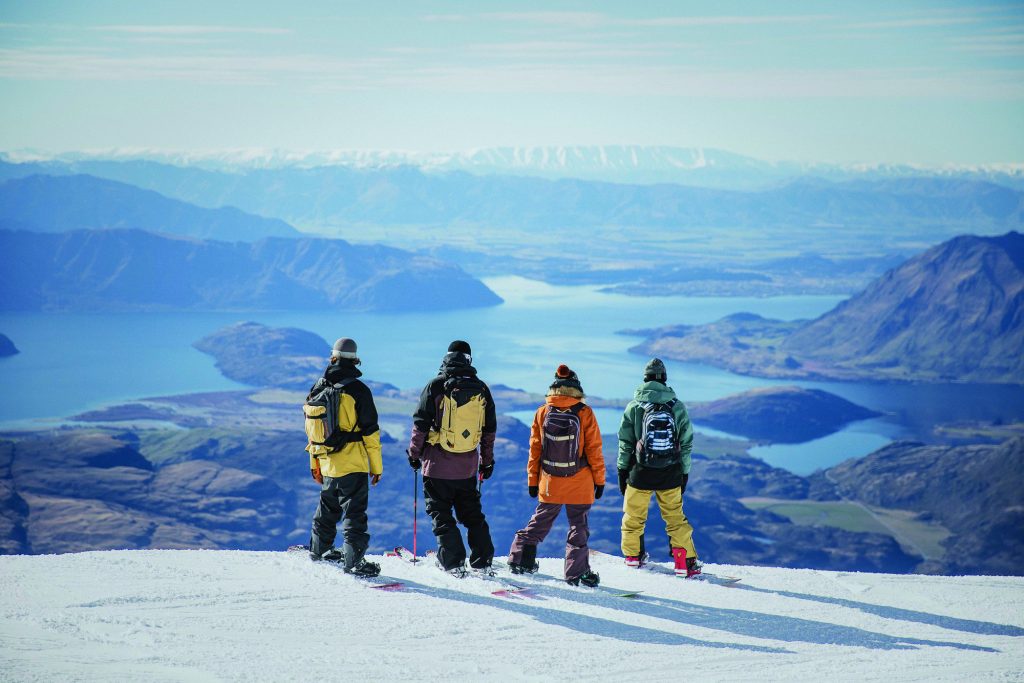 PRICING:
Season Passes: $1499 for Adult, $399 for Youth (6-17)
Day Passes (with rental and lift pass): $171 for Adult, $102 for Youth (6-17)
Lift Pass (1-Day): $135 for Adult, $68 for Youth (6-17)
GETTING THERE:
From Wanaka town, shuttles take the scenic drive along the lakefront while there's car parking at the Base Lodge. From further afield, bus services travel from Christchurch to Wanaka while there's a short traverse from Queenstown too if you've exhausted the slopes there.
WHERE TO STAY:
Wanaka town is the place to base yourself for Treble Cone yet it's not far from Queenstown accommodation is tight. And if it's space you desire, Wanaka's open spaces may be more to your liking.
CRAIGIEBURN – RUGGED LIKE THE NAME SUGGESTS
Focusing in on the advanced among us, Craigieburn is golf's equivalent of a championship course based in a rural hamlet. And, if it's creature comforts you are needing, best look away. There's no ski hire, lifts or grooming, only a series of challenging and steep runs through rocky outcrops into the catchment basins where there's no lifts to take you back up. There is however the 'Nutcracker Rope Tow' that speedily runs you back up the hill for another crack at the slopes and the Day Lodge which serves good old Kiwi staples. Not built for kids, the more intrepid are drawn here because it's natural beauty and more organic feel and operation. Pure as the driven proverbial.
PRICING:
Tow Pass (1-Day): $75 for Adult, $35 for 13-18 year olds
GETTING THERE:
Even with it's non-resort air, Craigieburn is decidedly close to a main centre and is only 90 minutes west of Christchurch on Highway 73. There's vehicle access to the ski fields but it's advisable to carry chains. There's also a handful of safaris and shuttles that can do the driving for you.
WHERE TO STAY:
Being so close to Christchurch is a big advantage but for multi-day skiers and boarders, the lodges nestled in the native bush on the Craigieburn mountainside are the ticket. Yes, there's a licensed bar but if you want something fancy for dinner you'll have to cook itself.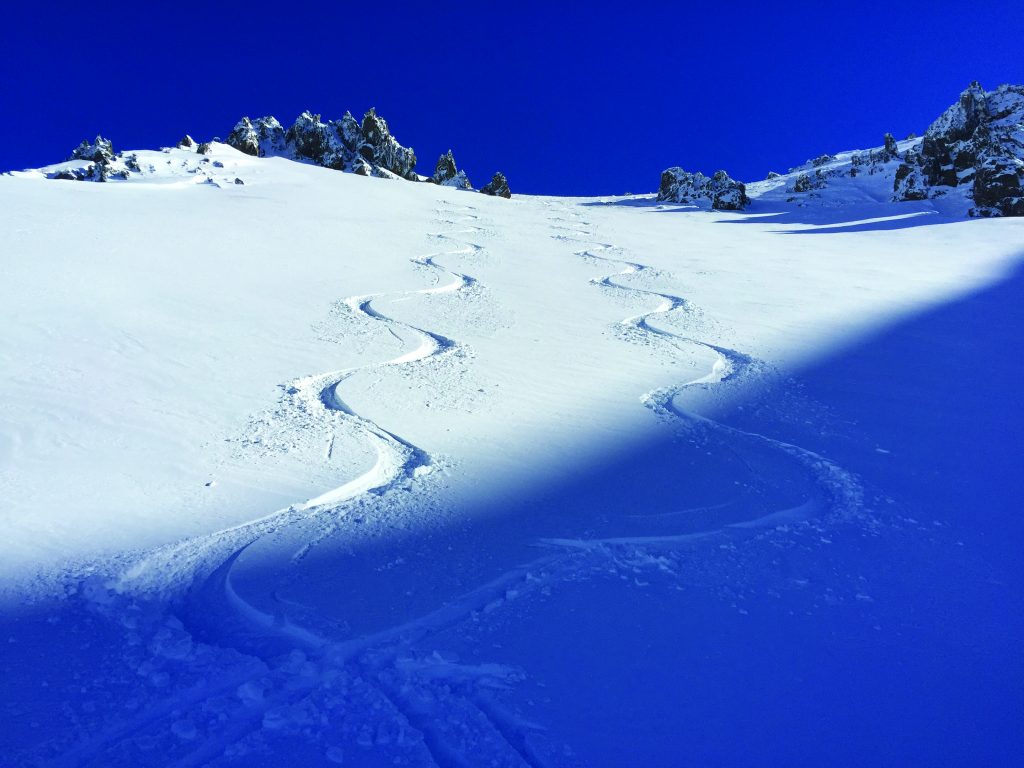 MT OLYMPUS – GREATEST SNOWFALL IN THE COUNTRY
The name is epic and the snowfall is too. Consistently receiving around 4.5 metres per annum, this Canterbury High Country field is the best kept secret outside of the members. The key here is the purity involved – no grooming – and due to the light usage and ideal topographic conditions, fresh snow is abundant. Depending on your skills, there's more than enough for a day's skiing or boarding here with 55% of the trails at an intermediate level while there are seven advanced runs. Nutcracker Tow's take you up but can be a challenge for boarders if their fitness isn't too flash. If it's an uncrowded day out you're looking for, 100 people at Mt Olympus is deemed a bumper day and you'll need to BYOS.
PRICING:
Season Passes: $540 for Adult, $360 for Youth (11-17)
Day Pass: $75 for Adult, $35 for Youth (11-17)
GETTING THERE:
So, so close to Christchurch yet one of those hidden gems. A 45 minute drive is all it takes to get to the base but this is where it gets interesting. A 4WD that can fit chains will suffice but if your arriving in your rental or don't wish to get stuck, there's a shuttle services available.
WHERE TO STAY:
While not the comfortable modern digs of Cardrona's apartment complex, Mt Olympus can accommodate its visitors up the mountain or at the bottom. A licenced bar makes the Top Hut an attractive proposition while the Bottom Hut is recommended for a more comfortable sleep.