Benedict Cumberbatch is one of those guys you don't forget or mix up with somebody else. He doesn't have "one of those faces" that everyone else has. You're not going to mix him up with Chris Pine and Chris Hemsworth, two people that looked so similar their parents both came to the conclusion that they looked like a "Chris".
"[There is a] blessing of having a weird face, somewhere between an otter and something people find vaguely attractive," he told the Hollywood Reporter with his characteristic self deprecation. "Or just an otter which is vaguely attractive."
Even his name is unique, try saying "Benedict Cumberbatch" completely wrong and people will still know who you're talking about. There are even Benedict Cumberbatch name generators fueling the phenomenon. His name is it's own international language. It crosses the divide and connects people. "Blunderbuss Codswallop?" "Benadryl Pill-packet!"
He has legions of fangirls behind him, making him one of the crowned kings of Tumblr. But despite this massive fame and adulation, Cumberbatch feels oldschool in his discipline. He's a no nonsense guy with grounded credentials. You can never imagine seeing him being a coked-up diva about it.
He came from good actors stock. Both his parents, Timothy Carlton and Wanda Ventham, were well known TV actors but made no moves to push their son into following their path.
"I wasn't a child actor brat; I didn't travel with them in the circuit. But I got a look into their world, so I did know what I was getting into, to an extent. And they are a constant source of grounding," he told Interview Magazine.
Despite not pressuring their son to follow in their footsteps, Cumberbatch still found himself bitten by the acting bug at school.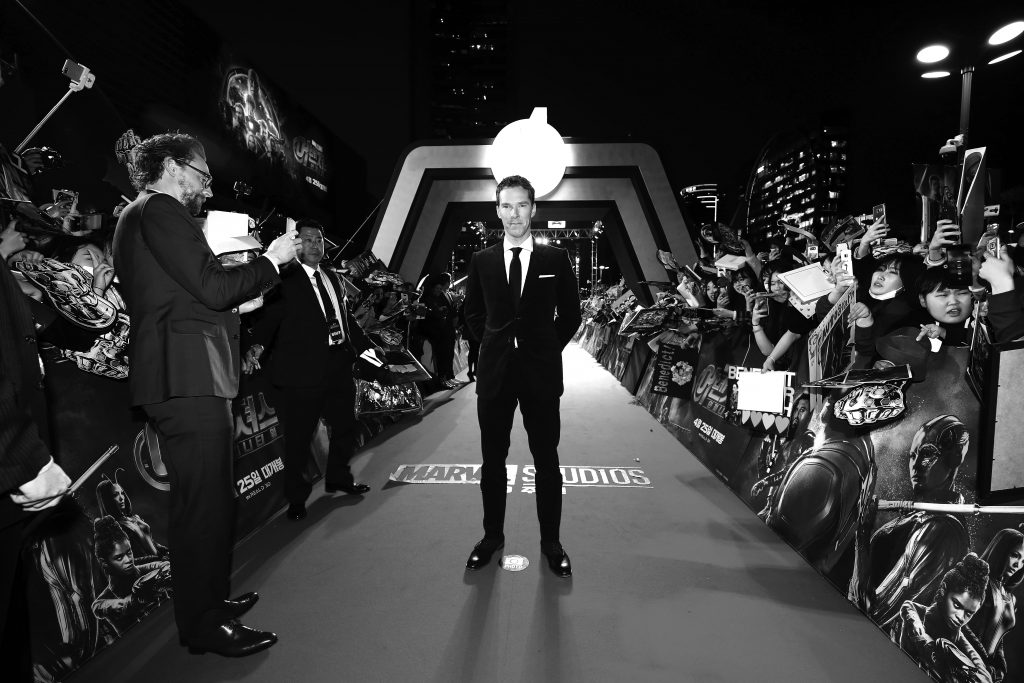 This could be a story about predestination. How through hard work and single-minded determination, he rose to the top. In many ways it is. But there are flashpoints in people's lives that make them reframe what they're doing. A near death experience perhaps that makes them work even harder to leave a legacy.
Stories of rising stars often have pitfalls mid-career when the drugs and the lifestyle catch up. People never take the time to reflect on what they're doing and why. For Cumberbatch, taking that time between school and university was vitally important to figure things out. The pressure to jump straight into university to get a degree to then be the biggest star in the world is intense.
After graduating, he didn't launch straight into his acting career, instead he took a year off in Tibet to teach English to monks. "But they taught me a lot more than I could possibly ever teach them," he said in an interview with Lions Roar.
"It was a small monastery and the top floor was the temple. I was living on the bottom floor, which was pretty damp and had huge spiders," he recollects with vivid detail to Interview Magazine. "I think it was just near the end of the rainy season—I can't remember, but it was cold. And because it was so high up, you would open your window, and the clouds were like dry ice rolling across your desk. Nature was ever present; that was gobsmackingly beautiful, as was the spirit and nature and philosophy and way of life of these monks."
"It was a profoundly formative experience at a very young age. It's something I've tried to keep in my life," he told the Wall Street Journal. "I meditate a lot. That's a huge tool in trying to calm myself, get away from the crazy circus of it all, have a focused mind as well as be a kinder, considerate person in the world."
This wouldn't be the last time he'd see Tibet but in the meantime he headed back to the UK and studied drama. Cumberbatch graduated from the University of Manchester before studying some more at the London Academy of Music and Dramatic Art. After this, he plugged away at his career, taking small TV roles as well as plenty of stage performances, building a name for himself as a solid, intelligent actor.
The roles he's picked up over the years speak to this intelligence – Stephen Hawking, Alan Turing, Sherlock Holmes, Thomas Edison. He may be a method actor when it comes to playing smart people. Although he himself wouldn't agree. "I don't call myself an expert because I've played experts. I know a little bit about very little."
In his 2004 performance as Stephen Hawking he earned a BAFTA nomination. But he wasn't a household name till 2010, when BBC launched a new version of Sherlock Holmes. In his seven years as Sherlock, he has locked down six awards for Best Lead, as well as a billion hearts of girls everywhere.
This success swept him back to Tibet, this time not to teach English, but to earn billions of dollars as one of the biggest names in Hollywood in one of it's biggest franchises of all time. Cumberbatch is now part of the Marvel Cinematic Universe.
In 2016, he appeared on the big screen as Doctor Strange, a character who starts off as full-of-himself as Tony Stark. A car crash strips him of his high-flying career and desperation sends him in search of spiritual healing. Filming had brought him back round to a place that in many ways was the start of his career.
"It was amazing to go back to Kathmandu, to a place that was familiar but very different. The earthquake happened seven months before we went and I was adamant we still had to forge ahead with filming there. It was fantastic," Cumberbatch told Female First.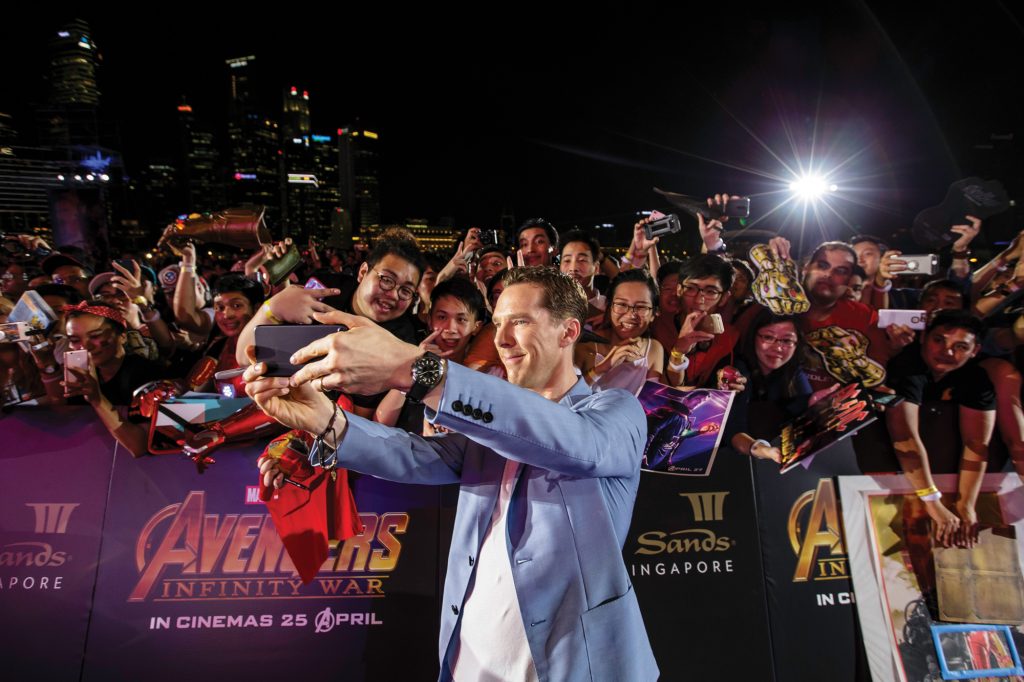 In 2017 he appeared briefly in Taika Waititi's Thor: Ragnarok and now in 2018 he's standing alongside the rest of the team in Avengers: Infinity War.
Doctor Steven Strange and Tony Stark are almost copy pastes of each other. Both are smug rich guys who think they're the smartest person in the room. The only difference is that it's taken Robert Downey Jr.'s character half a dozen movies to become scarred and conscientious, while it only took one for Dr. Strange to encapsulate that arc.
How do the two interact then if they're both such large personalities? Cumberbatch explains, "I think the line that he was the adult in the room was something that we all sort of talked about early on…He's in the room with Iron Man and he's trying to pull him together and focus him on this pretty sobering threat that's imminent, and yeah, it was apparent that if it was just name calling, name calling, name calling, name calling; if it was just that all of the time, one of them just had to go 'I can really take your name calling, you fifth grader idiot' and go back to the job at hand, and so that was really what my role was."
Cumberbatch keeps picking up iconic role after role. At this point in time he just gets to pick them himself, like when he got to do Hamlet in 2015.
"I mean it's a very vain project in a way, isn't it, Hamlet, because every actor wants to have their go at it, but, um, I do want to have my go at it." he said.
But what does the pressure of these roles have on a person? It's one thing to get a role, it's quite another to follow through.
"The best moments are when somebody offers you the job… You're jumping in the air and you kind of leave the ground. By the time you've landed you go 'Oh, f—k, I've got to do this. I've actually got to make this work.' I've got to bring a really iconic, well-known character to the screen. I've got to work on one of the most famous Shakespearean texts of all time. I've got to learn this telephone directory of lines for 'Sherlock'. I've got to create Doctor Strange from what we know into something cinematic. Immediately, you're burdened with the fear of what the work is actually going to entail."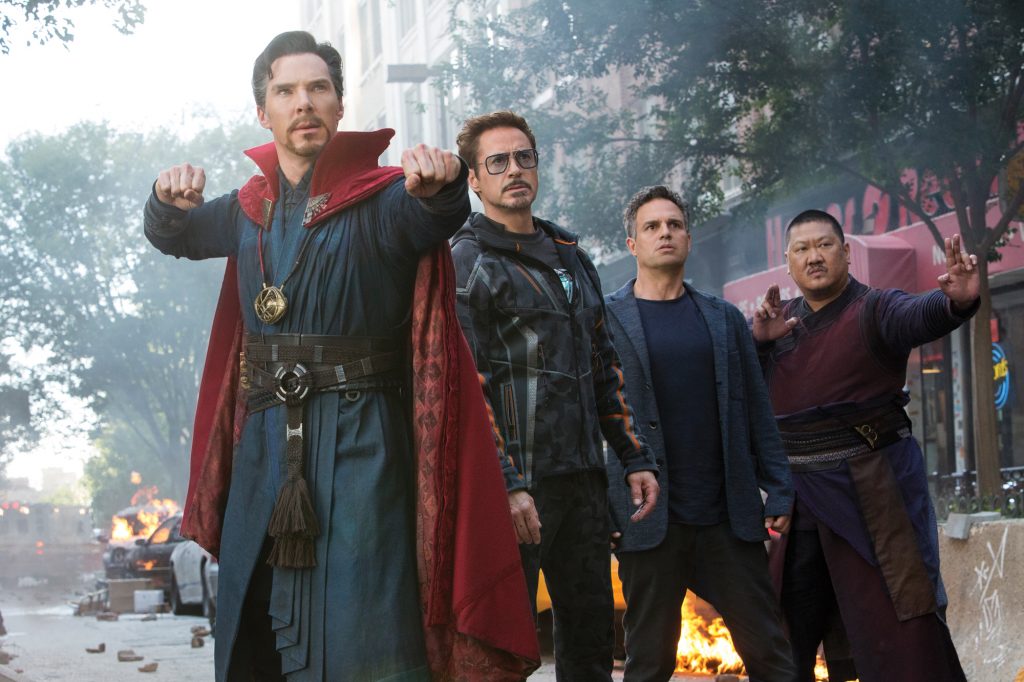 Playing the likes of Dr. Strange and Sherlock is nothing in comparison to the acting he had to do in 2012 when he was kidnapped while filming in South Africa.
Stranded and trying to fix a flat tyre, six guys rolled up in a truck "They said: 'Put your hands on your head, don't look at us,' and were frisking us for drugs, money, weapons. Then they bundled us into the car," he told the Daily Star.
"I could see the headlight beams bumping over the dirt track and I thought of shallow graves."
They then forced him into the boot of the car "I said: 'If you leave me in here, it's not the lack of air, it's the small space. There's a problem with my heart and my brain.'
"I just tried to explain to them: 'I will die, possibly have a fit, and it will be a problem for you. I will be a dead Englishman in your car. Not good.'
"They shut the boot and had an argument, and then pulled me out."
"I kind of thank God I had the presence of mind to give them the idea that it would be better to keep me alive. And the other two hadn't been harmed.
"It taught me that you come into this world as you leave it, on your own. It's made me want to live a life slightly less ordinary."
This fervour to live a less ordinary life sent him into throwing himself into new experiences with more recklessness. Rather than hiding away from the world after that, he sought out more adrenaline filled experiences like jumping out of planes.
"I went a bit nuts," he told Lions Roar. "I went to the ends of the earth in Namibia and went on an adrenaline-junkie thing in Swapismund. Because when you've been forced to look into the idea that you die on your own, you kind of go, 'Oh, okay, well if I've got my own company at the beginning and the end of this life, I might as well do a few crazy things with it under my own steam.'"
There's almost no area of film making his acting talent hasn't been put to the test. As well as being part of the Marvel Stable of heroes, Cumberbatch has also wound up in another one of cinemas biggest franchises. While you may not have noticed him, you would have definitely heard him as the voice of Smaug and the shadowy form of the Necromancer in The Hobbit.
While he plays a dragon, which isn't really the same shape as a human, the team still made him put on a morph suit with bobbles on it and crawl around on the floor delivering his lines to nobody.
His delivery, while looking ridiculous at first, is actually really good. Even later on when he'd dub new lines without the motion-capture, his body language is animated and the sound stage open in such a way that lets him use his entire body to give the performance, despite it never being seen.
"I'm playing Smaug, I mean I'm physicalizing him as a dragon I'm not just doing the voiceover, so it'll be a physical role which I'm no stranger to. I did Frankenstein at the beginning of the year with Danny Boyle at the National Theater and playing the creature in that was a very full on and sort of corporeal experience," he told Collider.
Cumberbatch isn't faultless, he's tried new things and had bad starts. Hosting more free form events such as award shows has revealed a more awkward countenance for the star. Critique around moving banter along and sharing the spotlight swirled after he hosted the Laureus Sports Awards in 2013. This hasn't stopped him from sticking at it and continuing to improve.
We'll never know for sure how much of an affect his gap year at 19 years of age had on the rest of his career, but if there's anything we've learnt from Cumberbatch it's about taking time to figure yourself out and enjoy the experiences you receive.
"I really cannot get over the generosity of our teacher," said Cumberbatch. "He said: 'Don't punish yourself. You're going to be a student at a university in the north of England. You need to have your experiences and have your fun, and not judge yourself. Don't live in guilt and regret.'"
Watching Cumberbatch
British actor Benedict Cumberbatch is a megastar through and through. Stoic in nature, ultra suave in appearance and a genius in any film role he portrays – this man is engrained on the world stage. You'd recognize him most as Sherlock Holmes on the TV series Sherlock or the title role in the 2016 film Dr Strange. Cumberbatch is also a brand ambassador for Jaeger-LeCoultre, regularly sporting their sleek-looking watches at premiers and press conferences. He recently appeared in Singapore at the premiere of Avengers: Infinity War wearing a Jaeger-LeCoultre Polaris Memovox. The watch has a three-hand automatic, a chronograph and a chronograph world-time, which offers the wearer a vintage look and feel that resonates to the modern man's classy aesthetic.