Since making his first on-screen debut back in 2012 in the short comedy Pop, Taron Egerton has played lead roles in Hollywood blockbusters like Kingsman and Sing. Now the multi-talented English/Welsh star is building on his repertoire as both an actor and a singer in the recently released Elton John biopic, Rocketman. M2 caught up with the man of many talents to discuss music, fame and portraying musical geniuses on screen.
Not every musician can successfully make the transition from stage to silver screen. Similarly, not every actor can sing. Despite the two professions sharing a mutually beneficial relationship in recent years (consider films like Bohemian Rhapsody and A Star Is Born), few actors will actually lend their own voices when filming biopics. Even fewer can say Elton John was "blown away" by their rendition of his greatest hits. But Taron Egerton, the 29-year-old actor who stars as the Tiny Dancer performer in the newly released Rocketman can. Directed by Dexter Fletcher, the biographical film slash musical chronicles the music legend's ascent to stardom, as well as his descent into addiction.
Speaking from a quiet hotel room in London's lively Soho district, it's almost unnecessary to ask what attracted the young Kingsman star to the role. "I mean who wouldn't want to, you know? It's Elton John. He's a fascinating character," says Egerton when questioned. "He's obviously a genius and also just such an extreme person who's lived this kind of extraordinary life…I just think he's a fascinating person in terms of his personality and how he is simultaneously quite vulnerable and also quite intimidating. I just find him endlessly fascinating and difficult to figure out." Certainly at face value, it's little wonder why Egerton has difficulty figuring him out. While the pair have little in common, there are some striking similarities between the music legend and the young actor.
Namely, their remarkable passion for music.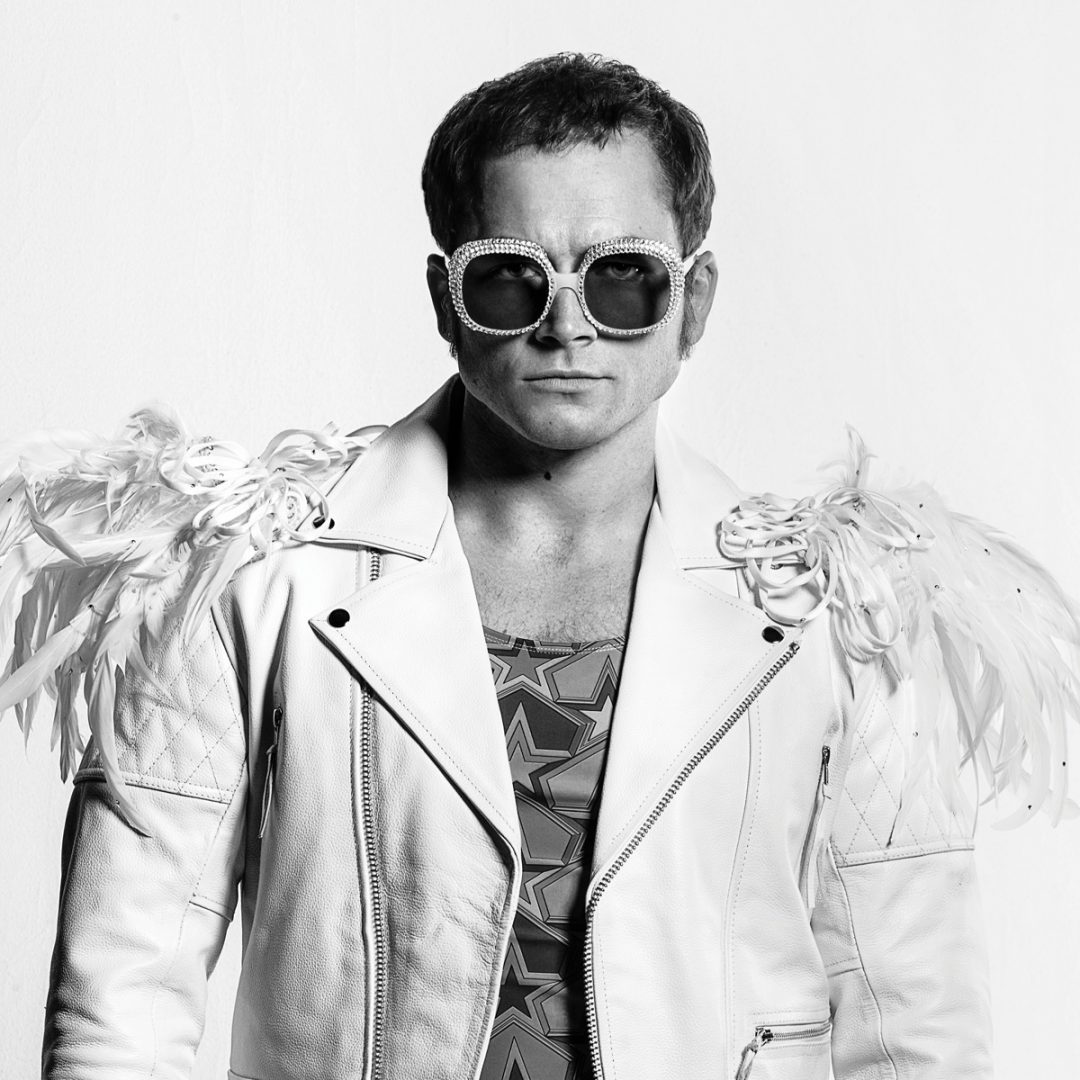 For Egerton, playing the seventies icon was just as much about acting as it was about the music. "I love singing just as much. I just always feel like a bit of a charlatan because I don't make my own music." Although he might not be writing his own music just yet, Egerton's love of music has certainly influenced his film career over the years. Having already starred in films like 2016's Sing, in which the actor plays the voice of an animated singing gorilla, Egerton is certainly not a rookie when it comes to flexing his vocal chords on set. But don't expect an album just yet. "I've dabbled with ukulele, guitar and piano but not to anything that remotely resembles proficiency so I don't really have the means to release an album," he says. "If I had the ability to write songs then maybe but it's not going to happen anytime soon I don't think. I'd love to sing, I want to do more singing."
Even outside of filming, music is at the forefront of his day. When he speaks on the joy it brings to his life, it is with absolute conviction. "I always listen to music. I listen to music from the moment I get up in the morning to the moment I go to sleep." Depending on his mood, he will listen to anything from David Bowie and Joni Mitchell to Kendrick Lamar. Music he says, helps him understand his headspace. "It [music] helps me figure out how I'm feeling. I'm able to articulate to myself how I feel based on what I want to listen to because I feel….one day I can absolutely want to listen to The Recipe by Kendrick Lamar featuring Dr. Dre from Good Kid, M.A.A.D City and the other days I will just look at that on a playlist and it's just not what I want to hear — and it's because that's emotionally not where I'm at. I might want to listen to Here Comes the Rain by the Eurythmics because that speaks to how I'm feeling in that moment. I guess a sort of slightly lame way of putting it would be it's like a soundtrack to your life. Those voices make me know how I'm feeling and they give me a sense of perspective on things and quite often they help me deal with things. Music makes me feel better about stuff and music makes me understand myself. I love it."
"What I'm not good at is if I'm sad, I can't make myself happy with happy music. Weirdly I make myself happy with sad music because it's exorcising it. Elton wrote a song called Sad Songs (Say So Much) and it's sort of more so one of those poppy Elton John songs, but there's something about listening to a sad piece of music that really makes me feel better. In fact, that's what Elton says in that song: 'Because from the lips of some old singer we can share the troubles we already know.' And that's exactly what I'm talking about. Look at that. I'm so f***ing on brand."
Undoubtedly, his affinity for music and vocal talents have contributed to his successes in films such as Rocketman and Sing. However, the young actor also has an innate ability to understand the characters he's playing, all without the help of method acting (in fact, he's not really a fan of method acting at all). Couple this with his singing talents and it's easy to see why he was chosen to play the once in a lifetime role of Elton John. But for Egerton, one obvious challenge would be making the music his own while still portraying the character of the seventies legend.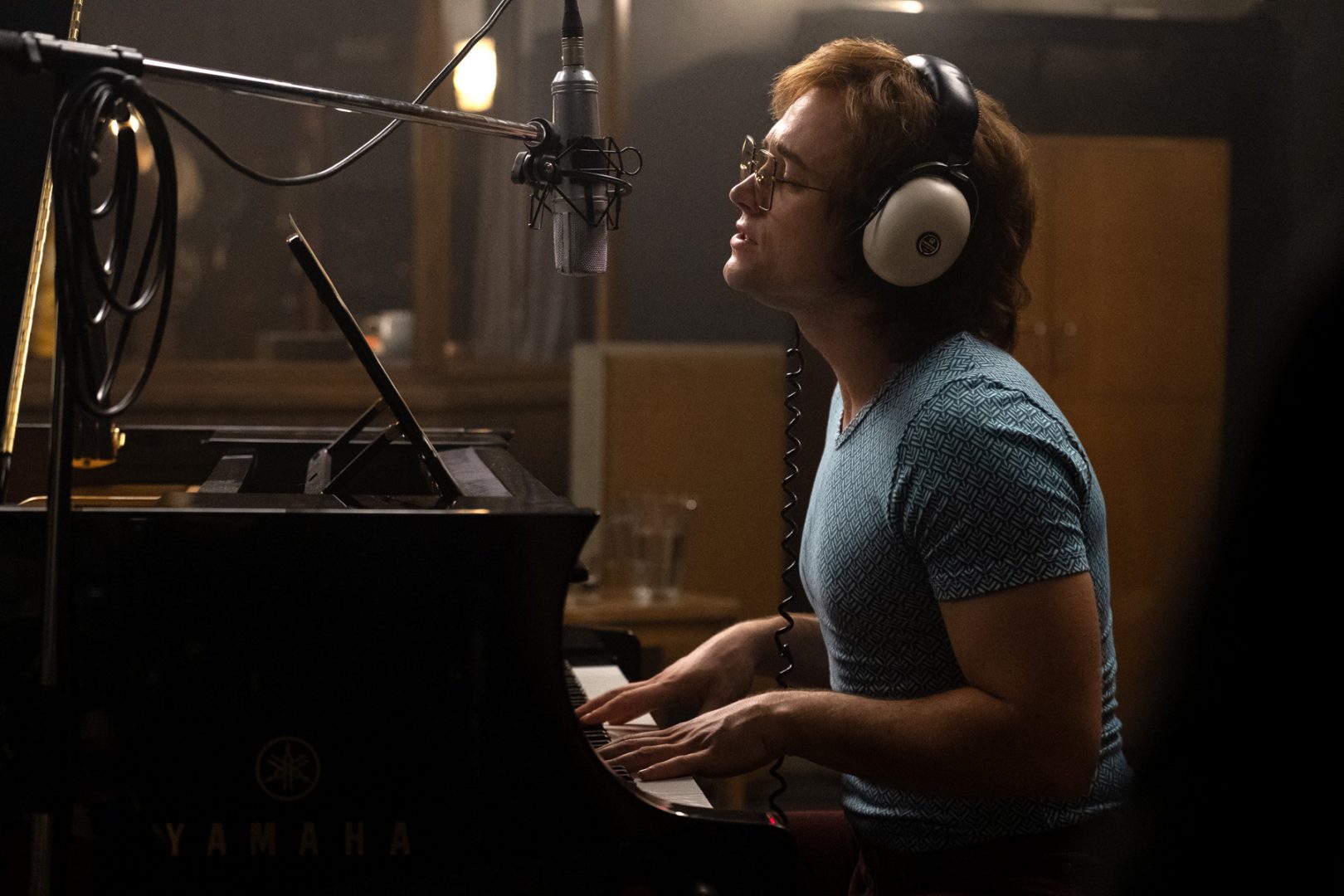 "All I wanted to do was sing them [the songs] well and sing them with passion and expression," explains Egerton, who credits his imagination as the tool which helps him get in character. Drawing on his imagination was what helped him play out one of Elton John's most iconic moments on screen, a moment in which the then 23-year-old musician would find fame whilst playing at LA's famous Troubadour nightclub. "I'm 29 now, how would I have felt at 23 if I had written this song and this was my moment to put everything into a performance and hopefully help make something of myself? You feel a charge. You don't sit there and play it sort of calmly and quietly, you play it like your f***g life depends on it, which is what he did. And so I hope when people watch it, they'll go 'Wow, f***.' I hope that people will watch it and feel something of what people felt at the time, which is this is a young person who is incredibly passionate and gifted (and it sounds like I'm saying it about myself now, which is not what I am trying to say). [What] I'm trying to say is I tried to infuse as much passion into that performance as Elton would have infused into his."
Part of this also meant delving into the darkness of a musician struggling in the grips of addiction. With little involvement from Elton John himself (aside from some musical input), Egerton was encouraged to interpret this on his own. "I'm not an alcoholic or a drug addict but equally I know what it feels like to be unhappy and I know what it feels like to have maybe partied a bit too hard because you're not in a good place and so once you have some sense of what that is (which I think a lot of people do, particularly in their twenties), it's not quite so difficult to imagine an extreme of that and that's what my job is," says Egerton. "My job is imagining what it's like to be someone else, you know that's why I think method acting is about feeling like you have to experience everything in order to portray it convincingly and I don't really subscribe to that. I think it's the power of your imagination and I've always had a very active imagination."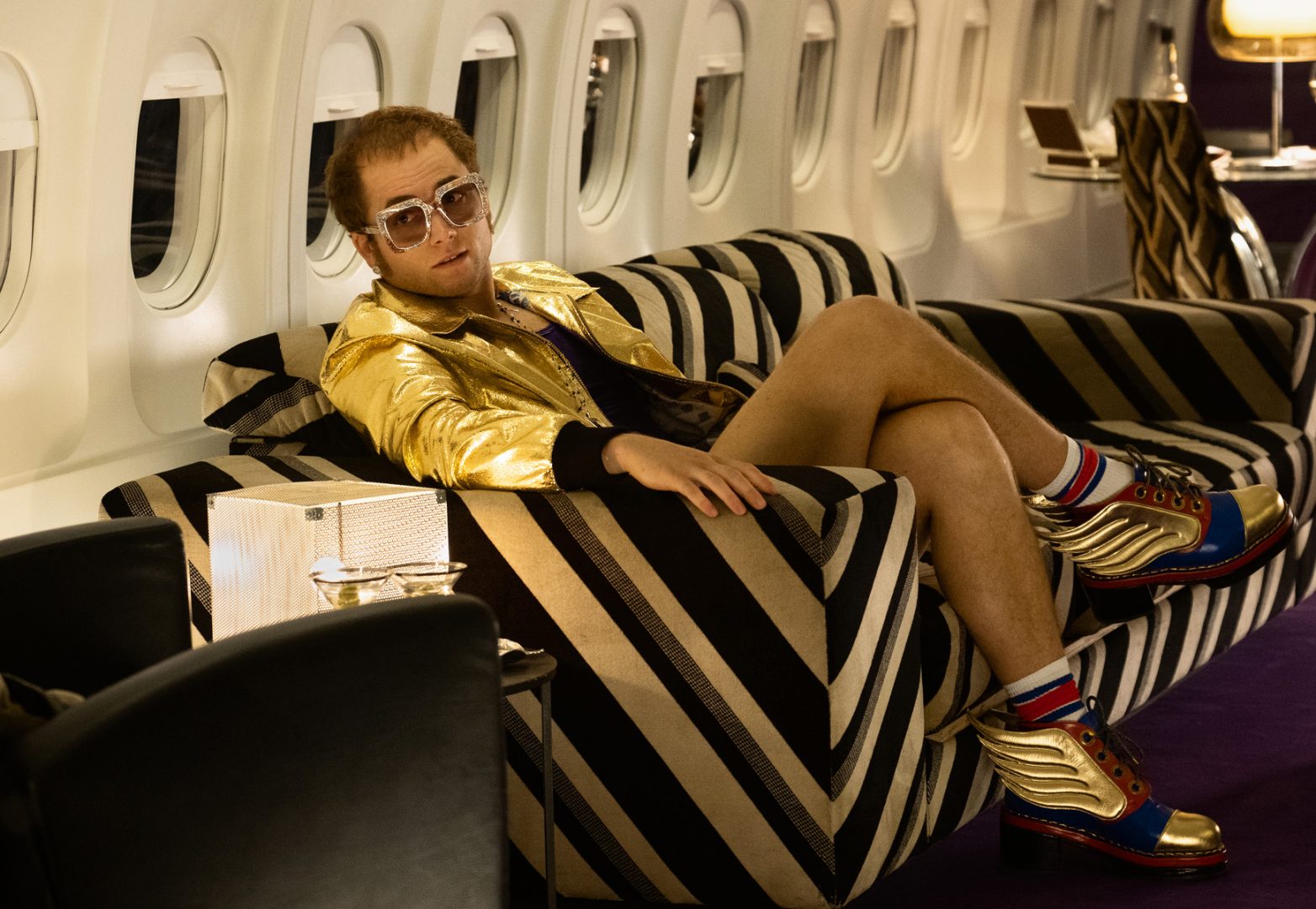 Outside of imagining what it's like to be someone else, Egerton's spare time is spent pursuing more low-key activities (preferably the gym or sauna). Despite his recent rise to stardom, he has largely still been able to go about go about everyday activities under the radar (although his recent split with his British producer girlfriend Emily Thomas was splashed across the tabloids). Still, the 29-year-old actor has had to come to terms with certain lifestyle adjustments. But don't think for a minute he's ungrateful. "I guess [fame] is a funny one because all of the wonderful things that have happened as a result of my career far outweigh any negatives. I earn good money, I live in a nice apartment and I'm doing something I'm really, really passionate about. The one thing that saddens me a little bit is sometimes my interactions with other people are sort of conditioned by the fact that they know who I am ahead of meeting them and that can be a slightly weird thing to deal with. Because it's like people come with their own expectations of you or slightly see you as a commodity maybe in some ways. It's really, really, really depressing having a really nice conversation with someone and then them going: 'Do you mind if I get a selfie?' Because you feel like the entire interaction has been about them working up to them getting a selfie and that can be disheartening. But f*** it, it's a small price to pay to be doing the thing you love, so I'm not moaning about it." Indeed, part of Egerton's charm is his humility. Much like the hotel (which is an outwardly unassuming building filled with lavish and vibrant furnishings), Egerton is dressed comfortably and modestly. Wearing a pair of navy sweatpants and a matching striped navy and white sweatshirt, he looks like a remarkably ordinary (albeit handsome) English man. Without the press buzzing outside his hotel room door, he could easily be mistaken as just another hotel guest. And even after complaining about being asked for selfies, he's still happy to pose for one.
Rocketman is in cinemas from May 30.