There's something awfully strange, yet completely alluring about him. Perhaps it's the fine wine ageing. The impeccable style. The individual blend of awkward, thoughtful, nice guy charm. And then, of course, there's the staccato-like, syncopated way of stammering through a sentence that is Walken-esque but completely his own.
Akin to a polyrhythmic drum beat, it's an ever-so-subtle switch up in the regular rhythm of speech that keeps you interested. Sure, emphasis can be on words, but somehow it's the gaps and pauses that draw you in.
You see, any regular actor could have delivered the line "Life finds a way" in Jurassic Park and it wouldn't have had that stickability.
"Life…uh..finds a way".
It's become one of cinema's iconic one-liners in a way only Jeff Goldblum could have done it.
Interestingly enough, Jeff Goldblum himself has found a way.
A look at his career reveals a list of contradictions almost as long as his accomplishments.
From the 66-year-old actor's seamless transition from big-name roles to TV obscurity, to his falling out of the spotlight while performing weekly comedy routines at a local LA bar for twenty years, Goldblum has managed to do the impossible.
In a world where actors have become sucked in and defined by the sometimes-dangerous lure of Hollywood, Goldblum has retained a robust energy and identity uniquely his own.
It's a feat that he's managed to accomplish because of his resistance to being tied to any specific role. Indeed, Goldblum's name and image might ring a bell with most in the general populace, but each person may remember him for different reasons.
While some actors never manage to shake the roles in which they've been cast (Daniel Radcliffe will always be Harry Potter), Goldblum has managed to blend into all of his various roles—both on screen and off.
The multi-talented actor doubles as a successful jazz musician, for instance, while also serving as a male fashion icon.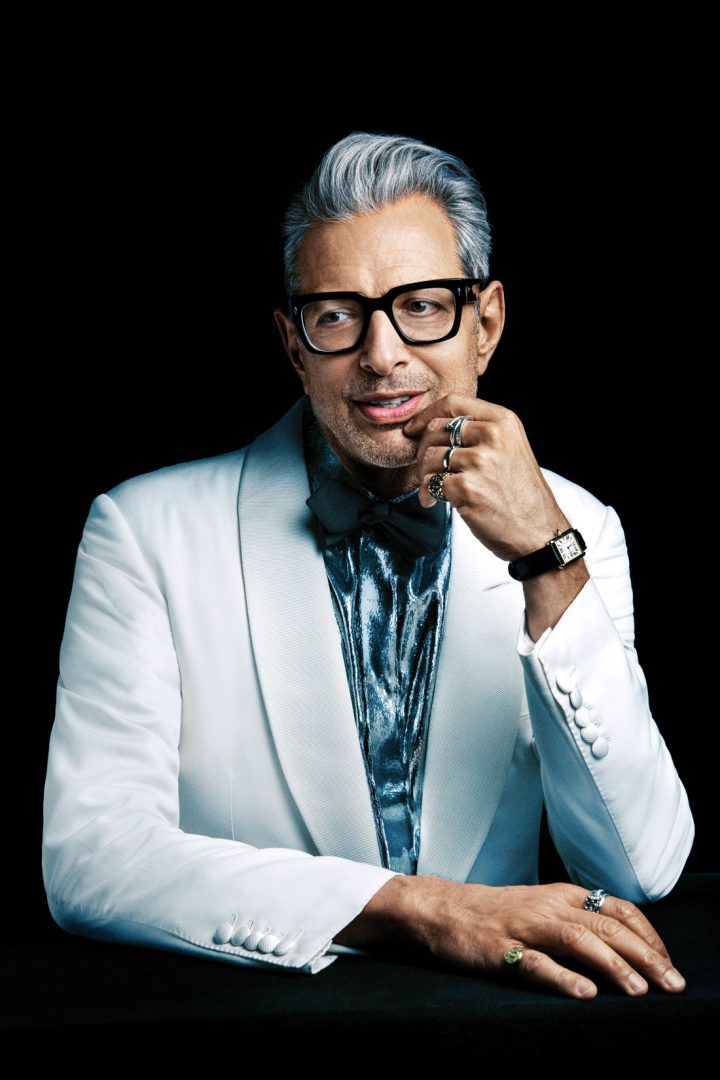 Goldblum's legacy is one that leaves fans and even casual admirers in awe. His outgoing and down-to-earth personality have made him a fan favourite, while his natural charm and sense of fashion have made him a rising sex symbol—a title that gets stronger for him every year.
But where did Goldblum's impressive talent and legacy come from? How did a young boy from a suburb of Pittsburgh become one of the most unique characters of film and television?
The famed actor's modest upbringing in the West Homestead suburbs just might have something to do with it.
One of four children, Goldblum grew up in a house that respected the entertainment industry. His mother, Shirley Jane Goldblum, worked as a radio broadcaster, and his father, a doctor by trade, toyed with the idea of entering the acting profession himself.
Goldblum, born with the same love of acting in his veins, remembers his childhood fondly.
"It was very happy times," he said of his childhood in an interview with Pittsburgh's Channel4 Action News.
Instilled with his father's love of acting—and backed by a warm and privileged family—Goldblum found his calling at an incredibly young age.
Even when considering his background, it may come as a surprise to some that Goldblum managed to make his professional debut at only seventeen years of age.
Goldblum, still wet-behind-the-ears but bursting with confidence, took to the stage in Broadway's Two Gentlemen of Verona. This Tony Award-winning production made a strong debut for the budding celebrity, giving him a platform on which he could build the rest of his career.
It would be another four years before Goldblum would make his official film debut. Starring as a dangerous New York City thug, Goldblum's role in Charles Bronson's Death Wish got his foot in the door of Hollywood.
By landing a role in his first film, the talented Goldblum saw his dreams of making it big in Hollywood resting just in front of his eyes.
And though it would be a full twelve years before he would land his first leading role in The Fly, the up-and-coming Goldblum stuck fast to his film aspirations.
His perseverance can be attributed to his own personal philosophy.
"Find what you're interested in and move around—and don't stop moving," Goldblum said in a 2016 interview with GQ. It's advice that certainly worked for him, as the Hollywood and TV icon landed roles in an impressive twenty films before finally securing a Saturn Award-winning performance in 1986's The Fly.
Now officially on the Hollywood radar, Goldblum had accomplished his professional goals at the ripe young age of thirty-four. A fan favourite, he continued to grow his personal brand in the coming decades, landing big roles in Jurassic Park and Independence Day. Both movies proved to be some of the most popular films of the 1990s and Goldblum stamped himself firmly in the 90s cultural zeitgeist as a result.
Despite now being a household name, however, the accomplished actor remained down-to-earth, and his individual approach to his new-found fame would secure him as a film and fashion icon for years to come.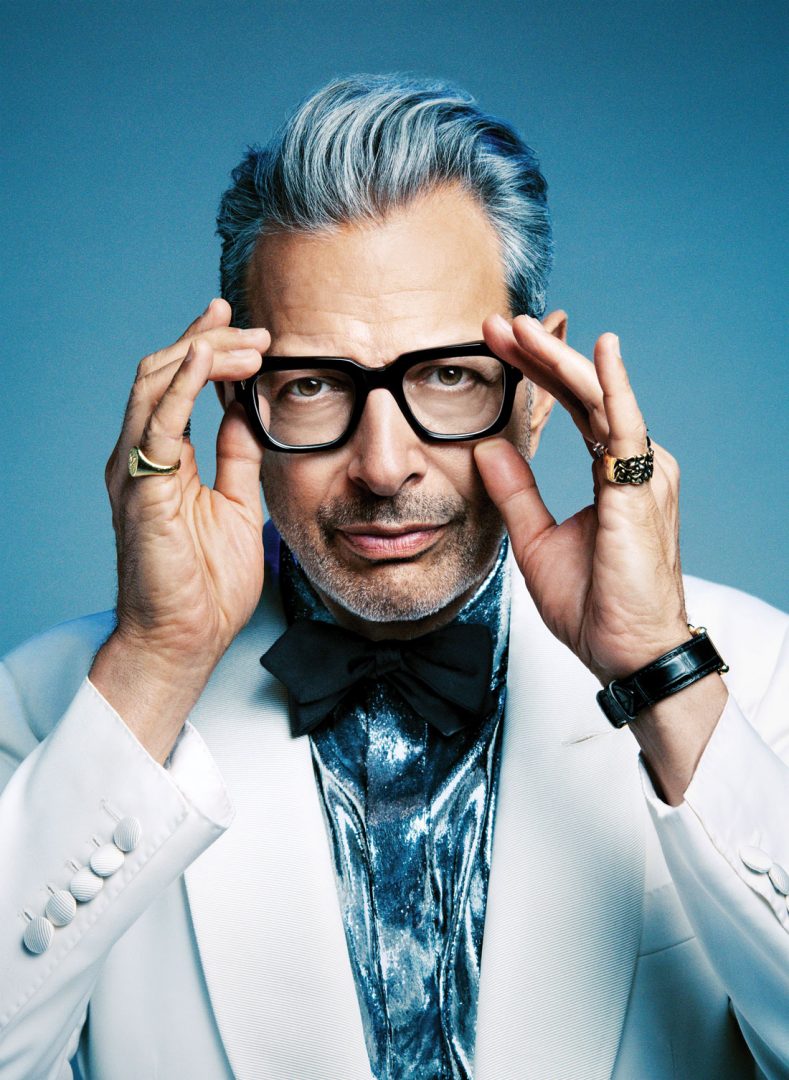 Goldblum, who has starred only in a sprinkling of big-name films and TV roles since the 1990s, remains a standout celebrity at the forefront of the entertainment industry.
In fact, Goldblum possesses a unique staying power that far outclasses some of his peers—and this unique ability likely boils down to his charming, yet intellectual, character.
The 6-foot-4 celebrity has morphed into somewhat of a sex symbol in his older age, with fans attracted to the star's unique sense of style and deeply-intellectual and humanistic wit.
Indeed, Goldblum's staggering off-screen personality has made him one of Hollywood's most interesting figures. And it's likely this reason that has allowed Goldblum to stay culturally relevant despite a quickly-changing Hollywood and national landscape.
As Robin Murray of Clash Music put it, "Jeff Goldblum is a class act."
A true Renaissance man, Goldblum's multi-layered talents have made him endearing to audiences at large, as well as to members of the media.
A look at Goldblum's press coverage reveals just how favoured and respected he is within the industry.
Dubbed "the best" by Interview Magazine's Fred Armisen, Goldblum has enchanted journalists and fans for nearly four decades. Described by Clash Music's Robin Murray as "all warmth, charm, and charisma," Goldblum puts forth jaw-dropping dedication into all the work he does.
From his acting to making music to meeting with people, Goldblum never strays from his naturally-charming and engaging character.
And, as he puts it, he never stops moving.
"I'm craft-curious and fascinated," he said in his interview with Clash Music. "I'm a kind of student always, so I'm always pushing myself to the brink …"
Goldblum's dedication to his craft shines through to give viewers a glimpse of his genuine, artistic soul.
His expressive passions, which he notes he's had all his life, don't just come in one form.
While there's much to be said about Goldblum's prolific acting career, perhaps nothing speaks to his character and staying power as much as his musical endeavours.
The talented actor has become an accomplished jazz musician. Though he only released his first album, The Capitol Studios Sessions, in November of 2018, Goldblum has been an intriguing figure in the jazz scene for quite some time.
As he does through his acting, Goldblum has managed to turn his music into a powerful form of self-expression.
And his personality is just as arresting through his piano playing as it is on screen.
His quick fingers build awe-inspiring jazz melodies almost as quickly as his mind can make them. The syncopated rhythms and odd-time signatures creatively mirror his undeniable manner of speech.
Goldblum's effective improvisations showcase the actor and musician's nuanced understanding of his craft and reflect his ability to create art for his fans at large.
And it should come as no surprise that Goldblum, whose film and TV careers have spanned all manner of roles, has found an outlet in spur-of-the-moment creativity. His personality, which has simultaneously carved out a career path alongside all his main acting roles, once again proves that it can't be shoe-boxed into any set form, as his eccentric nature shines through best in his improvised moments.
By allowing viewers that small look inside himself—that brief glimpse into the man behind the curtains—Goldblum builds an instant rapport with nearly all he meets. Unlike others who may simply be playing a part, Goldblum has managed to truly embrace the art of his work.
In this way, it may be said that Goldblum is more than a mere actor or musician and that he has, instead, transcended into the role of an artist. And like any true artist, he brings a unique touch to all his work.
His art, fueled in large part by Goldblum's spur-of-the-moment greatness, reflects the actor's deeper philosophical beliefs.
"I'm excited by the fleeting nature of what we are," Goldblum once remarked in a GQ interview in which he compared the human experience to that of an apple. "The apple gets ripe and then it withers, and that's what we're all meant to do."
He then continued. "It can only clarify, deepen, and enhance our moments on Earth."
The view serves as more than just a philosophical guide for the actor. Goldblum was just nineteen when his older brother died unexpectedly at the age of twenty-three, leaving the up-and-coming star to grapple with the temporal nature of the human experience.
It appears as though the tragedy deeply affected Goldblum, who began to live in the moment.
"Anybody can die," he said, as reported by Interview Magazine. "Everything is fleeting, and you've just got to make sure that you catch up on what you can catch up on, right?"
Time is the most precious commodity. And using time wisely has influenced every facet of conveying his artistic expression.
By incorporating this philosophy into his own acting and music through improvisation, Goldblum has added an extra layer to his work.
And while he has yet to whither, Goldblum certainly is making sure to shine bright and get the most out of his "fleeting nature."
His role as Grandmaster in the 2017 film Thor: Ragnarok allowed him more improvisational flexibility than he'd had in any of his roles before. It's no surprise that Goldblum enjoyed the challenge of portraying his unique personality on the big screen.
In the end, it may be said that Goldblum's irresistible attraction comes from his highly-passionate and intellectually-driven approach to his creative expression.
By interjecting his overflowing personality in original ways into everything he does, Goldblum offers more than just entertainment—he offers a true experience, a one-of-a-kind opportunity to glimpse into the soul and the mind of an artist at work.
The allure of this cannot be denied, as humans are naturally drawn to such higher-level pursuits. The paradoxical result is that Goldblum becomes somewhat of an enigma, as viewers and listeners attempt to understand the man behind the layers of intellectual creative expression—while Goldblum himself remains upfront, open, and honest about his personal experiences and philosophies.
Fortunately for Goldblum fans, there is no man shrouded in smoke and mirrors waiting to be discovered behind the curtains. What Goldblum's layered performances offer is the opportunity to watch a master craftsman at work—the chance to witness art created in a way that only he can do.
And while Goldblum's one-of-a-kind personality has helped drive him to lasting success, it remains less important than how he's managed to express it through his art.
The professional, personal, and creative persona he's managed to create captivates the imagination of his fans, and his class-act approach to treating others and managing relationships has kept him in good rapport with the people responsible for helping him maintain his public image.
The result?
Goldblum enjoys lasting industry success and icon status within a film industry that has far deviated from an appreciation for his multi-faceted talents and from his upstanding character.
In many ways, Goldblum rises above the superficiality that plagues modern Hollywood through his unique artistic and intellectual expression. Though he works in an industry weighed down by scandal and accusations of misconduct, Goldblum has managed to keep a picture-perfect image that distances himself from other big-name celebrities.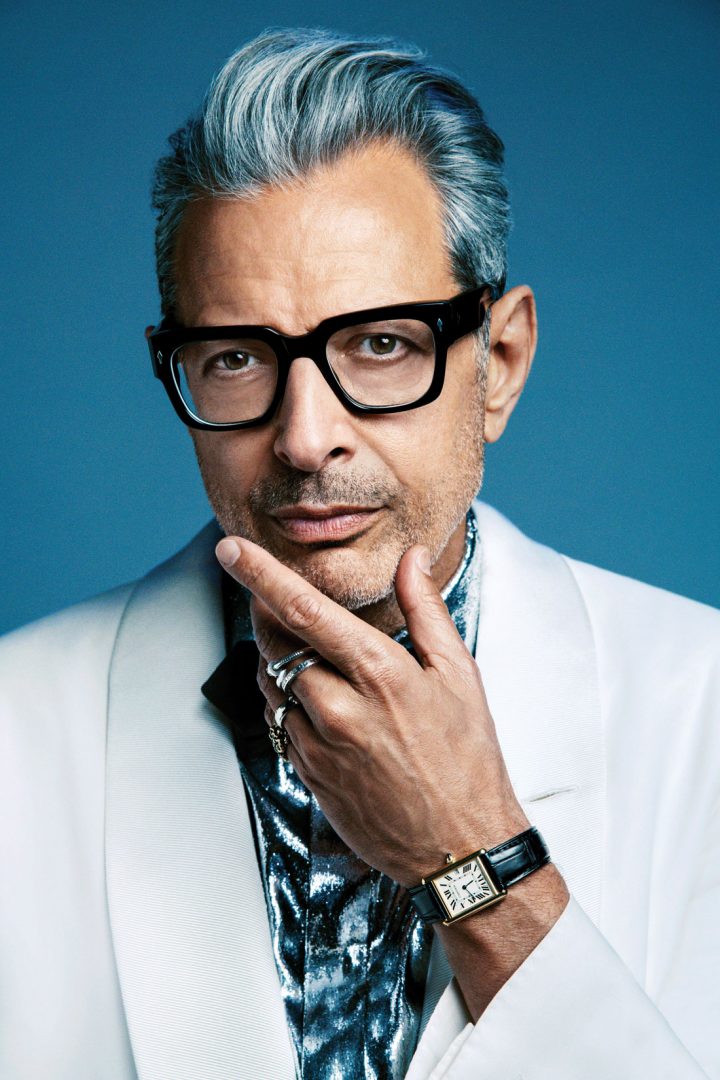 Additionally, it must be noted that neither Goldblum's larger-than-life presence, nor his intricate public persona, have managed to keep him from building personal relationships with his fanbase.
Despite the actor having icon status, most would probably be surprised to learn that he has been performing stand-up comedy at an LA bar every Wednesday night for over twenty years.
In his routine, Goldblum covers a range of issues and bears his true self to an intimate crowd once a week. His engaging personality has managed to hook people in and keep them coming back for his routine for over two decades, speaking to his powerful ability to connect with audiences of any size.
Whether on screen, behind the piano, or standing up at a local bar, Goldblum manages to win the attention and the favour of those he's trying to reach.
And though his creative and expressive talents surely play a large part in his appeal, so does his warm character.
"I like trying to help people," the star confided to Robin Murray in the pair's 2018 Clash Music interview.
From his big-name acting roles to his music and comedy routines, Goldblum may be doing just that. The Hollywood trendsetter's story provides inspiration to others looking to make it big within the industry—even if it is an environment in which they stick out like a sore thumb.
By embracing his unique personality and skills, Goldblum has managed to leverage his natural talents in order to become one of Hollywood's brightest stars—even if some may feel as if a man of his intellectual ability doesn't belong there. The actor's film and music achievements see the fulfilment of his childhood dreams, encouraging others to follow their passions as they work to be successful in life.
And it's not just the actor's film and TV success or his fine-tuned music that encourage his followers to follow their passions.
It's also his unmistakable style.
The towering celebrity has become known as a fashion icon of sorts by donning outfits that make a statement about his inner personality.
Dubbed the "Ultimate Cool-Dad Style Icon" by Kristin Anderson of Vogue, Goldblum's bold wardrobes have made him one of Hollywood's lasting sex symbols. Anderson concluded her piece noting that, "Goldblum is vivid testimony to the fact that some things just get better, and better, with age."
It's a statement that addresses the growing status of Goldblum as one of the fastest-rising Hollywood sex symbols—despite being only four years shy of seventy years old.
Hadley Freeman of The Guardian compared to 66-year-old actor to a glass of "fine wine" that "gets more delectable with time."
Freeman went the extra mile to not only dub Goldblum a fashion icon, but also to explain why he's seen a resurgence in popularity in a modern era that seems to be the antithesis of Goldblum's fundamental nature.
The answer was found at the heart of this contrast.
"Goldblum comes across as an ethereal eccentric … [who] represents not giving a damn," she said.
Freeman's answer highlights the importance of Goldblum's unique and engaging personality on his staying power in the industry.
And she's not alone in her assessment.
The constant stream of positive press about Goldblum reflects just how well-respected he is for his bold and free-thinking personality.
With his talents concentrated in various forms of expression across the entertainment industry, Goldblum remains active as both an actor and a performer.
Most importantly, however, the 66-year-old continues to produce his art both on screen, live, and in the studio.
Goldblum, uh, has found a way.