Recently a few of us lads in the neighborhood got together and established the Renfrew Whisky Appreciation Society. While it sounds incredibly sophisticated, it's not. It is a bunch of blokes looking for a good excuse to imbibe good whisky. The concept is simple, it always revolves around Single Malt whisky and entry is by way of bringing along a bottle of your favourite single malt. There are some discussions leading up to each meeting, to make sure we don't have any duplications, and there are so many single malts out there that there is always something that the others haven't tried.
Most companies producing single malts come out with regular variations, so we are spoilt for choice.One of my favourites is the Laphroaig; known mainly for its 10-year-old Scotch, the distillery churns out so many other offerings. While the 10-year-old is great, there are also the 15-year-old and 21-year-old versions, and recently I discovered a variant in duty free called the 'PX Cask', which was matured in sherry barrels. It's distinctly peaty and smokey, like you'd expect from Laphroaig, but at the same time unique, in that the sherry flavours result in a richer, sweeter and full-bodied flavour.
The whiskies we brought along on this night weren't limited to Scottish whiskies either. In fact, on the night we had a Kiwi whisky from the New Zealand Whisky Collection and the opportunity to try a Nikka Japanese single malt too. Actually, the night was in honour of one of our members who is recovering from cancer; the bottle of Nikka had been bought at a charity auction to raise funds for his treatment a few months back. Fortunately he was in good shape on the night and was able to join us for the tasting.
Each of the 16 guys who came along on the night brought a bottle of their favourite and some brought back ups too. That meant we had more than 16 different bottles of single malt to try, making it a very wide range. We started by lining them up in order of intensity, starting with the lighter malts and moving to the big smokey, peaty Islay malt numbers. We had everyone do a little introduction on their bottle – mostly this meant reading off the label, but it gave us each a chance to impart a bit of knowledge and share why we had selected that particular single malt. We each marked them in order of preference and here are the top five as selected by the team.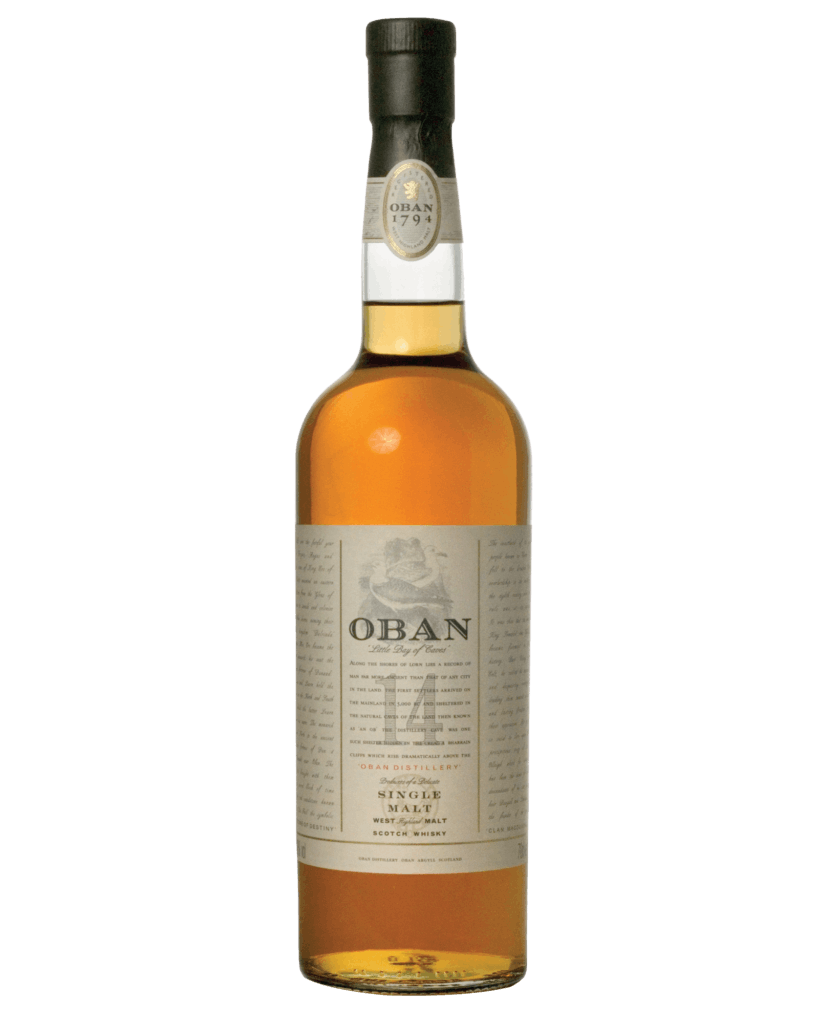 OBAN 14 YEAR OLD SINGLE MALT
What was once a small fishing town, Oban has grown to be a bustling seaside resort, where the Oban distillery has been a landmark for two centuries.
This West Highland malt is twice fermented in pot stills to produce the spirit. Released, after 14 years in Bourbon barrels, is a superb, full-blooded fruity malt with a sweet, peated nose bearing nuances of burnt heather and more than a hint of smoke mixed with a gentle salty peatiness and just a touch of creaminess on the palate.

LAGAVULIN 1999 DISTILLERS EDITION SINGLE MALT
Lagavulin is one of Scotland's oldest distilleries, situated on the island of Islay, where distillation dates back as far as 1742, when as many as 10 clandestine stills were operating. The first legal one wasn't founded until 1816, but that was eventually merged with another to form the distillery now known as Lagavulin.
There are three major producers on the island – Lagavulin, Laphroaig and Ardbeg. Islay is known for its intense smokey single malts and Lagavulin's single malt is considered one of the most intense of these ever made. The intense flavour comes from the peated barley, where the barley is exposed to 20 times more peat smoke than your typical Scotch whisky.
The Lagavulin Distillers Edition was bottled in 2015 from whisky that first went into oak casks in 1999. After 16 years in traditional oak casks, the whisky was then finished in PX Casks produced from making sherry. The sherry was made from Pedro Ximenez grapes (late-harvest grapes that are pretty much raisins by the time they go to fermentation). Double maturation like this perfectly complements the intense smokey flavours with a rich layer of complexity, introducing. aromas of intense prunes, raisins and smoke. Initially the taste is surprisingly sweet with hints of vanilla, caramel and dates that are beautifully balanced with the intense smokey flavour. The round, bold finish seemingly lasts forever with notes of red fruits coming through from the sherry.

GLENDRONACH 12 YEAR OLD ORIGINAL
This Speyside whisky is named after the source of the water they use – from the Dronach Burn, situated in the north-east of Scotland in the Forgue valley in Aberdeenshire. Glendronach has a history of enterprising owners, from James Allardice to Walter Scott. The malt is is created using Oregon pine washbacks, and the same shaped stills used in 1826 when the distillery was founded.
The Glendronach 12-year-old 'Original' is entirely aged in ex-sherry casks, some Pedro Ximenez and some Oloroso, to produce a dense amber-gold colour, delivering heavily sherried sweet, creamy vanilla, with hints of ginger and autumn fruits on the nose with a rich creamy, silky smooth palate that has a warm rich oak and sherry sweetness mixed with raisins and soft fruits. The finish is spicy, full and firm – slightly nutty. this single malt is best suited to after-dinner sipping.
LAGAVULIN 8 YEAR OLD 200th ANNIVERSARY EDITION SINGLE MALT
This limited edition whisky was released to commemorate the 200th anniversary of the founding of the Lagavulin distillery back in 1816. The eight-year-old whisky was inspired by the visit to the distillery in the 1880s by Alfred Barnard (British brewing and distillation historian) who commented on the 'exceptionally fine' eight-year-old single malt at the time.
Matured using a combination of European and American Oak-wood barrels to produce a big and smokey single malt with sweet spice, this is a once-in-a-lifetime dram.

GLENMORANGIE NECTAR D'OR SINGLE MALT
Glenmorangie is a distillery in Tain, Ross-shire, Scotland, owned by Louis Vuitton Moet Hennessey. I recently went to a lunch hosted by their master distiller Dr Bill Lumsden. This guy must have the best job in the world, as he spends all day, every day experimenting with different distillation methods using unusual barrels for the ageing process – for example, Madeira and Sassicaia (one of Italy's best wines) – to come up with the best variant for their Special Edition releases. As part of the LVMH group, Glenmorangie always strives for perfection, and money's no object. This is an example of one of these special releases, this time using Sauterne casks (the famous and ancient sweet wine from France) in the ageing process.
Initially the distilled whisky was in American oak for 10 years before spending the final two years in Sauterne casks to produce the sumptuous and warm Nectar D'Or. Translated as nectar of gold, this really does have a lovely nectar flavour – the Sauterne cask lends the rich, spicy, dessert-like flavours.
The aroma is citrus rind, sultanas and dates laced with spices of coconut. The taste is of ginger, nutmeg and toasted almonds interwoven the lemon meringue and honeycomb. The finish is sweet and long with hints of white chocolate, vanilla and lemon zest.
HOW TO DRINK SINGLE MALT SCOTCH WHISKY
It's only right that the patience shown in crafting a fine single malt Scotch whisky is matched in kind when savouring it. And, like any important science, there's a process in order to appreciate the nuances and characteristics of a legendary dram.
It all starts with procurement, so to find a quality drop, ask around your learned friends or enquire at a whisky bar.
The vessel you choose will have a bearing on your test results and the tulip glass is preferred for its wide circumference and delivery into the mouth that allows more emphasis on the aromas. Snifters or tumblers are also popular among whisky connoisseurs.
Pour yourself a dram, depending on your preference, this is between half an ounce and two. Tilt and turn your glass to coat the entire surface area and note the consistency as remnants stick to the walls. This process allows for more evaporation and therefore more redolence.
Get your nose as close as possible to the glass, avoiding the vapour burn of the alcohol, and keep your mouth open to discover the aromatic makeup. Before the first introductory sip, adding water is favoured by many… but how much, is a personal preference. Whether half and half or just a few drops, the H20 mustn't be from the tap, so chlorine and other minerals don't interfere with the taste. (Knowing which whisky to taste neat is an acquired knack.)
After adding the water, gently agitate your glass and 'nose' the whisky again, continuing the movement to ensure the mix is consistently blended.
Now for the serious business. The first taste should be just enough to coat your inner mouth as you swirl it around your tongue. This is the 'mouthfeel'. Hold this in your mouth as long as it takes to explore all of the flavours.
Swallowing is an art form in itself and keeping your mouth and throat closed will enhance the experience. Breathe through your nose slowly and the perfumes will rise into your sinuses. Breathe as normal when the flavours subside. This is the 'finish'.
Take your time to repeat the process, as a good dram can take up to half an hour to relish. And remember, it can only be called Scotch if it is distilled in the motherland, Scotland. Which whisky to choose next is another story altogether…