Fishing has always had a certain romantic allure —casting your cares on the open ocean, sipping a cold one, all while playing hooky from the punch-card 9-5.
But while dodgy equipment, no boat or little experience can be discouraging, we've come up with the perfect greenhorn guide to charter fishing to help get you 'into the fish' and reap the most out of your experience. Keep with us to the end where we'll cover how you can win a FREE full day fishing charter.
Choices, Choices, Money Choices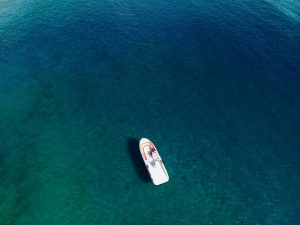 Despite the basic idea of a day on the water, rod in hand and bait on the bottom, charters can be drastically different and offer a range of options which can either sink or float your experience.
Many charters operators tend to specialize in one particular kind of fishing. They not only vary in their preferred catch and bait used, but also in how far offshore they venture. Some only do day or half-day trips while others may go overnight or even venture further afield if you are looking to find 'blue water and big fish'. Some cater food, others don't.
In the end, you'll certainly get what you pay for. If you've chosen a cheaper option, you'll likely be targeting snapper and tarakihi and won't go too far out. With more expensive options, you can expect being further offshore fishing for kingfish or hapuku or even game fishing for broadbill or marlin.
But cost isn't king. Finding a skipper who is easy-going and personable is important. It's not worth going out with a skipper who is cheaper but has a bad reputation. Ask friends and get recommendations. A little research can go a long way!
The Booking
Charter operators cater to groups and individuals. But in our opinion, if you can get a group of fishing buddies together, booking as a group is usually the better option. Who would you want to be stuck with on a small bobbing vessel for 8 hours; your mates or strangers who may not be as personable after they have sunk a few beers. Booking as an individual doesn't guarantee how other clients will act. So, doing some organizing with your mates beforehand will help eliminate this risk. Trust us, rotten people don't make rotten fish, but they can sure make rotten experiences. And remember, bookings often need to be made months in advance, especially if the skipper is well-liked and clients are catching fish!
Basic Etiquette
Let's face it, respecting nature and getting along others is going to lead to a better time out for all. Here are some top etiquette tips to make sure things are smooth sailing.
Listen to the skipper at all times; follow instructions
Dispose of rubbish correctly
Use similar fishing methods as the rest of the crew
Use the same weight sinker as the person in front of you
Don't start fishing the second the boat stops, as the boat can still turn on anchor
Ask the skipper or crew advice when trying new equipment or techniques
Ask your mates if they want a kitty for the biggest catch of the day
Have a sense of humour! Enjoy your success and failures; nothing is guaranteed.
Getting Organised
Understanding the type of boat, where you're going and what you'll be fishing is crucial. It not only builds excitement, but also highlights the equipment you'll need. There's truly nothing like using your own equipment. If you are fishing for kingfish, hapuku or gamefish, you going to want to be sure your gear is up to snuff, too. Otherwise, most charters will supply gear for you to use. But if you're not familiar with their gear, you should spend a little time to do some research. This will make a more relaxing experience on the water and get you fishing faster.Lastly, be careful to ask if there are any additional charges for using gear. Nothing sours an experience more than a sudden extra charge!
Listen to the Skipper
We said it above. We'll say it again. Listen to the skipper. Skippers are experts on their particular vessel. They have an intuitive sense on how the boat should be operating and likely have your best interests at heart. A good skipper will listen to client suggestions but nothing is more frustrating when clients do things which potentially can destroy the experience for all. Be respectful and listen.
Where to start?
Here are two great options for trusted charter operators in New Zealand.
1 – DAY OUT FISHING CHARTERS – Bay of Islands

Within 5 miles of port you can catch Snapper or Kingfish, further out you may encounter a huge array of sea life which in turn attracts the game fish that we are so privileged to catch.
From stripe marlin to black and blue marlin you just never know what can jump on your lure or bait.
With a huge amount of deep water reefs the Hapuka is another fish that is a must do and try in New Zealand. All with an amazing backdrop from the 144 islands within the Bay of Islands.
From share trips to private trips, as a professional outfit, it's their aim to make sure you remember your fishing on Days Out. More info.
2 – ULTIMATE FISHING CHARTERS – Auckland

Their goal with every charter is to deliver a great experience. They have a team of skippers, deckhands, maintenance, bookings and admin people ready and willing to help you in every way possible.
With a wide range of boats Ultimate Fishing Charters can cater to your needs whether you want a boat for 48 people, a corporate cruise, a party charter, a high-speed workup charter, a boat rental, to go wake boarding or water skiing, a multi-day expedition or any other type of on water activity.
The team at Ultimate Charters have over 50 years of combined experience working with hundreds of charters and will be more than happy to help you with your fishing charter, corporate charter, party cruise or boat rental booking today. More info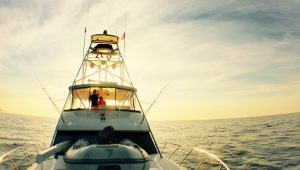 WIN a FREE One day Fishing Charter
All you need to do to enter the draw to win a free days fishing charter for you and a mate is tag your fishing buddy into the comments here. T&Cs apply. 
So whether you're a fishing newbie or looking to grow your experience, hopefully our greenhorn guide to charter fishing will get you well on your way to having a fantastic time on the water.