Every year, Sony celebrates and supports photographers from across 180 countries in the Sony World Photography Awards. This year, 62 countries made the cut and are being showcased. New Zealand had skin in the game in the form of Todd Henry, who's image of an Amish Woman and her baby wowed judges.
Todd Henry's image was deemed as the single best image taken by any Kiwi entered in the Open competition of the Sony World Photography Awards.
Henry's work is heavily influenced by his interest in travel, alongside an academic background in anthropology. Speaking of this passion, Henry states "As I travel more often as a photographer, I realise that a camera is often a ticket into places that would otherwise be inaccessible. Photography has allowed me to experience cultures in places that I never imagined I would venture to."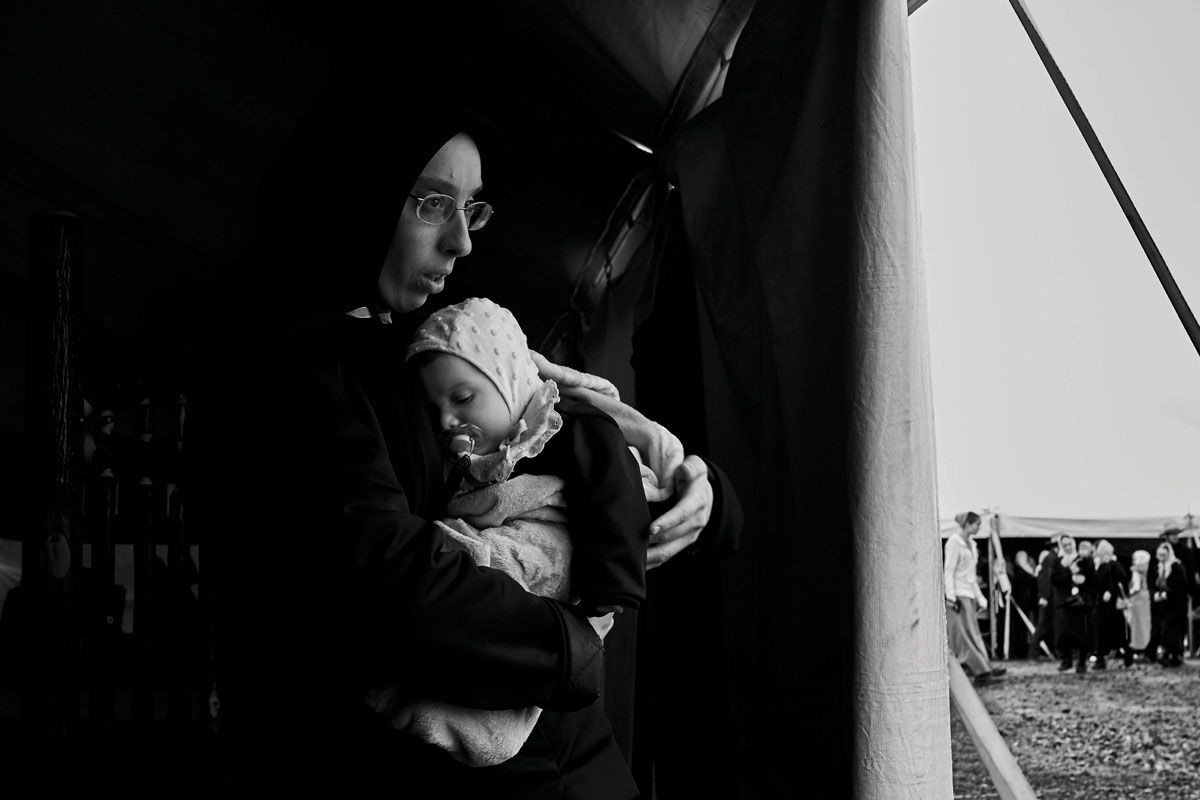 Amish Woman and Baby, Todd Henry
"An Amish woman takes cover from the rain with her baby in Central Pennsylvania, USA."
Winning this prestigious award, Henry explains the impact it has had on him: "This represents a major turning point in my journey as a photographer and I am honoured to have been recognised by the World Photography Organisation and the Sony World Photography Awards"
Looking further afield, winners come from Myanmar to Peru, Mexico and Vietnam. No matter where you go in the world, you'll find quiet moments of beauty and emotion, as well as epic landscapes and vistas.
If you find yourself in London this month through until May 6, be sure to check out Henry's piece, alongside the other 62 winners at the Sony World Photography Awards Exhibition.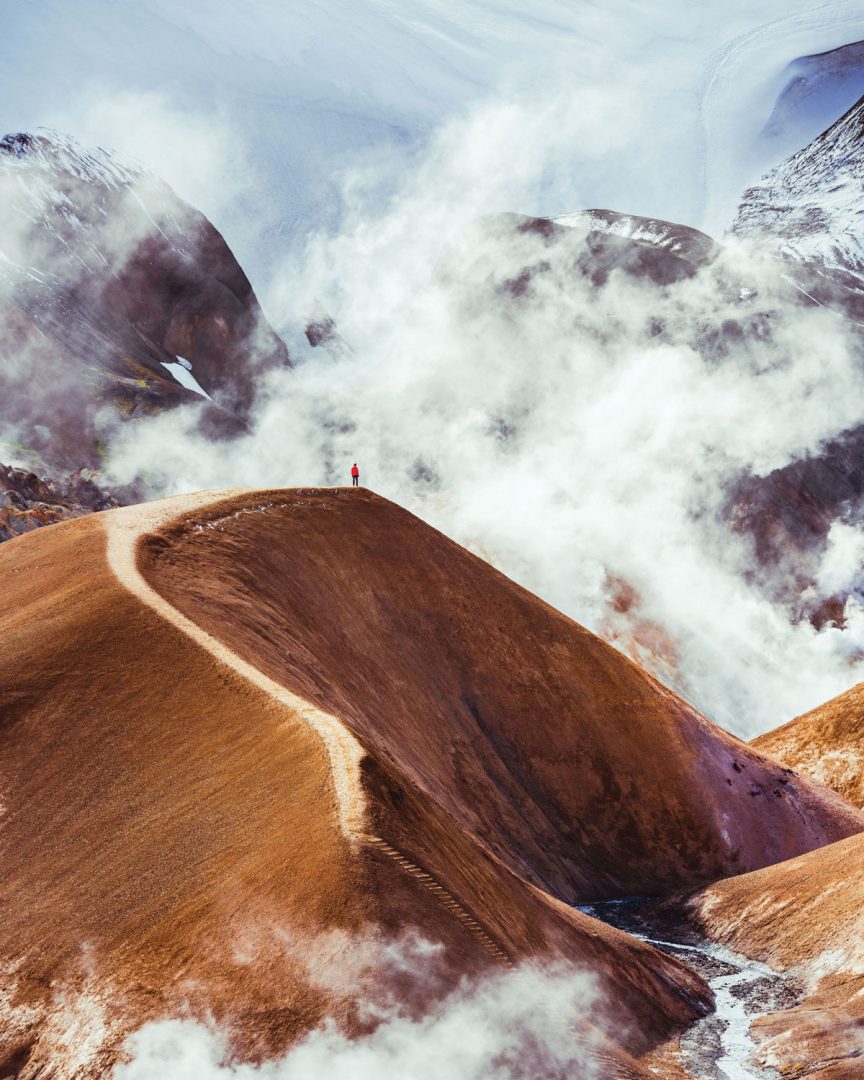 Kerlingarfjöll, Arvids Baranovs
"Exploring the otherworldly geothermal area of Kerlingarfjöll, Icelandic Highlands. I had my friend run forward and stand on the clay hill for scale. It was very loud due to numerous geysers spewing water, mud and smoke, so we communicated via radio."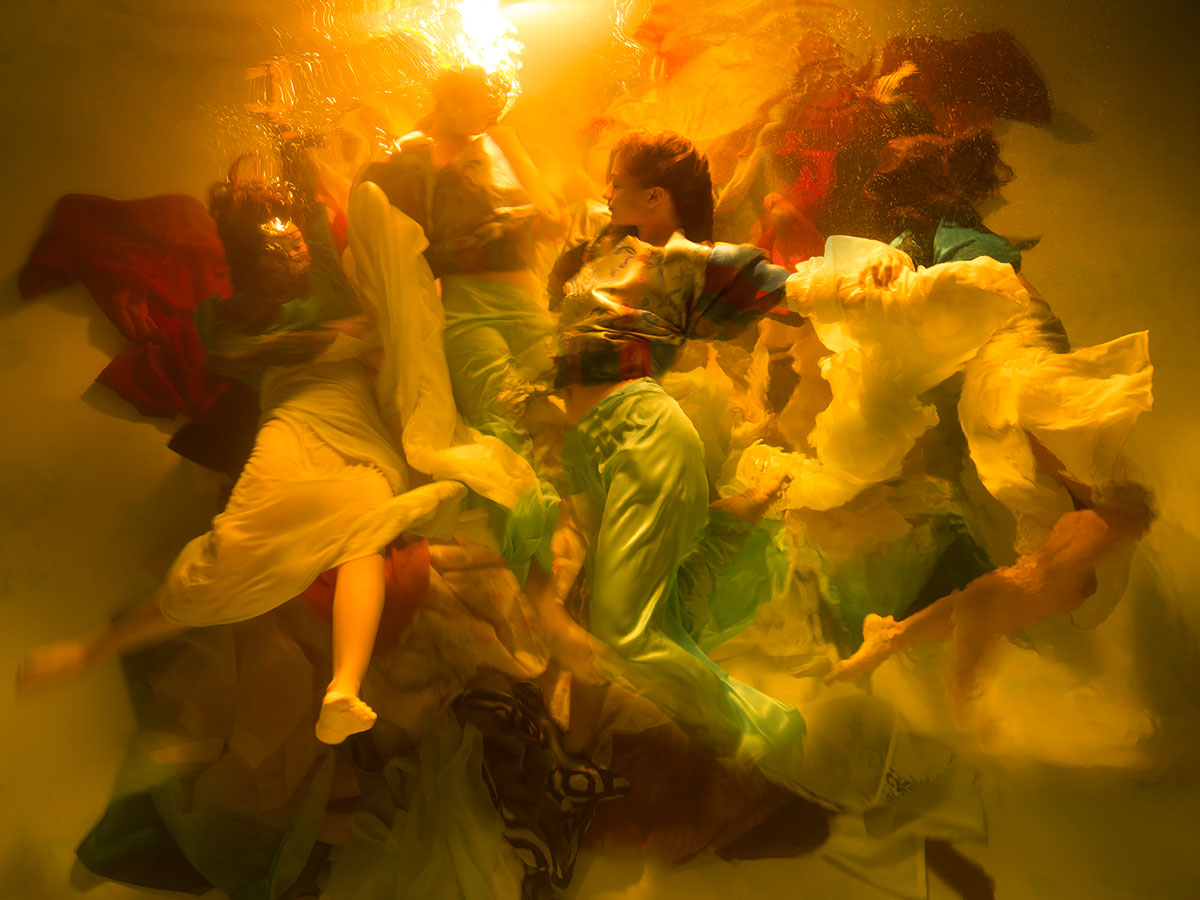 Harmony, Christy Lee Rogers
"Shot underwater in Hawaii, this image is part of my Muses Colllection. What started to work best for me was having a perspective from outside of the water, looking in and using the surface of a pool as a canvas, utilizing natural effects like the refraction of light with movement to bend reality, and shooting at night so I could really control my light."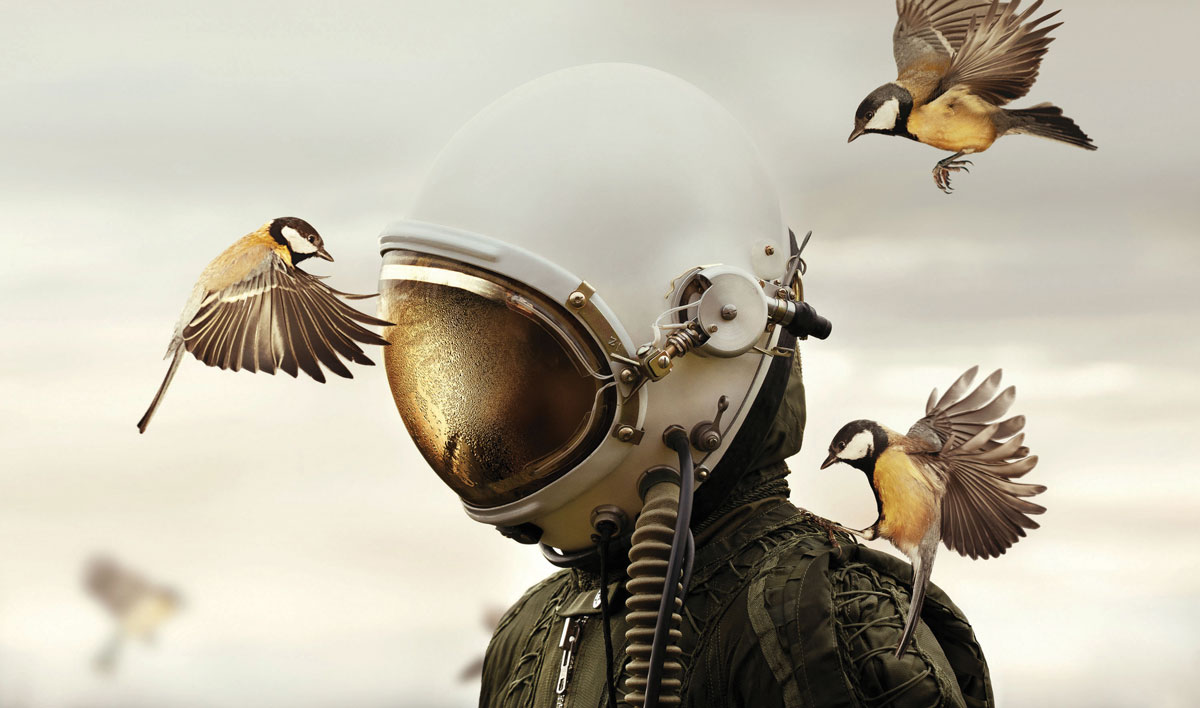 Dreamers and Warriors, Martin Stranka
"We should never stop following our dreams, fighting for our ideals and protecting our visions which are all symbolised by the animals captured in this series 'Dreamers and Warriors'."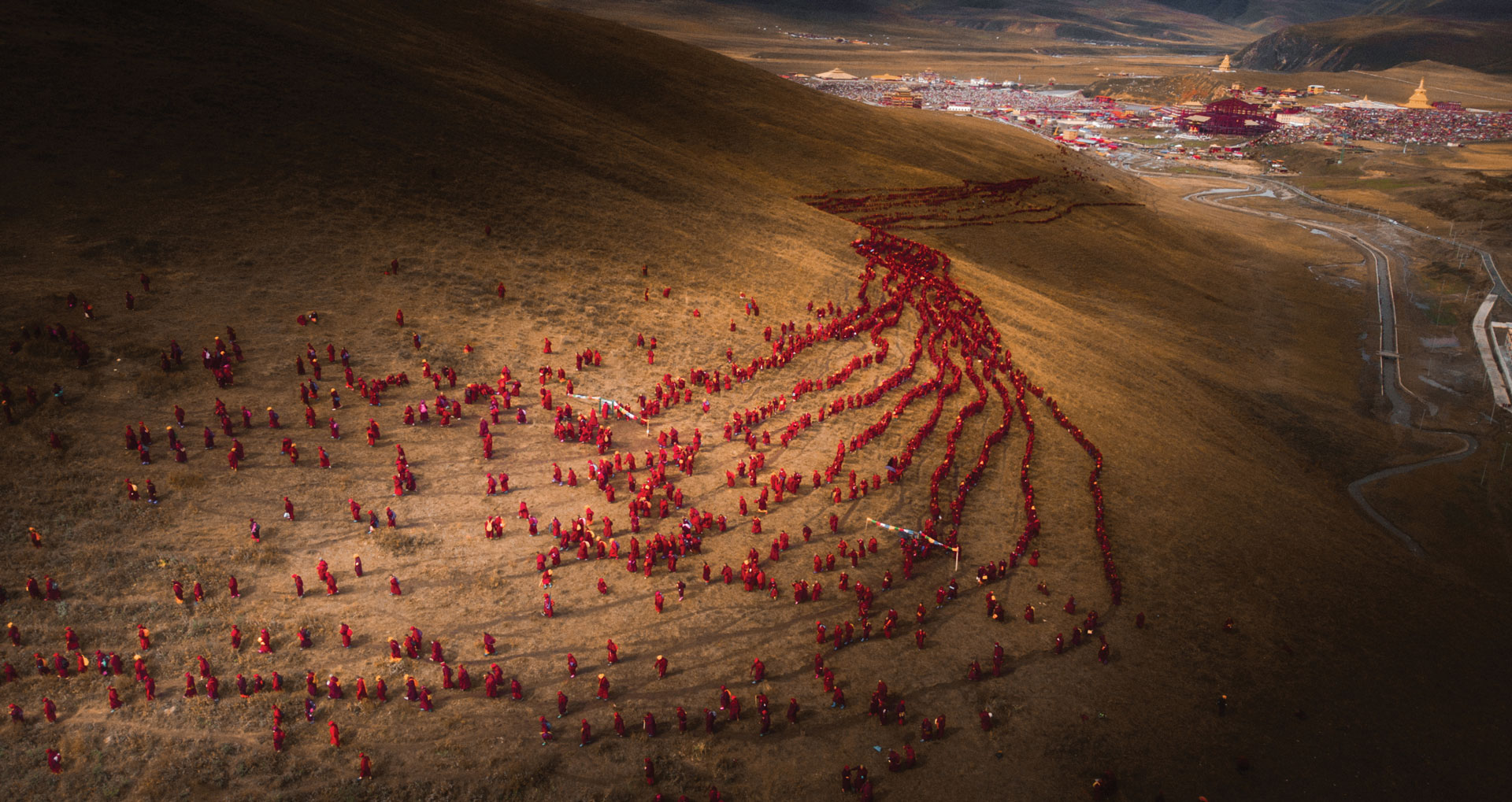 A Red River of Faith, Lifeng Chen
"Thousands of women Buddhists line up the hillside to go to the mountains to practice the dharma, which is called Da Yuan Sheng Hui, in Sichuan, China."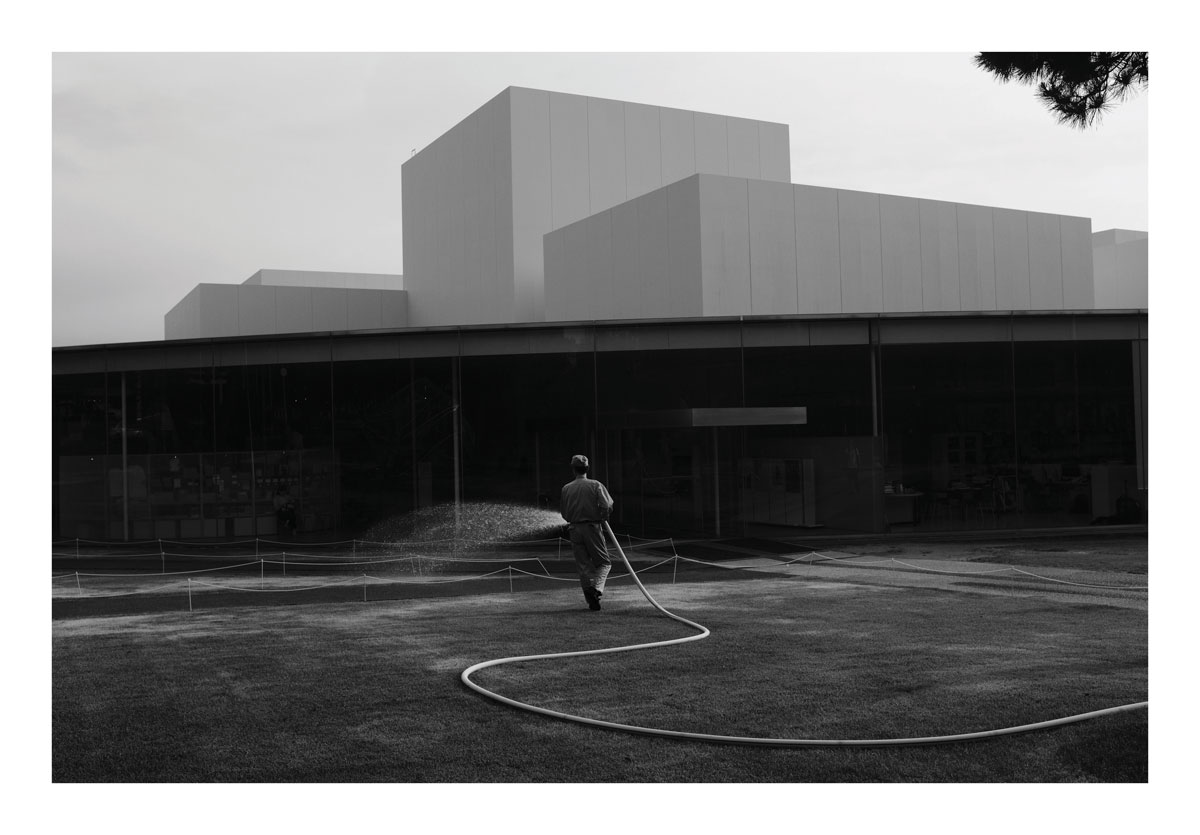 Heatwave, Philippe Sarfati
"The 21st century museum's staff waters the lawn during a summer afternoon in Kanazawa, Japan."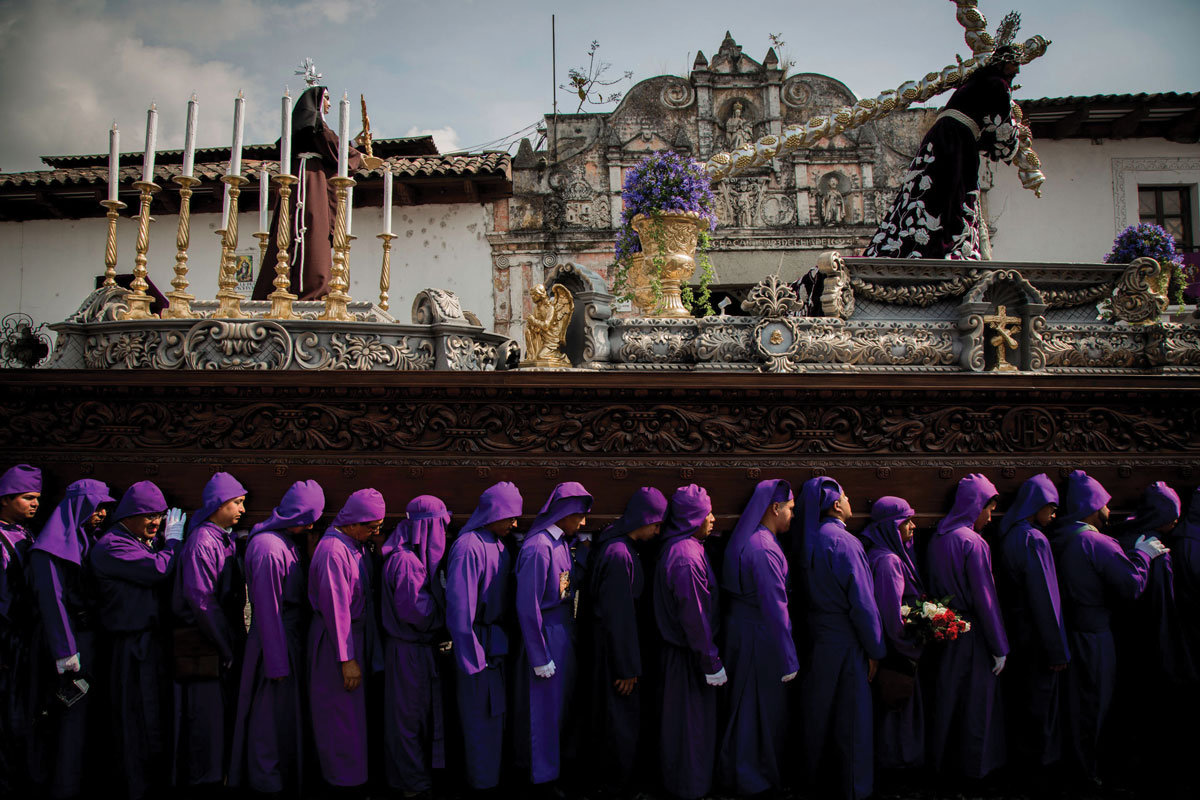 Patrono, Juan Herrera Zuluaga
"This picture was taken during Guatemala's custom during Catholic's main festivity, The Holy Week. These men are called "Cucuruchos", they dress in purple in order to celebrate Christ's death and resurrection. I liked the way their bodies and faces showed the weight they were carrying during this Procession."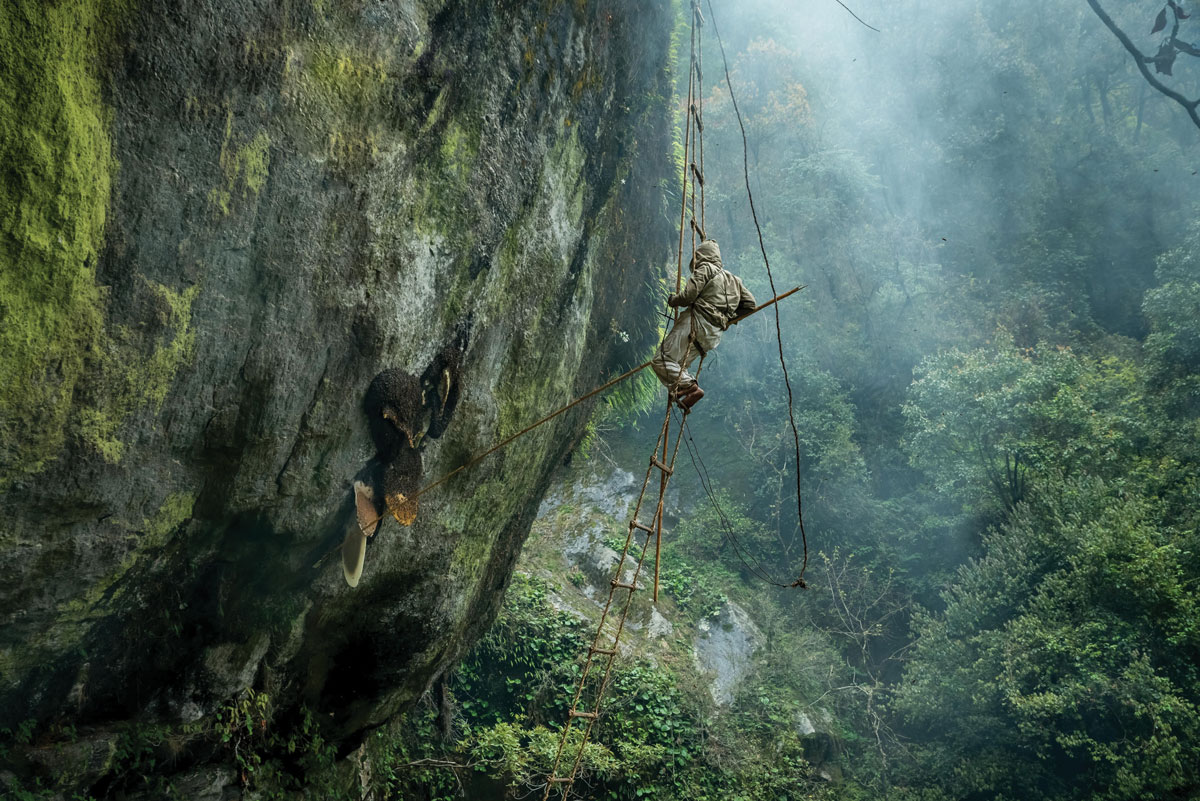 The Harvest, Dikpal Thapa
"'Gurungs' from the remote Himalayan range of Nepal go to the wild twice a year just to harvest the honey from the Himalayan honey bees."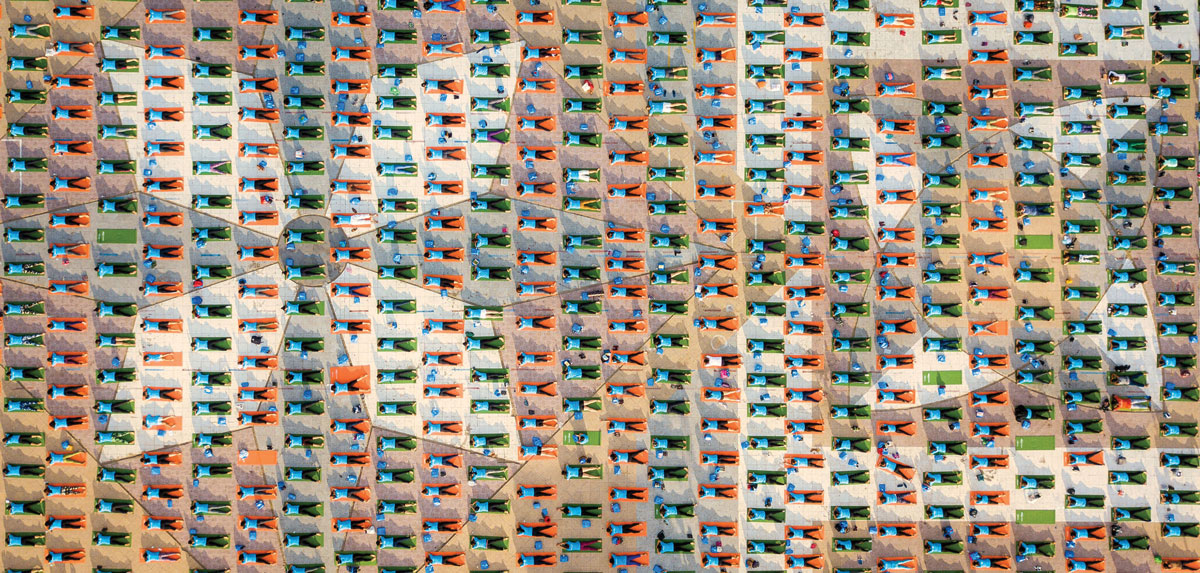 Untitled, Phạm Hưng
"Father and son dressed as ghost at the festival of gongs in Tay Nguyen, Vietnam"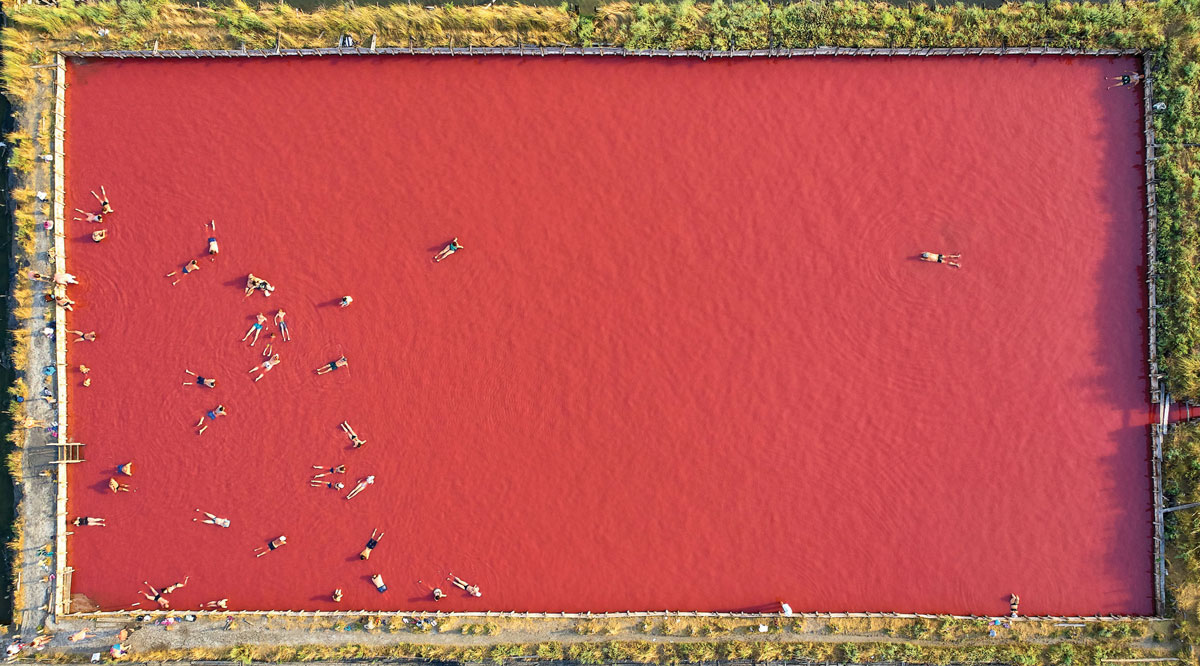 The Salt of the Sea, Yavor Michev
"People doing healing baths in a pool of sea lye. The photo is taken over the sea salt mines near Bourgas, Bulgaria."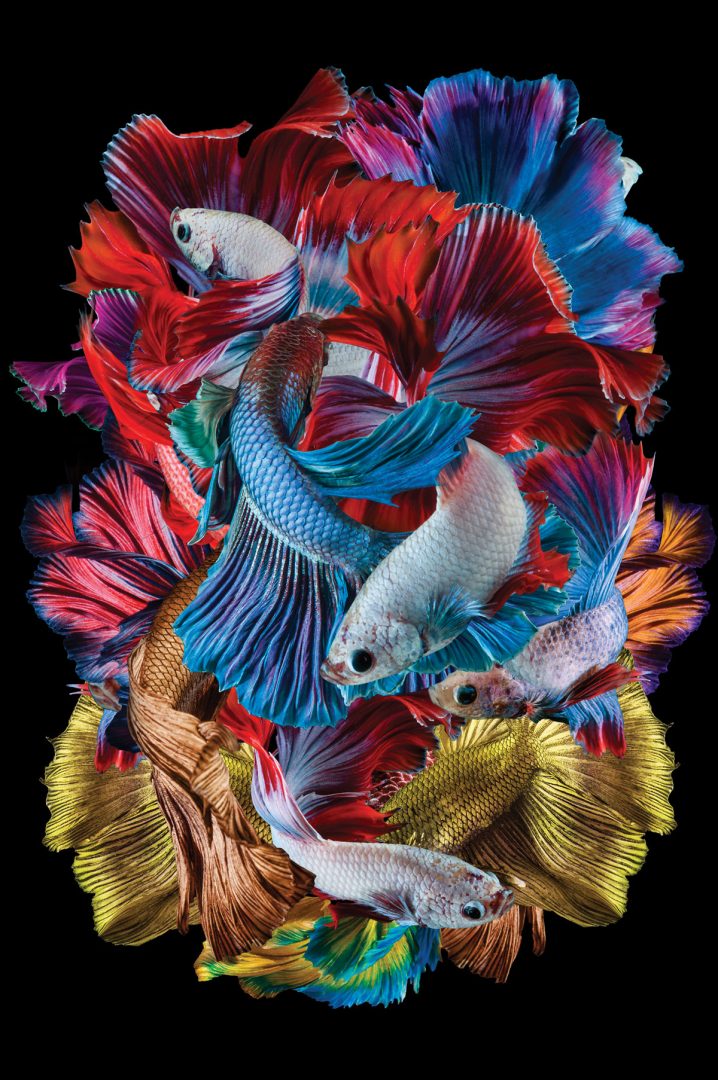 Tarian Ikan Cupang, Dhiky Aditya
"Betta fish has beautiful colors, with beautiful colors and stunning movements that will calm the heart to be calm and peaceful."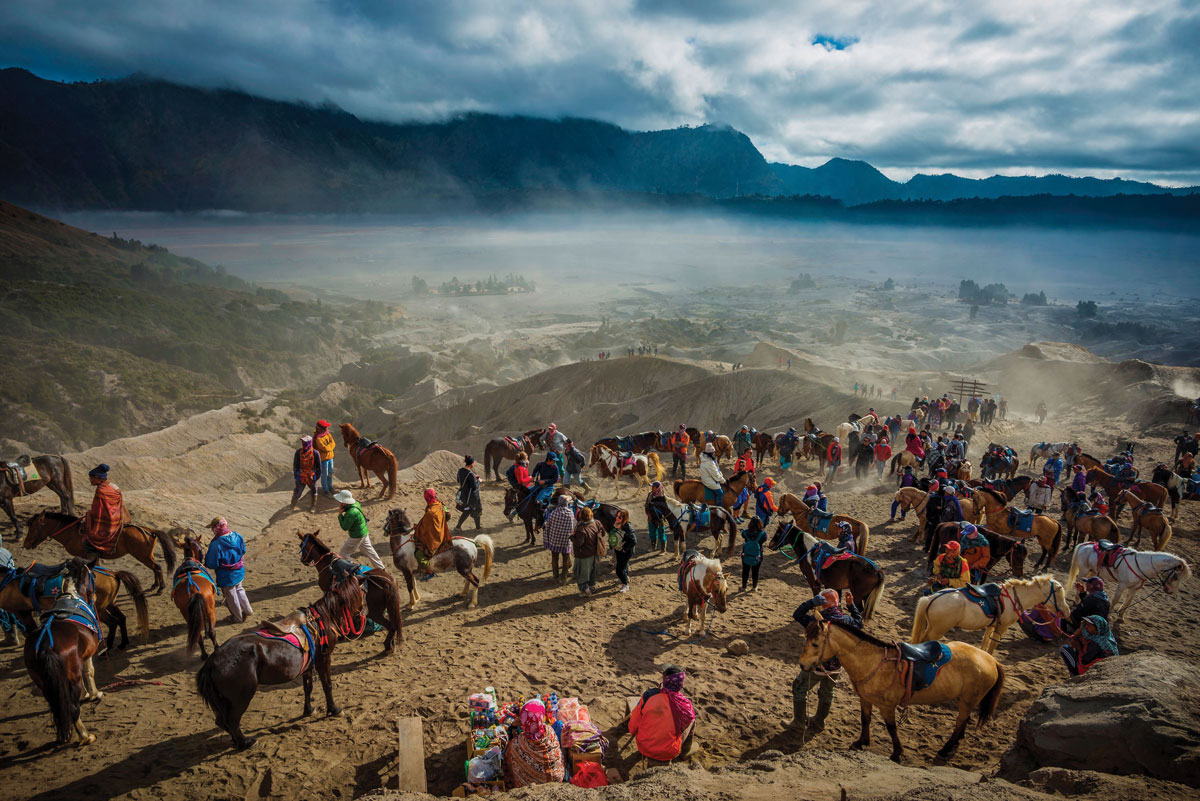 Horses Parking, Myo Win
"This was taken in Indonesia Mount Bromo. People can take horses riding from jeep car park to the base of Mount Bromo. The picture shows horses parking at the base of Mount Bromo."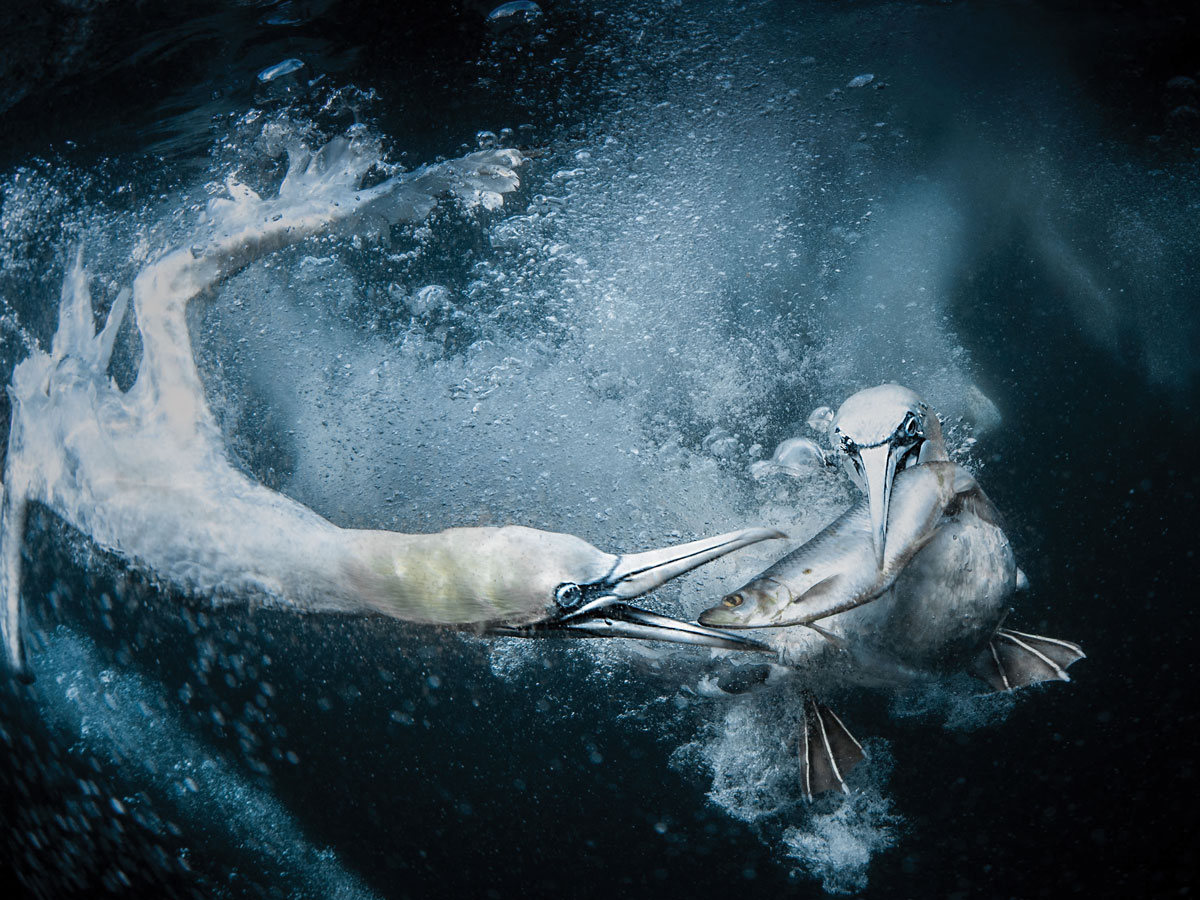 Underwater Gannets, Tracey Lund
"Whilst on a trip to Shetland, the biggest thing I wanted to do was photograph the gannets as they feed underwater. The photography takes place at sea around some of Shetland's remotest headlands. Dead bait is used, using fish the Gannets would normally eat, locally sourced around Shetland. To be able to capture what goes on under the water was an unbelievable experience and one I will never forget."