On a steamy frangipani-scented September night in 1979, thousands of excited Samoans packed into Apia Park. They'd come to watch the burly Fanene Peter Maivia clamber into the ring with the equally stolid and peroxide-haired Harley Race. For the next hour, these two massive tree trunk-like wrestlers battered each other into submission in time to an ever-increasing crescendo of screaming from the crowd packed in as close as possible to the action. Time and again, one of the wrestlers would utilize a Full Nelson, Sleeper Hold or a Clothesline Charge to gain an advantage over the other – seemingly to the point of victory – only to have it snatched away at the very last second by his crafty and elusive opponent. On-and-on the duel raged, each momentum change hyping the crowd up to a new maximum in excitement.
Now, while both performers were American, there was little doubt as to who the locals were hoping – willing – praying would win. Every time "High Chief" Peter Maivia seized the advantage, he'd roar out "Chee huu!" (Oh yeah!) to the crowd, urging them to share with him the imminent glory of his inevitable and just victory. And the crowd would roar gleefully back, positive that surely THIS time he'd get the three count, and beat this evil palangi invader…
Yet, sadly for Peter – and his loyal Samoan followers – the dirty lowdown heel Harley Race "won" the bout that night. As expected. Even scripted. Although whoever had written said script probably hadn't quite taken into account the passion of the locals – as the security guards seriously had their hands full stopping the bevy of young local boys desperate to jump in and help their uso (brother) out against the arrogant Yankee.
But wrestling itself had won a lot of fans that night and Peter's Anoa'i family were on the way to becoming enshrined as one of wrestling's most-famous families, not only in Samoa but in the whole world. And, a couple of decades later, easily the most famous member of this family was to emerge from his grandfather's shadow as: The Rock…
FROM DWAYNE TO ROCKY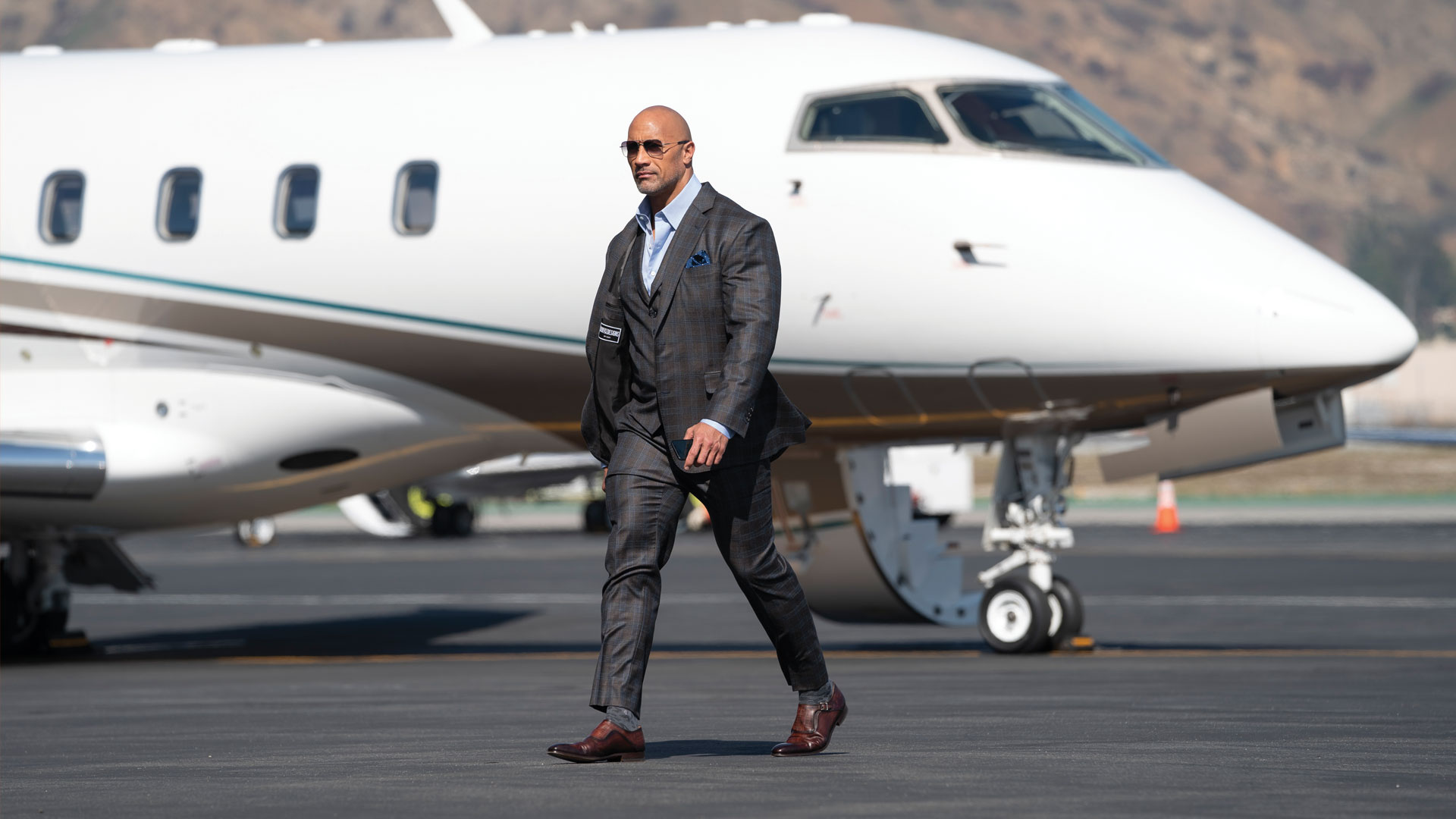 Of course, wrestling wasn't the young Dwayne Johnson's first choice for a career. Watching his dad – the Canadian Rocky Johnson – get bashed repeatedly in the face during professional wrestling bouts at the old Cameo Theatre in Surrey Cres, Grey Lynn during their short stay in Auckland, was pretty traumatic for the young Dwayne. His mother Lia, Peter's daughter and a wrestling promoter herself, tried to console her son by telling him that "Dad's okay" and all the blood was just part of the job. But the sound of the audience jeering his father stayed with Dwayne for years – so he passed on the early chance to become the world's first ever third generation professional wrestler and decided to follow his dreams instead…
Being born and – largely – bred in the States, Dwayne had grown up idolising American football players. And, at six foot four and over eighteen stone, Johnson was big enough – and good enough – to be offered a scholarship at the University of Miami to play as a linebacker for the Hurricanes.
His career started out really well, as the team won a national championship in his first year. But gridiron is a tough, violent game and unfortunately for Dwayne – as it is for many young men and women in sport – his career was soon ruined by serious injury. He did manage to fight his way back as a reserve linebacker for a Canadian football team in 1995, before being cut from the squad altogether.
This forced a priority rethink and suddenly a spot in the family wrestling business seemed a heck of a lot more appealing than it had a few years earlier. Peter and Rocky weren't so keen, however. They knew how hard it was living the rock n roll lifestyle of endless days on the road, nights in motels and evenings getting an elbow smashed into your teeth. So they advised against it.
But big time wrestling promoter Vince McMahon was pumped! He'd signed both Peter and Rocky onto his WWF rosters back in the 70s and 80s – and figured there must be some serious promo capital in having the FIRST EVER THIRD GENERATION pro wrestler in the ring. Vince even insisted Dwayne use "Rocky Maivia" as his ring name as a tribute to both his father and grandfather – which the younger man hated. But still, it was better than "The Blue Chipper" – another unbelievably inane early name – and even "Dwayne", which might make him the toast of Inglewood but sounded crap over the p.a. at Madison Square Garden.
Which is exactly where Rocky Maivia debuted in 1996 in his first major Survivor Series bout. Vince was so excited by his brilliant promo idea, he skipped over the usual step of introducing new wrestlers gradually in smaller, less-intense venues and dumped the inexperienced newcomer bang smack in front of 26,000 hardened New Yorkers. And anyone who watches Rocky Maivia's wild-eyed, pineapple-haired, limb-twitching 'finger in the wall socket' entrance will swiftly realise that he wasn't yet ready for the big time. Rocky even had his back to the main camera most of the time!
Oh no, no, no, no, no!
Still, The Rock's wrestling career was underway and despite all his rookie errors, there was obviously some X-factor the crowd saw in him as it didn't take long for them to start chanting "Rocky" at all his entrances – which helped erase some of Dwayne's bad memories of his father's treatment. But show business is a tough business and it wasn't long before the crowds started adding a "Sucks" to their "Rocky" chant – mainly because of the dumbass character Vince had created for him.
GETTING THE ROCK ROLLING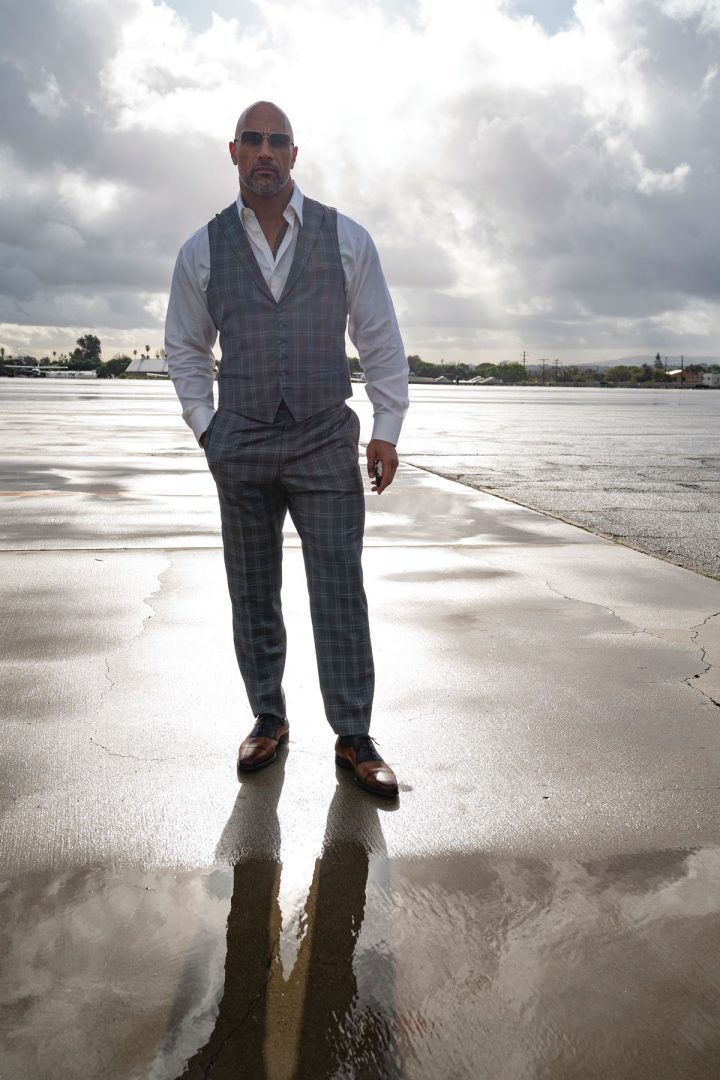 So Rocky Maivia was relegated to heel status, doomed to play the scowling villain for the foreseeable future. But, as the Madison Square Garden crowd had suspected, Dwayne Johnson was no ordinary wrestler – he was smart. Unlike most heels who bark gruff, ego-driven, puerile confrontation tripe at the camera, Rocky began crafting his video call outs to make them verbally inventive – even amusing. He also began referring to himself – often in third person – as "The Rock", even though he'd not officially had permission to change his ring name.
This ingenuity eventually saw The Rock develop a propensity for imaginative catchphrases that often moved beyond the usual line-and-length character taglines. He started asking audiences if they could "smell what The Rock's been cooking" up. He also pronounced himself; "The People's Champion" which quickly morphing into him delivering "The People's Elbow" as a finishing move. Pretty soon, anything Rock-related had "The People's" prefixed to it – with him even complaining about getting whacked in "The People's Balls" (didn't they cover physiology at Miami, Dwayne?).
Arguably, the most famous of these catchphrases would have to be; "The Smackdown" which The Rock coined after a new finishing move he'd developed. It proved so wildly popular, Smackdown! even became the name of a WWF TV show – and more or less synonymous for any kind of wrestling event. All the same, The Rock certainly displayed plenty of The People's Balls to bust out the King James version of this phrase – "Layeth the smacketh down" – in places like Lexington, Kentucky. Demonstrating brains there is tantamount to goading the locals into challenging you to outsmart a bullet.
Ringside he also worked on his presentation, honing and slowing down his speech until every uttered syllable carried seemingly the same weight as the text from another King James era document. His movements too became more pronounced and refined until he could communicate his messages to the crowd via a mere single eyebrow raise or jaw-jutting twist of the head.
He was fast becoming an icon of wrestling and that meant it was only a matter of time before Hollywood came calling…
THE PEOPLE'S ICON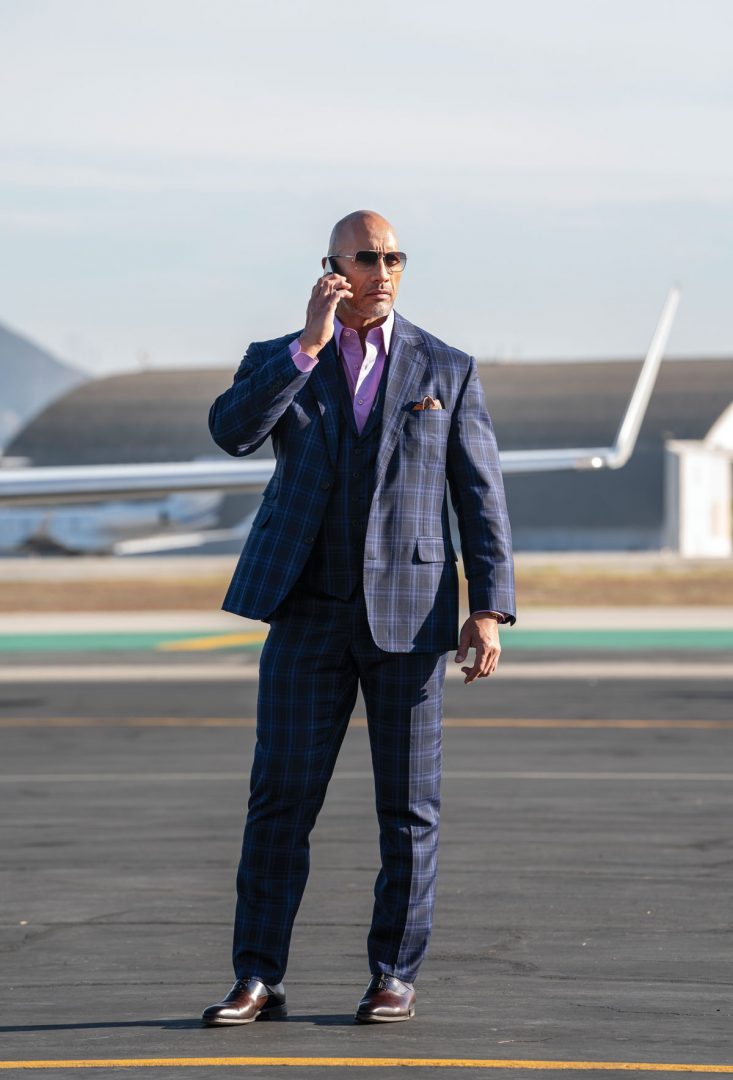 A mere five years after his bizarre first appearance at the Gardens, The Rock made his debut film appearance in The Mummy Returns as the Scorpion King. A role he would reprise a couple of years later in a breakthrough performance in the film of the same name. Unsurprisingly, the casting gurus of Hollywood had made the colossal leap of logic to equate a 1.9m, 120kg ex-professional wrestler with the action movie genre. Genius!
And, as if to compensate for the largest salary ever paid to a film newcomer, The Rock's action movies have become known for their on-screen destruction on a massive scale. Fan site Rotten Tomatoes were so taken with the level of property devastation in The Rock's movies, they undertook an exhaustive content analysis of everything smashed up in the big fella's path. After totting up all the busted and downed satellites, they came up with a grand sum of over US$12 trillion in the damage column. That's more than $12,000,000,000,000! This included everything from the complete destruction of London ($2 trillion, G.I. Joe Retaliation) to a mere $750 million (San Andreas) to fix the busted Hoover Dam.
Now, the Rock ought to be a little miffed about this as it seems that the Hollywood studios are implying that he might be a touch clumsy. A very harsh observation indeed, as any true wrestling fan could see that The Rock was amongst the more limber performers and light on his feet to the point where you might even describe his movements as "dancer-like".
The Rock hasn't limited himself to stay in the action genre though. Like fellow big man Arnold Schwarzenegger before him, The Rock kick started his movie career with a role as a barbarian, then has made a mixture of action, science fiction and low brow comedies since. Unlike Arnie however, The Rock still hasn't found his iconic Terminator-like role yet. Yet, it must only be a matter of time though as he has a far greater range of acting skills and a stronger on- and off-screen charisma than the Austrian-born legend. He's even managed a successful leap across onto the smaller screen with Ballers, which is now into its fifth season with HBO.
ROCK WITH ME
Possibly the best thing about Dwayne Johnson is that he has officially disproved the Rhinestone Cowboy Theorem: "That nice guys get washed away like the snow and the rain."
While obviously not a humble man, he is still largely a nice guy and tales abound of him being spotted by fans and halting the motorcade to spend some time talking with them and photobombing their selfies. He's also not forgotten his roots either and is proud of his Samoan heritage. In a promo for the latest Fast and Furious instalment, he wears a lava-lava and has his shirt removed to show off all the traditional tatts on his arm and (imposing) chest.
His persona has also had a profound influence on Pacific Islanders across a range of cultures. Before The Rock, growing up as a Pacific Islander used to mean keep your head down, be humble, shy and, above all "Be Quiet!"
Rightly or wrongly, the Rock has changed all that, not only reveling in the spotlight, but blazing new trails through the bush and letting the entire world know about it.
As a result, surely Israel Folau would not have switched sports three times until he was the highest paid Rugby Union player in the world if he hadn't had The Rock come before him. And I seriously doubt he would've had the courage to speak out about his religious beliefs so strongly last year (whether you agree with them or not), if not for The Rock.
Similarly, would Joseph Parker have had the genuine self-belief to challenge for boxing's IBF, WBA, IBO and WBO Heavyweight titles, without seeing The Rock conquer the wrestling world earlier?
But, to my mind, possibly the person who has surged the most in The Rock's wake has to be Steven Adams. A similarly massive dude, Adams hasn't let any natural Tongan shyness hold him back from becoming one of the biggest personalities in the NBA. A colossal statement in itself!
So, why should we like The Rock? Well, I'd argue he's harder NOT to like the guy. He's a battler who has fought so hard, he's become a king – and of more than one realm. He has had his dreams dashed by injury, reinvented himself and reinvented his industry in the process. He's taken a family legacy and made it so famous it's now a model to be copied. Somehow he is able to appear macho and a kind family guy at the same time. And, he is the one person on Earth who can actually wear shades and a suit at the same – and look cool, rather than "tool"!
Dwayne Johnson is a glittering role model for other role models to aspire to. And I for one have few qualms shelling out a few bucks to get my fix of brainless, needlessly destructive action movie nonsense whenever he's around. He is the People's Champion and I am one of his loyal subjects. Chee huuu!
Ballers Seasons 1 – 4 are available in full on SKY GO and NEON